One of the questions that plague many older women is how to get rid of the age spots on the face. Age spots or liver spots can be found on the shoulders and arms as well. But these can be covered with clothing.
Age spots on face cannot be hidden so easily, and wearing loads of makeup can be uncomfortable too. Luckily there are ways to get rid of age spots on the face, or at least make them inconspicuous.
With In Available Methods To Get Rid Of Age Spots On The Face Some Are
Expensive and take time for getting rid of age spots;
Expensive and offer quick results;
Affordable methods that take time for getting rid of those age spots
Inexpensive methods that offer quick results.
It would seem that the solution is simple, i.e., everybody could opt for inexpensive methods that offer quick results. But quick results do not necessarily mean long-lasting results. Moreover, they may not suit everybody's skin, even if they suit everybody's pockets.
Here are a few ways to get rid of age spots on the face, listed in descending order of their costs.
Laser therapy, cryotherapy, and therapy using "intense pulse light"
Cost:
These are undoubtedly expensive methods, as a trained person has to do the job. Moreover, expensive equipment and facilities are needed for it. They are also risky as mistakes cannot be repaired easily.
Basically, these therapies result in the destruction of melanocytes. Melanocytes are those cells in the human skin that release"melanin"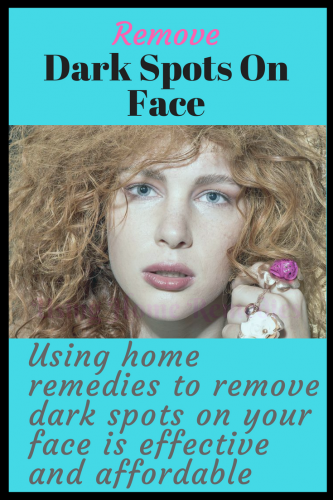 Age spots are formed because of excessive production or accumulation (clumping) of melanin in the epidermis, i.e., the uppermost layer of the skin.
Melanin is a pigment that imparts the dark color to the skin. Excessive accumulation of this pigment occurs because of damage to the process that moderates the production of the pigment. The damage, in turn, can be attributed to UV rays from the sun.
Process:
In Laser therapy and "intense pulse light" therapy, light is used to kill the melanocytes, while in cryotherapy, liquid nitrogen is used for destroying those cells.
Is It Painful?
It depends on the skin type. But yes, there is some pain and irritation depending upon the extent of skin damage.
Time needed for treatment:
Because of the risk involved, the number of sessions may be more, and it may take several weeks to see results.
Lasting or not lasting results
The results from this method are usually long-lasting, provided that you follow the instructions. In general, you need to avoid exposure to sunlight for some period following the treatment.
Moreover, it is not a treatment that guarantees that in future there may be no new age spots.
Risks Involved In Removing Age Spots
Age spots are not confined to any specific spot on the face. They may come up near the eyes, or eyelids. Such age spots can be risky to remove.Read more risks at
skincareguide.com
.
There are several creams and lotions that are available in the market. It is the ingredients in them that are important.
If the object is to remove age spots or reduce them, then using a product that does the job is necessary.
Any and every anti-aging cream or lotion will not do or may at the best reduce those age spots a little. FDA has in fact
approved hydroquinone for this purpose. Basically, hydroquinone lightens the pigment.
Antioxidants are also effective for reducing age spots.
For preventing new age spots from surfacing, ensure that the product has SPF protection. Other ingredients such as glycolic acid tend to exfoliate and resurface the facial skin.
Costs
It varies according to brand and effectiveness but none of the products are as expensive as laser therapy, because no facilities are needed, and no professional is needed.
Process
This also varies as per the ingredients. These products do not destroy melanocyte cells. Instead, they attack melanin, the pigment, which is the reason such products score over laser therapy, cryotherapy, and "intense pulse light" therapy. Some merely act as exfoliating agents. Many of these creams, lotions, etc., also have natural ingredients.
Does it pain
Some ingredients may not be right for some skin types. Even so, slight irritation, inflammation, redness, and skin burning or feeling dry is not ruled out.
Time needed for treatment
This depends upon the product's ingredients and process, and the user's tendency to follow instructions. Usually, half an hour to an hour is all that it takes but most of the products require the user to apply those products regularly. In processes such as dermabrasion, more sessions may be involved.
Time needed for the result to show
Some products offer benefits within a short time, while others may take about four weeks to two months. It also depends on how diligently the user is following the instructions for the selected process. 
 Click Here To check On Amazon
Lasting or not lasting results
Regularity is important with these products. Some products may have to be used more than once a day, while others may have to be applied once or twice a week.
Presuming that you follow all the instructions, then these results may last for a long time.
If you discontinue the routine, or does it randomly, after reducing age spots reasonably, the effect may still be there for a couple of weeks.
Risks involved
 There are always some risks associated with chemicals being used on the face. So always check for side effects before using any kind of facial especially if it`s the first time even if it sounds harmless.
There can be variations in concentrations as well. Some products such as "Even Better Clinical Dark Spot Corrector", and "Meaningful Beauty Cindy Crawford Skin Brightening Treatment" have botanical extracts or natural products in them.
They can, therefore, be less risky when compared to other products for removing age spots that made from processed chemicals.
Dermabrasion And Microdermabrasion
Procedures such as dermabrasion may not use regular ingredients but use the brush instead. In microdermabrasion, some fine crystals are used.
Dermatologist undertakes dermabrasion with a brush as it can hurt the facial skin. Therefore, it is an expensive procedure. Microdermabrasion is cheaper.Read my earlier post on
microdermabrasion here
 to understand how microdermabrasion works.
Process:
 Microdermabrasion involves brushing the facial skin with a special brush to rejuvenates the skin and exfoliates it, which helps to reduce melanin clumping.You can read here what
microdermabrasion effect
are.
Does It Hurt?
It may pain if done by somebody who does not know how to do it. Even when professionals do it, it does cause some pain.Both treatments may take a couple of sessions, depending upon the extent of skin damage.
Time needed for showing results
Results are almost visible a couple of days after the treatment is concluded and are fairly long lasting.
Risks involved with Microdermabrasion:
As mentioned before, the skin of the person can be damaged and hurt.
Natural Ways To Get Rid Of Age Spots On The Face
Nature has offered many ways to remove those ugly age spots. A few methods for howto get rid of age spots naturally:
Apply aloe vera gel almost once a day
Use lime juice(use twice a day for a longer period)
Use buttermilk(This can be done very easily every day).
There are no side effects from such remedies apart from the fact that they may take longer to see any results. They are not expensive and services of professionals are not needed. There has to be a lot of regularity in following such routines.
Conclusion:
Many women are not aware how to get rid of age spots on their face. By the time, they become aware of such things, their facial skin would have taken a lot of beating, and many age spots would have come up. The duration of effects of the remedy to become visible varies. Usually, people opt for remedies that are naturally obtained.