If your skin seems dry in some areas but oily in other areas, there is no need for concern, you may have what simply is combination skin.
But before we get there, how will you know when you find the best skin care products for combination skin or what`s the application process?
Finding the best skin care routine for combination skin without feeling like you are failing at everything you try and everything in between has been covered in this post.
We`re here to help you find the best products to make taking care of your face easy.
Combination skin is dry in some while oily in other areas. Those with combination skin often can find their forehead, nose, or chin to be oily but the cheeks to be dry.
This complicates the process of skincare as you can't use skincare for either oily or dry skin on combination skin.
The Right Skin Care Routine for Combination Skin
Unlike other skin types like sensitive or dry skin, you`ll need to cleanse and care for your combination skin a "bit differently".
This is the right way you should clean your face if you have combination skin, although some may want to skip a step now and then, make it a habit to clean your face morning and night.

Morning Routine
Night Time Combination Skin Care Routine
Now I know this may sound simple and straight forward and maybe it is but we`ll still cover it quickly.
Remove Makeup. Now after a long sweaty day, you`ll need to use a good waterproof makeup remover.
Cleanse, feel free to use the same cleanser to wash away oil and dirt without stripping your skin of natural oils.
Exfoliate: Personally I never have time for this in the mornings, I do exfoliate at night once to twice a week. Do the same with a gentle exfoliator like this one, it`s oil and soap-free and also gentle enough to use daily.
Apply Facial mask-Again another skincare process we usually just ignore but you should not. This is my top choice mask affordable and works on all skin types. (You may like)Indian clay face mask.
Moisturize: Again don`t skip moisturizing. For your dry patches use a rich moisturizer to nourish and soothe de dry patches.
There are many different types of skin, but the combination type is unique. It means that you have dry areas on your face and other parts that require more moisture or oil than what's found there naturally- all at once!
That makes for an interesting problem solver when it comes to skincare products for any kind of skin issue.
Because not every product can treat everything equally well, Some work better as moisturizers while others will do their job only if applied regularly with good quality sunscreen underneath so they don't give us shiny patches by mistake (you know how embarrassing!).
Luckily we live in this modern day where science has done most searching away already: There are acne spot treatments like Differin Gel, retinol lotions to care for your oily skin.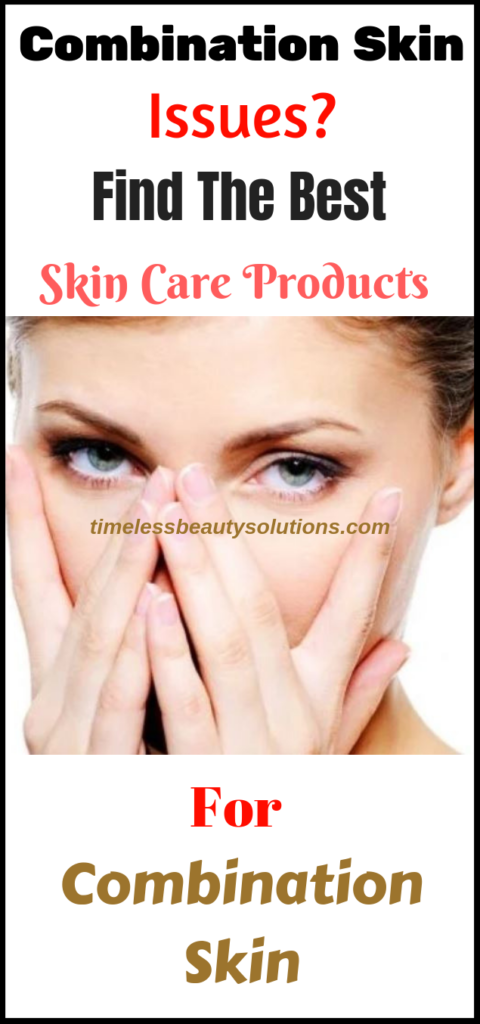 Skincare products can also be the cause of combination skin.
Specifically, products that contain irritating ingredients can encourage the production of sebum in some while decrease in the other areas of skin.
A rich cream like this one here can result in oily skin and end up blocking the skin pores.
That is why it is important to use skin products according to the type and needs of the skin.
Make sure to use mild skincare products that are full of antioxidants and ingredients essential for skin to heal and soothe the skin to health.
To avoid further problems, it is necessary to find the right skin care products for the combination skin type.
Listed below are some of the best skin care products for combination skin that you can find in the market.
Vichy Normaderm helps fight the consequences of an oily skin a lightweight and non-greasy skin care formula that works in reducing the appearance of blemishes on the skin.
The product controls the excess production of sebum which is the main cause behind the appearance of skin blemishes and shiny skin.
It works overnight and helps in purifying the skin, and reduces the appearance of pores leaving the face feeling clean, fresh and radiant. By morning, you can find revitalized skin which is clean, radiant, and almost blemish-free looking.
I consider this overnight skincare as one of the best when looking for the best skin care products for combination skin, you literally can take a real beauty sleep.
Elizabeth Arden Visible Difference Skin Balancing Exfoliating Cleanser
One of the best exfoliators out there for combination skin types. The smooth microbeads slough off the dead skin cells, while the glycerin helps the skin in retaining moisture.
With a combination of normal and oily skin, it is important to use a good cleanser that can do the skin cleansing job without having to overdo the oil control.
This is due to the fact that healthy skin is in need of vital moisture to maintain its health and look and feel great.
This multi-tasking cleansing foam can gently cleanse the skin and removes dead skin cells all the while leaving the delicate balance of skin undisturbed.
Cover FX Mattifying Primer With Anti-Acne Treatment
Primers are of great use for an evening out the skin tones and keeping the makeup in place.
Cover FX primer is a perfect one for oily skin as it also contains an anti-acne treatment that helps in healing the skin and also prevents the blemishing caused by acne.
What I like about this product is that you don`t have to look for other best skin care products for oily skin as the product work for both skin types.
It is an ultra-lightweight and water-resistant gel primer that minimizes the appearance of pores and signs of aging.
L'Oréal Paris Pure-Clay Clear & Comfort Mask

One of the preferred skin care methods in caring for combination skin type is the application of masks. The skin masks are popular as they are multi-tasking as well and provide extra benefits to the skin.
L'Oréal Paris Pure-Clay Clear & Comfort Mask provides gentle cleansing to the skin as harsh cleaning which can and sensitize the skin, leaving skin feeling uncomfortable.

This clay mask also helps draw out the buildup of all the impurities, dirt, and skin oils over time. Check other ways to deeply clean your face from an early post here without damaging your skin.
You can apply an even layer of skin care masks onto the clean and dry skin. Leave them on for about 10-15 minutes before rinsing it off with lukewarm water. Use twice a week for best results.
DHC Pore Face Wash is an ultra-foaming facial cleanser for daily use. It helps in reducing the look of skin pores as it cleanses and refines the skin complexion.
It features gentle exfoliants such as baking soda and pear juice alpha-hydroxy acids that leave the skin revitalized.
Baking soda present in this cleanser also dissolves the dirt and exfoliates skin that is susceptible to blocked pores and skin congestion.
Simple Clear Skin Oil Balancing Moisturiser
It is a great skincare option for a combination skin type.
It is a shine-eliminating and anti-bacterial (more on antibacterial explained here)packed lightweight skin moisturizer.
Simple Clear Skin works well with skin types that do not do well with skin products like perfumes and coloring. What I like most about Simple clear skin is that it`s safe and good to use even six months after opening.
Check  related post on oily skincare
Conclusion Finding The Best Skin Care Products For Combination Skin
A combination skin type means that you have two or more different skin types at the same time. In such a case, it becomes important that you use the right products in order to restore the balance.
Now remember all the products I wrote about here are on the affordable side, there are more products out there that cost more but I will not feel well knowing I only wrote about expensive products. Check more on how you can care for your combination skin here.
AHA is good for dry skin with sun damage as it removes the dead skin cells and hydrates the skin.
BHA is very effective on a normal as well as an oily skin because it can penetrate the blocked pores. BHA also prevents pores from getting infected.
I hope these creams will help you take care of your combination skin and make things easier and fun when cleaning your face.
.