This post will share with you the best primer for oily skin you can still use before applying makeup no matter what your skin type is.Oily skin is involved in a constant battle with makeup from melting off the face and in hot weather, humidity becomes the enemy. A primer is a solution to all this.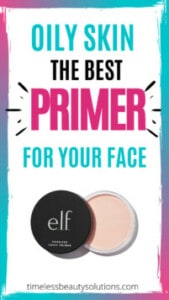 Makeup primers help makeup last longer. They are applied after the moisturizer or a skincare product of your choice and before the foundation.Skin primers also act as a base for the foundation to sit smoothly over the skin. It creates a silky-smooth canvas for makeup. It is hard to keep makeup in place if you have oily skin, a primer helps reduce oil production meaning your makeup will stay in place all day long.
A touch up here and there during a long day is ok, but makeup on an oily face without a primer, everything will just appear oily and smudgy.
A primer helps cover skin imperfections, reduces the appearance of fine lines as large pores.
Want to keep your makeup in place and stop it from creasing during the day? then you should not skip applying a primer first.
How To Apply Makeup Primer
If you want that professional finished look with your makeup, no pores insight.Fine lines like magically disappeared, makeup looking fresh and smudge-free all day long.Then you should not skip applying a primer before your makeupFollow these tips to apply your primer like a pro.Squirt a pea-sized of foundation on the back of your hand(this is more than enough)this should be enough to cover your face, too much and your makeup will clump during the day.
Start by applying the primer to the center of your face, using circular motions to work outwards towards your ears and hairline.

To apply primer, either use a

sponge

or your middle finger to dab it on then spread it all over the face and blend it in. Leave it so that it gets absorbed into the skin. 

Once dry, go on with your normal makeup routine.
Worth MentioningAs the title said, this post is not for any primers, it's for oily skin. To get the best out of your primer, go for a mattifying primer that will hydrate your skin without clogging pores but still give you that matte finish.Airbrush Away Primer
This powerhouse primer has many anti-aging benefits and is suitable for mature skin. It has hyaluronic acid spheres that instantly soften the wrinkles and blur the imperfections. Check an earlier post on hyaluronic here. It makes the fine lines and pores less visible in just 10 minutes.Infallible Pro Matte-Lock Longwear Mattifying Primer
This product has over 1,500 positive reviews  that you can check here
This is the best value primer as its price tag can't be beaten. It creates a flawlessly smooth base for foundation. It doesn't cause chalkiness. Just take a drop and then spread it on the problematic areas of your skin.This light matte foundation is so easy to absorb, you can use a foundation brush or makeup sponge to spread it evenly working from inside out towards your hairline and ears.It`s a given that we all have makeup brushes, but if you don't have a sponge, use your middle finger being gentle to spread the primer.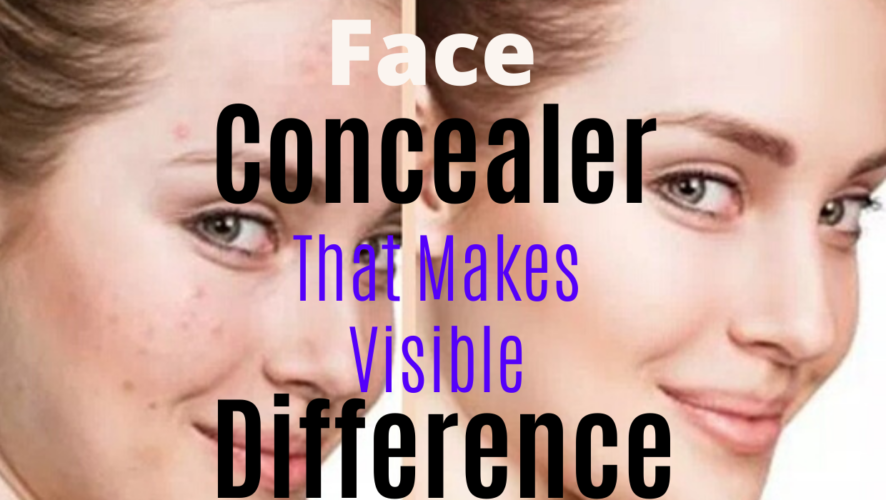 Photo Finish Minimize Pores Primer: SmashboxThis is the best pore minimizing primer that helps in achieving smooth, soft, and velvety-textured skin for a uniform makeup look.  It is formulated for mattifying the skin and to control shine for at least eight hours.
Smashbox is formulated for mattifying the skin and to control shine for at least eight hours.It glides on to as well as melts into the skin with a silky texture. It feels so lightweight and creates the perfect base. Face Studio Master Prime Blur + Smooth PrimerThis is a lightweight lotion which is also the top pick of the Pros.Just a and you will get photoshop quality prep as well as perfect skin. It specifically works well with oily skin that has problems with pores.It helps in filling up the pores and allows smoothening of skin. All primers on this post are tops, but this is the one I will definitely go for any day.
Mattifying Primer With Anti-Acne TreatmentThis is a primer suitable for the blemish-prone complexion. It is a multi-tasker and hence, a go-to option in primers.This is the right formula if you need to have a perfect base for your make-up and knowing it will stay on all day.I feel a primer should not be a "sometimes" on your morning makeup routine but should be a must-do. As a primer does not only help your makeup stay on all day, it hydrates, soothes, and nourishes the skin.The gel controls shine and it also helps in treating skin breakouts using salicylic acid present in it. It keeps the makeup mess-free.It Matters Mattifying Primer StickNeutrogena's primer stick is the best travel primer and is the easiest way to remove shine while on-the-go.
Check an earlier post on some other Neutrogena products here.
This non-greasy formula helps instant mattifying of the kin and blurring the imperfections for smooth shine-free skin. 
THE POREfessional Pro Balm Face Primer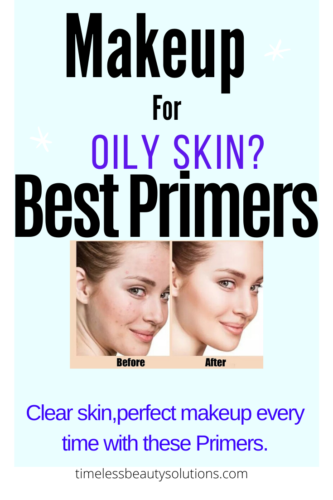 This is a cult classic primer with a lightweight gel. Remember those days when you don`t feel like putting on any makeup or when you just want to feel bare-faced?
Then POREfessional is your primer. Another thing users really love is that this is a primer for all skin types.
So even when your skin type changes unexpectedly,(this happens especially when you vacation in a different climate)your needs are still met.
It clears and blurs out the appearance of pores. It leaves the skin looking as if airbrushed with or without the makeup. 
Revlon PhotoReady Pore Reducing Primer
If you want to instantly minimize the appearance of pores and get that airbrushed look, then this is your go-to Primer.
Revlon is known for creating beauty products that inspire women, from lipstick to hair products.
This weightless liquid from Revlon sinks into the skin and helps in prolonging the wear of makeup. 
Revlon Primer is not only a primer, but continuous use overtime also improves your skin's appearance.
Revlon photo ready primer comes in Perfecting and Smoothing, brightening and skin tone perfecting and mattifying and pore reducing.
So you know you're in good hands with your pores. It keeps the complexion mattified for hours. 
Illamasqua Matte Veil Primer
This primer creates a perfect matte base for the makeup and keeps excess oils at bay throughout the day.
Its cream-gel formulation absorbs any excess oil and mattifies the skin. It doesn't dry out the complexion.
It allows the foundation to be applied smoothly over the skin without the need to accentuate uneven skin texture or skin tone.
NARS Cosmetics Pore & Shine Control Primer
This primer is enriched with African Whitewood as well as Oleanolic Acid. They help in the balancing and purifying of the skin.
It helps in perfecting the skin while wearing makeup. This is an oil-free primer that glides over the skin smoothly and helps in sweeping away excess oil. 
NARS primer also helps in minimizing the appearance of pores. It works with all skin tones and leaves the skin feeling soft and even.
"Please Note:The Video is not mine,this is a Youtube video"
Bobbi Brown Primer Plus Mattifier
When shopping for a primer, this is my go-to primer mattifier as it Controls oil and makes my skin looks flawless.
Bobbi Brown is a name in the beauty industry-trusted by all skincare lovers. Check more products here.
This primer extends the wear-time of makeup and helps in balancing the complexion.
 The primer helps in blurring the appearance of skin pores and helps control oil production. It leaves the skin with a smooth and even visage.
Unlike other mattifying primers, this lightweight formula goes undetected and creates a fresh matte finish. 
Sleek MakeUP Mattifying Primer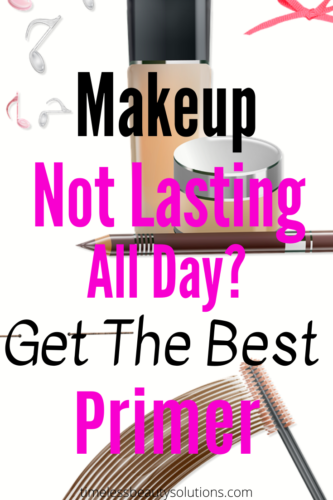 A primer that is formulated with soft-focus powders to achieve a velvet finish.
It helps in minimizing excess oil on the skin along with smoothing over any fine lines and imperfections.
This creates a smooth base and helps in balancing the skin. It keeps the complexion fresh as well as balanced.
The primer helps in blurring the look of fine lines as well as pores to get a perfectly flawless finish.
It helps in creating flawless foundation results. Lancome prep has a sleek and shine-free finishing and helps in prolonging the wear of makeup. 
Conclusion On Choosing The Best Primer For Oily Skin
A primer helps in getting rid of the shiny mid-day T-zone. It gives you a matte makeup look.
 The best primers for oily skin do not just help to prolong the wear of makeup throughout the day but also helps in reducing excess oil production.
A mattifying primer gives the skin a flawless base, minimizes the appearance of pores, as well as hydrates the skin. 
Although there are many more out there, these are the top primers in my opinion but remember you can always try things out, find what works best for you.
Did you find this article helpful? Leave some tips in the comment box below if you have any. Feel free to share on Facebook or Twitter by using the share buttons.