Which Facial Cleansing Brush Is ReallyWorth Buying? Are you not able to get your face as clean as you desire?
That's where the best facial cleansing brushes come in. Designed to remove the build-up of makeup, dead skin cells, and dirt.
Cleansing our face has become a necessary part of the skincare regime due to all the pollution and dust that we are exposed to on a daily basis.
The reason the facial cleansing brushes are now more of a necessity rather than luxury products. It is necessary to avoid skin issues which may show up if the skin is not cared for properly.
Choosing The Best Facial Cleansing Brush
There are facial cleansing brushes available for every skin type in the market.
That is made possible by the continued innovation and persistence of the cosmetic industry.
A bar of soap alone just won't do now to wash your face and hands.
Facial cleansing brushes have drastically changed the scenario.
This technology is just getting better and better with time and innovation and it`s now easier to achieve exfoliated, smooth, and clear skin.
From the classic Clarisonic to the new wave Foreo, here are five brushes I've tried and loved plus a few other highly reviewed models.
The best facial cleansing brush should exfoliate the skin and give a clean, smooth, and clear skin with less time and effort.
Just apply a little face cleanser to the skin and move the brush gently around facial skin for about 1 minute.
This stimulates the skin while deep cleaning it which in turn makes the job of cleansers, moisturizers, and the anti-aging products efficient and quick.
A Face Cleansing Brush Does Many Things:
It helps in boosting the facial cleansing process.
It is 10 times more efficient than the regular cleaning process.
It pulses which is to help with the deep cleansing the pores and removal of dead skin cells, dust, and the impurities.
It rotates which works like giving a facial massage.
It helps to improve blood circulation.
It helps the skincare products to penetrate deeper into the skin to make them more effective.
It helps make the skin look healthy.
However, it is advised to use facial cleansing brushes according to the needs of your skin.
Listed below are some of the best facial cleansing brushes available in the market:
Philips PureRadiance Skin Cleansing System
Philips PureRadiance Skin Cleansing System is the only one in the world that has dual motion technology and unique sonic technology.
It helps stimulate the blood flow making the skin radiant instantly.
It is gentle just like hand cleansing yet ten times more effective than the hand cleansing in removing makeup which is a definite plus.
It offers deep cleansing of the pores, dead cell removal, and massaging the skin gently. It makes the skin visibly clearer and feeling fresher.
Pros
Gentle but effective.
Dual motion technology
Thoroughly removes dirt
Improves micro-circulation by stimulating blood flow
Cons
Slightly on the expensive side.
Sirius Sonic uses gentle sonic vibrations that move the bristles of the brush against the skin to remove the dirt, impurities, and makeup.
It may not be as powerful as the other best facial cleansing brushes but it does come with five heads that give you more cleaning options to help you achieve deeper penetration.
One of these brushes is for sensitive skin and one for the normal skin.
The rest of the brush heads are the astringent applicators for you to use as an exfoliator, for skin hydration and toning of the skin.
These brushes are replaceable so once a brush needs replacing, you can always order facial brush head replacement head instead of buying the whole facial brush.
On the downside, it only has one speed which means that you can't adjust the strength of the sonic vibrations.
Pros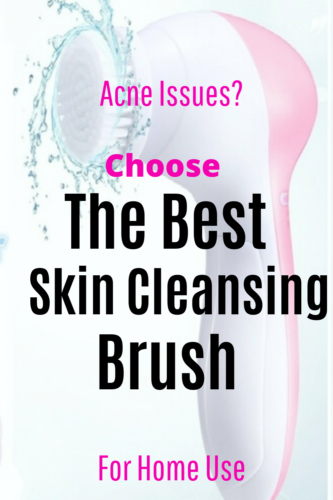 The Least expensive
Five brush heads
Easy to use
Products enter the skin better after use
Results are better than hand cleaning
Plastic holder for the counter
You can buy replacement heads
Cons
Can't be used in the shower
No carrying case
Not affordable to everyone
Only one speed. No adjustments
Essential Skin Solutions Microdermabrasion Exfoliator System
The Essential Skin Solutions feature a rotating and waterproof facial cleansing brush. It offers deep scrubbing to cleanse the clogged pores.
This Exfoliator system has two exfoliating brushes for the face that work on different types of skin. It works on the evening the skin tone.
Besides minimizing the pores, it also helps in reducing skin redness and make your face look fresh and vibrant.
Missed out an earlier post on Microdermabrasion machines? please check it here.
Pros:
Amazon's top Choice product
Affordable
Different brush heads
Help improve the skin texture
Cons:
Vague instructions
Overuse can lead to skin drying
Slow speed
No variable speeds
This is a battery-operated cleansing brush that features five interchangeable brush heads no matter what your complexion is calling for.
This facial brush also offers doubles the service which is providing a full-body skin-caring tool.
The sponge brush head is pretty good at removing makeup. There is an assortment of brushes that have different cleansing that varies in intensities. It also offers at least two different speed levels.
Pros
Affordable
Full-body skincare tool
Brush heads have varying cleansing
Clarisonic Mia 2 Clarisonic's Mia 2
allows you a choice between five different types of brush heads that are suitable for a variety of skin types.
It also has a brush head meant specifically for men. ( that`s why I love it and the reason it made it to this list)
With Mia 2's patented T-Timer you can customize the skincare while not compromising on the sonic skin-cleansing benefits.
The micro-massage motion also works with the natural elasticity of the skin in gently removing the impurities.
Pros:
High quality
Long-lasting
Offers 2 speeds and a 60-second timer
Makes skin smoother and softer
Cons:
Expensive
Might be too harsh for the sensitive skin
Replacements are expensive
Could over-exfoliate the skin
Most Affordable Cleansing Brush
With all the cleansing brushes on the market, there are different factors to consider when purchasing, skin type, your needs, and even the price.Price does not always guarantee quality and the best facial cleansing brush does not have to be too expensive.VOYOR facial cleansing brush at just $16 is one of the best face brush and with over 2010 four-star rating on Amazon, you get the best value for money with this deep cleansing brush.Conclusion On The Best Facial Cleansing Brushes
A facial cleansing brush gently cleanses and exfoliates the skin in less time taking the skin cleansing routine to the next level, improve your skin cleansing routine with one of these brushes.
It helps to clean the pores, in removing the makeup leaving behind a clear, clean, and smooth skin.
Skin cleansing brush is a must-have if you`re serious that your skin is clean and ready for your skincare creams or moisturizers.
Not only that these facial cleansing brushes come in different price ranges that anyone can afford.
The best place to buy these brushes online is Amazon, they have a huge selection to suit all budgets not to mention safe shopping and free shipping. Click here to view your brush of choice from Amazon.
If you found this post helpful, please share on social media so others can benefit from it too.