There are different types of blackhead removers that you can find online to buy. Facial blackheads can be removed in different ways such as by using a blackhead pore vacuum extractor.
Before we move on to the best pore vacuum blackhead extractors, We`ll look at what Pore vacuum suction are and if you really need one in your skincare routine as this post is more about pore suction.
But we`ll also look at some other ways of removing dark pores from home.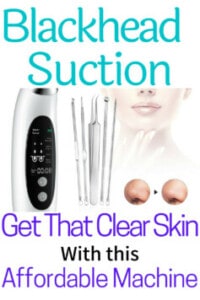 What`s  A  Blackhead Suction Remover?
A blackhead suction remover is a pore vacuum for the face you use to remove blackheads that are a result of clogged pores on your face or any other part of the body where you have blackheads)but blackheads usually occur on the face,neck,back and ears.
Blackhead suction remover or pore vacuums as they are sometimes known are an effective tool to help you clear congested pores painlessly from home.
Understand that this is not a one time use, pores do clog from time to time due to sweat and the products you use, so this is just a tool to help you in conjunction with your regular skincare routine.
We love using blackhead suction removal tool because it's easy to use and will save you time and money from visiting a salon as this is a tool you can use by yourself, all you need is a cosmetic mirror.
Let's talk about all the ways the blackheads can be removed.
These products could be used for glowing skin with clean pores as clogged pores stop products from getting into your skin, you need to get pore vacuum blackhead remover to use from home.
It`s up to you to decide which type of blackhead removing products suits you.
Due to the minimal effort required in the application of the mask, it is fast becoming popular. The blackhead removal mask cleans the pores without the pain.
As the name suggests, this blackhead removal method involves the use of strips. You place it over the area and then strip it after a couple of minutes. It can be a bit painful but it is a quick and easy way to get rid of blackheads.
Manual Extractor Kits
The beauty salons and dermatologists use small metal tools to manually remove blackheads. They use these tools to open the skin pores and pull the blackheads out.
This method is highly effective but it must only be done by a trained expert or else it may lead to facial scarring and skin infection.
Electric extractors
Electric extractors make one of the most effective and innovative blackhead removal products in the form of a small handheld device. It opens up the pores and sucks the blackheads out via a vacuum.
A painless procedure that is easy to use but an expensive investment(but having said that, still cheaper than other methods). Check an earlier post on how these work
The new tools for blackhead extracting using the vacuum are rapidly taking over the market. The name facial vacuum alone is self-explanatory in a way. Although it is not as scary as it sounds.
As explained above, this is a small handheld device with a mini vacuum that literally sucks out the blackheads out of the pores.
It uses air pressure for pulling the skin up or open pores and sucking out the impurities. It is a gentle procedure.
Several YouTube videos can be found on the internet that shows the process in great detail to clarify the method. It sounds disturbing but if it takes care of the blackheads without pain then why not try it?
Suction Blackhead Extractor To Buy
Silk'n ReVit At-Home Microderm Device
Easy to use at home microdermabrasion device with a good value price.
It is a lightweight device that gently exfoliates the skin and removes the impurities present in the skin pores. The dead and damaged skin cells are also removed.
It visibly smoothes and lessens the scars, acne, and age spots. Its diamond peeling tips work beautifully on the skin and produce youthful and glowing skin.
The damaged cells get stored into the replaceable filter which you can replace later and can see a number of dead skin cells that just got removed.
All of this takes only a couple of minutes and the results are almost instant.
Beauty Star Vacuum Pore Cleaner
This medium-sized Vacuum Blackhead Remover comes with a suction power greater than the usual blackhead suction devices.
It has four suction heads with four suction levels that can be used in different parts of the skin.
The light present on the head of the machine, it is easy to see the skin while the device is on work. It can be recharged with a USB cable.
The Vacuum suction mechanism of this device work on removing blackhead, deep cleaning the pores, treats acne, pimple skin treatment, the dry, sagging skin, and wrinkle, rejuvenates the skin, treats the dull skin and reduces skin hyperpigmentation.
New Blackhead Vacuum Suction Remover Machine,
This is a multifunction peeling diamond facial massage device for microdermabrasion and relaxation.
A small, lightweight, and easy to use at home handheld device which is convenient and portable.
It has diamond tips with different degrees of thickness. The variation in thickness is for treatment of the skin in different parts of the body.
The small diamond tips are for sensitive parts, the middle thickness tips are for the face and neck and the big diamond tips are for wrinkled parts of the skin.
The treatment heads are in three different sizes. It has double filtration which is easy to clean and prevents any obstacle to infiltrate the machine interiors.



Conclusion On Best Blackhead Suction Remover
Pore vacuum suction blackhead removal devices are an effective way to pull out the blackheads from the skin pores.
They work and give better results than manual blackhead extractors, blackhead removal masks, and strips.(there is an earlier post where I covered all devices here
The only downside to this is the strength of the vacuum. Pore suction blackhead remover can be a bit uncomfortable if done wrong.
Too much suction strength can lead to pulling out natural oils from the skin along with nutrients and moisture and not just the blackheads.
You can actually end up getting bruises from it. It happens due to too much suction or too much pressure on the skin surface.
If you found value in this post, please share so others can benefit from it.Thanks.If you have a question, please leave me a message below.