The first signs of wrinkles always bring shock and lead to moments of denial, the second thought would be to find the best anti wrinkle products to fight aging.
One may then look for similar signs in somebody younger only to declare such folds to be normal.
But the truth is that wrinkles would have arrived to announce age, and at times before a person ages.
To fight signs of fine lines and wrinkles, you need to look at some of the best anti-wrinkle products in the market and this post will help you find what works best for YOU.
From cheap to high end and other simple tips to reduce signs of aging and wrinkles.
Basically, wrinkles are a sign that skin is not getting what it needs. But what does the skin need?
Water
It keeps the skin's cells soft, supple, moist, and turgid.
Proteins such as elastin and collagen
Of these, elastin is for springiness or resilience of the skin, and collagen is for required firmness. Even though both seem to be doing something opposite, they are needed in the required quantities to reduce the sagging of the skin.
Exfoliation
Periodic removal of dead skin helps to expose the skin cells below. The process also reduces wrinkles.
Minerals and micronutrients
There are many minerals such as potassium and magnesium. Such minerals and micronutrients are needed to prevent wrinkles or reduce them.
Antioxidants  
Vitamins such as C and E act as antioxidants that reduce free radicals responsible for skin's bad health including wrinkles.
---
What Can Harm The Skin?
Exposure to harsh rays from the sun without proper protection;
Smoking;
Dietary deficiencies;
Exposure to pollutants and chemicals;
Inadequate skin care;
Genetic predisposition towards early aging and
Stress
What Are The Anti-Wrinkle Products And Treatments Around?
Many anti-wrinkle products and treatments have been developed for reducing wrinkles based on skin type.  The list includes
Laser treatment. Trained physicians are essential for this type of treatment, which has long-term benefits but may not suit everybody.
The process is expensive as well and the risks of the professional failing are high.
Anti-wrinkle injections such as Juvederm, Botox, Sculptra, and Artifill.
Juvederm has hyaluronic acid for improving the hydration of the skin.
Botox tends to relax skin. The key ingredient in Sculptra is the poly-L-lactic acid which is known to stimulate the production of collagen naturally.
Artifill keeps wrinkles away for longer, but there may be side effects. Trained plastic surgeons are needed for administering such injections.
These injections can offer medium-term relief, and the procedure requires to be repeated. Such procedures are also expensive.
Surgical procedures.
These invariably require the person to go under the surgeon's knife. Again, the person performing the surgery needs to be qualified and experienced.
Risks are high because of possible errors, and costs are high too. However, the treatment results in long-term escape from wrinkles.
Peptides and antioxidant-containing products
These are the least expensive but require regular usage. They come in various forms such as creams, lotions, oils, serums, or even peels.
There can be adverse reactions and side effects with these as well, but it is possible to try them out in small quantities and discontinue the usage in case of any inflammation.
Most of these anti-wrinkle products do not require FDA approval and are.
Therefore, available as "over the counter" products. Services of qualified professionals, though seeking their advice on the product would be better.
Best Anti-Wrinkle Products 
There should be a criterion for adjudging an anti-wrinkle product as the best one.
Usual ingredients in such products be they serums, creams, lotions, etc., are retinol, hyaluronic acid, peptides, antioxidants .
(vitamin C and vitamin E), and minerals, apart from ingredients that work as a sunscreen.
Major differences are in
Formulations that enhance the effectiveness of different ingredients either through delivery mechanisms, or processing of the ingredients.
Therefore, some products may remove the wrinkles faster, while others may remove them slowly but results would last for longer;
Must contain proprietary ingredients which reduce adverse reactions and side effects or completely replace one of the traditional ingredients that do not suit the skin of the person;
Formulations that are designed for a specific purpose such as "Kate Somerville+Retinol Firming Eye Cream", which is specifically for removing crow's feet around the eyes, as well as puffiness and dark circles.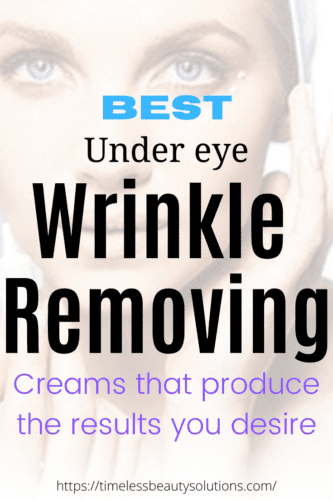 Should have other benefits, such as they improve the skin's suppleness, tone, brightness, and smoothness even as they remove those wrinkles and age spots.
Since skin differs from one person to another, the effectiveness of these products also varies from one person to another.
Some skins may simply not be able to withstand the potency and require a wrinkle removing agent that works slowly.
Another factor that needs to be remembered is how and when to apply these products.
For example, "ZO Skin Health Ossential Advanced Radical Night Repair" is for use at night.
Not all products specify how they should be used. Using night repair products in the day time will obviously not give the desired results.
The best anti-wrinkle product should also not react with makeup because it is a foregone conclusion that the person would be wearing some makeup.
Subject to such varied needs, here is a list of best anti-wrinkle products for now.
The Best Anti-wrinkle Products
"Peter Thomas Roth Unwrinkle Turbo Face Serum" –
This product made it to the list because of its effectiveness against forehead lines, i.e., the 11 lines.
Those are some of the deepest and most stubborn wrinkles.
It is also effective against pout lines, nose crease lines, and the "marionette" lines.
The main ingredients in this product are 18 peptides and neuropeptides. It costs approximately $150 which I have to admit is not affordable to everyone.
Best place To Buy     Amazon
"Neutrogena Rapid Wrinkle Repair SPF 30"
This product contains hyaluronic acid and retinol SA apart from SPF 30.
SPF 30 provides defense against the sun's ultraviolet rays.
Thereby preventing new wrinkles from surfacing rapidly.
The  Hyaluronic acid hydrates and the accelerated retinol in it augment the production of collagen.
This product will smooth fine lines, and also fade out stubborn wrinkles. It also reduces age spots.
Skin's texture also improves on using this product. It also does not interact with make-up and can be worn under some.
Best Place To Buy Amazon
"NaturaBisse Essential Shock Intense Retinol Fluid"
This product contains a retinol complex that easily penetrates the skin. In addition, it includes moisturizers that remain effective for 24 hours.
Its anti-wrinkle activity is further enhanced because of complex amino acids. It is available for $105 as of now.
Best place to Buy Amazon 
Colbert MD on the list because it can penetrate deeper into the skin for lasting effects, thanks to the proprietary delivery system.
Retinol and antioxidants are its main ingredients. This product is available for $140.
Lancer Younger: Pure Youth Serum–
This product has a substitute for retinol.
Retinol does not agree with everybody so you should try it on a small part of your body first.
Some people using products with higher concentrations of retinol may exhibit reactions such as itchiness, redness, scaling, peeling, or burning.
While these are not serious side effects, they certainly are not desirable.
The "pure youth serum" has a different formula that mimics retinol apart from peptides and hyaluronic acid. This product costs $275.
Best Place To Buy    Amazon
Conclusion On The Best Anti-Wrinkle Products
Skincare is a huge business. Skins differ in their reactions because they vary in types, for example, some skins are oily, and others are dry.
Therefore, the results from anti-wrinkle products differ from one person to another.Some patience is also needed to notice the results.
In addition, people need to be aware of the product's composition and new developments or discoveries for reducing wrinkles.
The best anti-wrinkle products are the ones that can be used with different skin types and offer desired results.
This of course without adverse reactions and side effects that can be a cause for concern.
Remember any skin product you use,  your face needs to be at it`s cleanest and ready to receive the product, read more on getting your face at it`s cleanest here using this product.
Of course, they have to fit the budget too.
I`d love to hear your secret at fighting wrinkles, leave me a message below.