What is the best eye cream for men? I`m sure most blokes out there do not know and struggle to find what to use for fine lines and wrinkles.
Your face and eyes say a lot about you, it`s what people see when they first meet you. Shops are filled with skincare products for ladies but not for men, blogs are filled with skincare tips for women and you`ll have to look well to find anything for men.
But that does not mean men don`t mind wrinkles, they do and are also looking for the best skincare for men that will make their skin supple and soft, well hydrated and wrinkle-free.
Eye creams are great for reducing the appearance of fine lines and wrinkles, this post will look at such cream, Brickell Men's Restoring Eye Cream.
Product Name: Brickell Men's Restoring Eye Cream
Product Type: Cream
Website: https://brickellmensproducts.com
Overall Rating: 4.4 out of 5(over 1000 positive reviews)

Introduction To Brickell Men's Restoring Eye Cream
There are various options available for men in the market to take care of their skin. Looking younger and having healthy skin is not limited to just women. 
This eye cream is formulated with well-known ingredients that are known to smooth away wrinkles as well as reduce dark circles and eye puffiness. It is made with 97% natural and 70% certified organic ingredients.
Here's is the list of ingredients used in the formulation of this eye cream:
Matrixyl 3000

: It is a combination of protein peptides that help sustain the production of collage. It lessens the wrinkles by 45% only in a couple of months. 

Methylsulfonylmethane

: It is a nutrient that helps in decreasing the appearance of age spots. It works on skin pigmentation conditions. 

Hyaluronic acid: It hydrates the skin and protects skin for harmful UV rays. It gives the skin a healthier glow and helps retain moisture in the skin. Check an earlier post on Hyaluronic benefits on this post.
Aloe Vera

: It soothes sunburns and the symptoms of eczema as well as psoriasis. It also moisturizes the skin. 

Vitamin C

: It protects the skin from the UV rays of the sun, boosts collagen production in the skin. Vitamin C diminishes under-eye circles and speeds up the healing process of damaged skin. It also addresses skin inflammation and discolorations. 

Green Tea

: It fights skin inflammation and keeps skin breakouts at bay. It also has anti-aging properties. It acts as a toner for the skin. 

Caffeine

: It reduces the harmful effects of free radicals on the skin. It diminishes fine lines and wrinkles by increasing the skin's elasticity, reduces skin redness and also repairs any skin damage caused by excessive sun exposure, makes the skin tighter.

Sunflower Oil

: It has Vitamin E which moisturizes the skin. It acts as anti-oxidant and protects the skin against UV exposure. It treats skin acne and soothes dry and itchy skin. 

Witch Hazel

: Its anti-aging properties speeds up the healing process of damaged skin. It stops the cellular damage and provides nourishment to dry skin. It reduces eye puffiness and calms the sunburns. 

Lactic Acid

: It reduces aging signs such as fine lines and improves the skin's texture as well as tone. It treats skin pigmentation problems and acne scars. It also helps sustain collagen production in the skin.

Cocoa Butter

: It has anti-inflammatory properties and is anti-oxidant. It thickens the skin and protects it from UV rays. It moisturizes the skin.

Hydrogenated Castor Oil

: It has anti-aging benefits. It acts against acne. It also moisturizes the skin and diminishes age spots and hyperpigmentation.

Palm Oil

: It slows down the process of skin aging. It also moisturizes the skin.
There are other ingredients not mentioned here. They all work together to improve the appearance of skin around the eye area.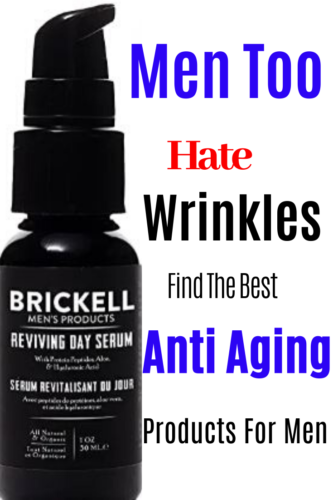 Pros
This eye cream is suitable for all men regardless of the skin type

Brickell Men's Restoring Eye Cream reduces the appearance of wrinkles and fine lines around the skin surrounding the eye.

The cream eliminates dark circles and eye puffiness.

It is easily and fast absorbed into the skin and has a slight smell,

It tightens the skin around the eyes and improves the overall look of the skin.
Cons
It is not cheap.

It may not work for all as different skin may react differently.
Who It Is For
Brickell Men's Restoring Eye Cream can be used by men who want to lose the under-eye bags, puffiness, under-eye dark circles, fine lines, and wrinkles around the eyes. This eye cream addresses skin problems of men of all ages and all skin types.
Brickell Men's Restoring Eye Cream is a fast-absorbing and lightweight eye cream. It has a healthy dose of collagen as well as caffeine. They help in reducing the signs of aging such as dark circles, wrinkles, and fine lines.
It is easy to use and anyone who wants to have the best eye cream for men should try this cream out. You only need to apply a little amount underneath the eyes, i.e., a pea-sized amount.
This eye cream will last for several months. You can even include this into your skincare routine for better results. You can use it in the morning as well as at night.
The eye cream has a slight scent to it which is tolerable. There is no sticky residue left behind and no greasy feeling.
It gets absorbed into the skin very fast and works well to tighten the skin. This lessens the appearance of wrinkles leaving you looking fresh and younger.
Check another post on other skincare products for men.
This eye cream is filled with natural ingredients. It is also important to note that this cream's formulation does not include any sulfates and parabens.
And any man serious on finding The best eye cream for men should really try it. There are no glycols, silicones, petrochemicals, gluten or synthetic fragrances. It is cruelty-free having never been tested on animals
Final Verdict On The Best Eye Cream For Men
Brickell Men Restoring Eye Cream is truly impressing with how effective it is. After only a couple of applications, the puffiness around the eye starts to reduce. Within just a couple of weeks, the dark circles become less visible.  
The wrinkles are no longer as prominent as they were before. It improves the overall appearance of the skin. The skin looks well-hydrated, healthier, and younger-looking. 
The eye cream works for all men no matter the skin type. This eye cream may not be the best one or even the cheapest one out there but it is worth what you pay for.