Who doesn't want firmer skin without spending so much on cosmetic surgeries? But is it really possible to get a firmer skin with skin firming creams?
The best facelift creams or serums have made it possible to some extent. Due to aging, the production of elastin, collagen, and hyaluronic acid start to decline which results in loosening of the skin. Hence, the appearance of wrinkles and fine lines.
Other than that, we very well know how much weight loss causes loose skin and after pregnancy especially the stomach area.
Carefully selecting the best skin firming creams for the body plays an important role too as it assures that the correct one is used in the firming of the skin.
There are also environmental factors that lead to degradation of skin ingredients that are needed for skin flexibility.
What Are The Main Ingredients To Look For In Skin Firming Creams?
Collagen And elastin
The two of the most important ingredients that are responsible for smooth and firm skin. They hold the skin tightly and do not allow the skin to sag.
Collagen and Elastin are produced naturally by the skin but its production declines rapidly as we start to get older.
The skin starts to droop and loosens. The aging signs start to surface. The wrinkles, laugh lines, dark spots etc become prevalent as the time passes.
Skin firming must contain Keratin which is important in stimulating the production of collagen, elastin in the skin.
Some skin firming lotions and serums come with nano-sized collagen and elastin particles. But these are particles and are not easily absorbed by the skin because of their size. So, such creams are not recommended.
Cellulite Fighting Ingredients

Cellulite is basically a condition in which uneven distribution of fat deposits under the skin surface results in the formation of lumps.
For the treatment of Cellulite, the skin firming cream must contain retinol which is paramount in the production of collagen production and L-Carnitine that enhances metabolism and burns fat faster.
Green tea is good for the elasticity of the skin. Such creams also contain caffeine for removing excess moisture
Coenzyme Q10
Its work is done at the cell level by getting absorbed through deep penetration into the skin. It fights against free radical or any debris at cellular levels. It also fights UVA radiation.
Natural Ingredients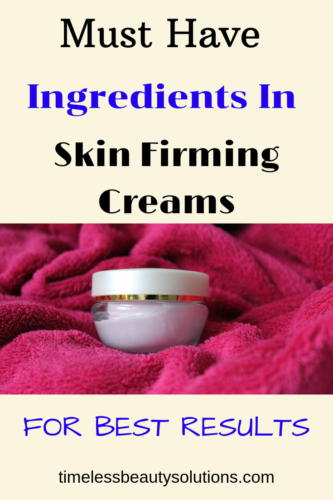 Fruits extracts and essential oils contain nutrients specifically needed for toning of the skin. Wakame seaweed is another natural ingredient in skin firming creams beneficial for skin firming.
They encourage collagen and elastin production. Vitamin A, C and E also helps in fighting ageing, also provide SPF protection and moisture. More products here.
What Really Brings Closer To The Results?
Sunscreen:
One of the primary cause behind the damaging of skin cells. So, it is a non-negotiable product that must be included in the skincare to prevent any further damage to the skin.
Antioxidant-rich products:
They are good for protecting the skin against free radicals and environmental factors. Check an earlier post here (if you missed it)where I go into more detail about this.
Products rich in skin cell regeneration and restoration:
Essential for the repairing of the damaged skin cells and to bring out a new, fresh and healthy skin appearance.

Exfoliants:
Exfoliants are essential for smoother and hydrated skin. It helps enhance the skin resiliency.
Retinol rich products:
These are essential for collagen and elastin production which is responsible for the tightening of the skin and in turn, lessening the wrinkles, lines or any aging signs.
Do Skin Firming Creams Work?
Despite what some cosmetics companies advertise and promise, many of these creams do not consist of all the ingredients essential for helping in the toning and firming of the skin.
Not that all of them are bad but not all of them are genuine and are poorly formulated. Hence, many times these skin firming creams prove to be a waste of time and money.
Some of these products only just moisturize the skin. While it is good for the skin, it is not what you paid for when you bought the product.
The skin-firming creams are designed according to the area you want to target.
Then there are the creams that deliver short-term results which are essentially polymers that firm the skin for few hours. The downside is the sticky texture of the cream.
Creams that deliver long-term results usually have ingredients like retinol, humectants, peptides, etc. The results are long-lasting over prolonged use of the product.
To get a genuine skincare product that gives good results, one needs to be aware of the important ingredients and how to best utilize the product for better results.
Sometimes, even that is not enough as some products use chemicals instead of natural ingredients.
Conclusion
One doesn't need to wait for the signs of aging to appear to start using skincare products. If the problem is tackled before it actually takes hold then there are more chances of good results than ever.
Thanks for reading this post and I hope you found value to help you decide what will work best for you.If you liked this post, please do share in your favorite social media so others can benefit too.Sharing is caring.
If you are looking for the best place to buy skin firming creams online, click here to view the best rated and most purchased from Amazon