Aveeno is popularly known for its variety of facial care products. Whether it is skin sensitivity or skin aging, Aveeno covers a wide range of products for all skin types.
The reason why one would love using Aveeno face products is that the results are natural and amazing.
Why I Love Aveeno Face Products
There are many reasons why one would love to use Aveeno products. They have a wide range, naturally grown, best-selected ingredients, naturally maintained and they promise quality, safety, and innovation. Let's know more about Aveeno face products.
---
Wide Range of Aveeno Facial Products
Aveeno is a popular brand for natural facial products. Their products have natural ingredients and thus have no side effects.
Their mission makes them believe in the power nature has to make everyone and anyone beautiful. Aveeno products are available worldwide.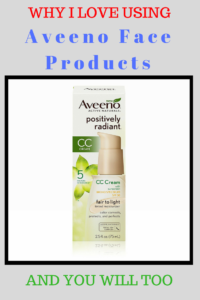 Aveeno facial products include –
Sunscreen

Cleansers

Creams

Eye Creams

Lotions

Makeup Removers

Moisturizers

Night Cream

Scrub

Treatment
Aveeno facial products can nourish, soothe and transform the skin. Also, they help one discover natural beauty and enhance confidence and well-being. Aveeno covers solutions to facial problems such as –
Redness

Anti-aging

Firming

Dark Spots

Dryness

Acne(check

other posts on removing acne here

)

Dull skin

Sensitive skin

Calming

Moisture




---
Aveeno Uses Active Natural Ingredients
Aveeno proves the love for naturally grown and manufactured facial products. The ingredients are grown widely in the best environment to give its fullness. The scientists are known to select the best, high-quality and active natural ingredients for all the Aveeno products.
Not only this, but the ingredients have natural power maintained in them even after the processing and manufacturing of the product. This makes the products give lasting and best results for facial use.
The scientists practice high standards while selecting the ingredients with best formulation and manufacturing techniques. All the ingredients are processed to retain the natural strength, nutrients, and quality.
Aveeno facial products are scientifically proven, formulated in a unique way to deliver real skin benefits.
Aveeno Face Products Active Naturals
Visible benefits and long-lasting effect is what Aveeno face products offer. Filled with natural ingredients, Aveeno face products have a wide range of active naturals in them. These naturals ingredients formulated in the most advanced way are the secret to the beauty of many worldwide.
The secret ingredients of these products are below:
Oats

Soy

Blackberry

Feverfew

Wheat

Shitake(

See benefits

)

Seaweed

Southerwood

Lotus
Aveeno Discovered Active Naturals
Based on the natural ingredients, Aveeno research team discovered their own Active Naturals that are added to the products. Every discovered product has an amazing effect on facial skin and thus would make us love Aveeno face products. The discovered Active Naturals are –
Colloidal Oatmeal, Oat Complex, Triple Oat Complex

Total Soy Complex

Blackberry Complex

Wheat Complex

Calming Feverfew

Natural Shitake Complex

Lotus Complex

Seaweed Extract
Are Aveeno Face Products Easily Available?
For every shopping, we look for home comfort, easy home delivery and at discounted prices. Aveeno provides it with all! Aveeno face products can be ordered online easily at the following retailers
Amazon Click here to view

Amazon PrimePantry

Walgreens

Jet

CVS/pharmacy

Rite Aid Pharmacy

TARGET

Walmart

Boxed
Their products are also available at the local retailers.
Aveeno Face Products Discount Offers
Special offers on the Aveeno facial care products include latest coupons, product samples and exclusive offers on most popular products.Click here to view
8 Award Winning Aveeno Face Products
Several products under one brand, Aveeno! Isn't it amazing? One can discover natural and flawless beauty by a range of different products of the same brand. In addition to that, Aveeno has many award-winning products. So, let's explore the award-winning Aveeno face products.
Aveeno Positively Radiant Daily Moisturizer Broad Spectrum SPF 15

Aveeno Absolutely Ageless Daily Moisturizer with Sunscreen Broad Spectrum SPF 30

Aveeno Absolutely Ageless Nourishing Cleanser

Aveeno Absolutely Ageless Eye Cream

Aveeno Protect + Hydrate Lotion Sunscreen with Broad Spectrum SPF 50 for Face

Aveeno Natural Protection Lotion Sunscreen with Broad Spectrum SPF 50

Aveeno Positively Radiant Second In-Shower Facial

Aveeno Positively Radiant Overnight Hydrating Facial
7 Highest Rated Aveeno Face Products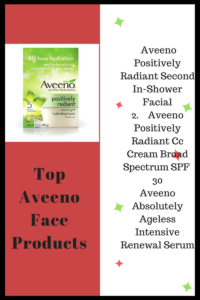 Aveeno products are used and loved by people worldwide. Apart from the award-winning products, there are the highest rated Aveeno face products that are liked and rated by people after seeing the results. Let's take a look at them!
Aveeno Positively Radiant Intensive Night Cream

Aveeno Ultra-Calming Hydrating Gel Cleanser

Aveeno Ultra-Calming Daily Moisturizer Broad Spectrum SPF 30

Aveeno Absolutely Ageless Pre-Tox Leave-On Day Mask Lotion Broad Spectrum SPF 30

Aveeno Positively Radiant Skin Brightening Daily Scrub

Aveeno Positively Radiant Daily Cleansing Pads(

check other products here

)

Aveeno Clear Complexion Daily Cleansing Pads
Top Aveeno face products are those that are widely used by the people. The reason why one would love these Aveeno products is the popularity worldwide. Let's explore the 7 top Aveeno Face Products.
Aveeno Positively Radiant Second In-Shower Facial

Aveeno Positively Radiant Cc Cream Broad Spectrum SPF 30

Aveeno Positively Radiant Targeted Tone Corrector

Aveeno Positively Radiant Makeup Removing Wipes

Aveeno Ultra-Calming Foaming Cleanser (Award Winning)

Aveeno Moisturizing Bar

Aveeno Absolutely Ageless Intensive Renewal Serum
Conclusion: Lovable Aveeno Heritage




Apart from the popular Aveeno face products, the Aveeno heritage is also one reason to love it. It all began in 1945, and since then, the products are advancing to give the best.
In the discovery of Active Naturals, Aveeno has partnered with many scientists, health professionals and specialists in this field.
Aveeno products have been manufactured without compromise and have been proven best after winning many awards. They are known to be caring for natural resources to give best products to the world of beauty. Their products have the most sustainable formulas that would suit every skin type.
Aveeno skincare products is an evolution in themselves because they have proved themselves as sustainable, bringing nature into the arms of lovers of natural beauty. No wonder, we all would love Aveeno face products!