What is a Microdermabrasion treatment and is it safe? if this and more are questions that go through your head then this post is for you. Microdermabrasion is a minimally invasive procedure that is used in the skin treatment in order to renew the skin tone and skin texture.
It works in improving the appearance of skin damage caused by sun, the aging signs (such as wrinkles, fine lines, dark spots), scarring, and skin ailments (such as acne, melasma).
A special applicator equipped with an abrasive surface is used in this procedure to gently sand away the damaged outer layer of the skin in order to rejuvenate it. Another technique is to spray fine particles of aluminum oxide or sodium bicarbonate using a vacuum/suction which also works to remove the outer layer of the skin.
The process involves the usage of tiny crystals that are used to exfoliate the skin. This makes the drawing out of debris and impurities from the skin with suction easier. No chemicals are used in this procure and it is not skin invasive.
The main aim is to remove the dead, damaged and dry outer skin layer to make way for a fresh and new younger looking healthy skin. It improves the skin tone and texture.
Something very positive about Microdermabrasion is that it can be used for all skin types. The procedure does not lead to any scarring of the skin.
Microdermabrasion is a less aggressive skin treatment than the dermabrasion and with quicker recovery time. It offers great results without needing medications afterward.
Who Can Benefit From Microdermabrasion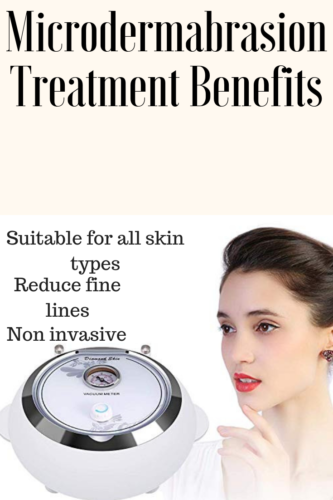 Anyone who want treatment for treating aging signs such as fine lines and wrinkles.check an earlier post here on

removing wrinkles with microdermabrasion.

People who have skin with hyperpigmentation, age spots, and dark brown spots

If you have enlarged pores and blackheads

People with acne and acne scars

Good for reducing stretch marks

Microdermabrasion is good for people with dull skin complexion

People with uneven skin tone and texture

People who have melasma

If you`ve suffered sun damage to the skin you can still use microdermabrasion

People with  rosacea
An ideal candidate for microdermabrasion skin treatment has to be a healthy adult with relatively minor skin conditions or imperfections.
Be aware of what microdermabrasion can and cannot do to ward off unrealistic expectations from the procedure.
What Microdermabrasion Can Do
Microdermabrasion can reduce the appearance of age spots and blackheads

It can improve patches of darkened skin

It can exfoliate the skin giving it a refreshed appearance

It reduces the appearance of stretch marks.

It reduces fine lines and wrinkles

Having microdermabrasion reduces enlarged pores

Want to treat acne and acne scarring? use microdermabrasion
What microdermabrasion does is help in thickening the collagen that leads to the appearance of younger looking and bright skin complexion. Collagen in your skin is responsible for a taught and smooth looking skin.
It decreases with age leading to uneven and loose skin. The professional procedure can be done by both the dermatologists and estheticians.
How does Microdermabrasion Work
Since microdermabrasion treatment is a nonsurgical and a minimally invasive procedure, you don't need to prepare extensively (if at all) for it.
However, discussing your concerns and your skin condition with the professional is advisable.
This is an in-office procedure that normally takes about an hour typically performed by a skin care professional.
The licensed professional may or may not be needed to do the procedure under the supervision of another healthcare provider.
This will depend on the place you are staying or having the procedure done. The use of anesthesia or any numbing agent before the treatment is not necessary.
You may be asked to avoid sun exposure, tanning creams, and waxing for sometime before the microdermabrasion treatment. You may even need to stop using skin care products before the treatment.
For the procedure, you will be seated in a reclining chair. The technician will proceed to cleanse your face in order to prepare the skin for the microdermabrasion procedure.
The skin care professional performing the procedure will be using a handheld device like this diamond microdermabrasion machine. The handheld device is a microdermabrasion device or machine that is used to gently spray on the crystal or sand away the damaged outer layer of the skin from the target areas.

When the procedure is completed, the technician will cleanse your face again and a moisturizer, as well as a sunscreen, will be applied on the skin to provide protection to the newly uncovered fresh skin.
There are two main types of microdermabrasion procedures.
The diamond-tip handpiece is a procedure in which dead skin cells are gently exfoliated while simultaneously suctioning them off right after.
How deep is the abrasion may possibly be affected by the amount of pressure applied and for how long the suctioning is allowed. This type of microdermabrasion procedure is used in treating sensitive areas on the face such as the area around the eyes.
Check this review on Diamond Microdermabrasion machine.
Crystal Microdermabrasion
Crystal microdermabrasion is a procedure that uses crystal-emission to gently spray the fine crystals to gently rub away the outer layers of the skin. The dead skin cells like before are immediately auctioned off. It works as a high powered scrub.
The different types of crystals used in this type of microdermabrasion are aluminum oxide and sodium bicarbonate.
Hydradermabrasion is a newer microdermabrasion procedure that combines the dermal infusion and crystal-free exfoliation. This entire process works to stimulate the collagen production and increase the blood flow to the skin.
Both forms of microdermabrasion skin treatments have their benefits. Either one of these treatments results in a soft, smooth, and bright looking skin.  

How Does A Microdermabrasion Machine Work?
A microdermabrasion device has mainly two functions.
The machine gently exfoliates the skin which can be done using different methods. Either by using a high-pressure crystal flow method or by using the at-home microdermabrasion machines that use a diamond or crystal-tipped wand for the exfoliation of the skin.
The second function of a microdermabrasion device is to thoroughly remove the shedding dead skin cells which is done by a built-in vacuum suctioning method.
Some of the microdermabrasion devices offer a third function which involves the application of a skincare product after the microdermabrasion treatment is done. This feature enhances the results of the treatment. Learn more from here.
How Much Does It Cost?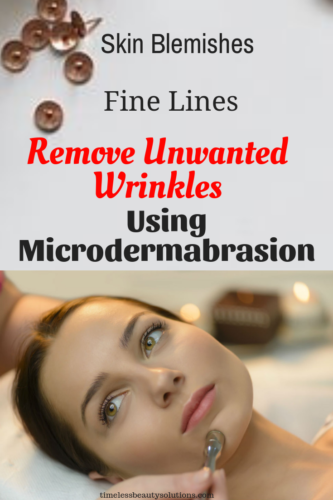 It depends on the place where you live and the place where you are having the treatment done. The cost usually can range between $75 to upwards of $300 per microdermabrasion treatment that usually takes about 50 minutes to an hour. Expect to pay even higher if you choose to go to a posh salon.
As with many cosmetic and beauty treatments, having multiple treatments over time is a must to see long term benefits. With time if you want to keep that young face without wrinkles, this can turn out to be expensive.
That`s why I recommend buying a microdermabrasion machine for home use.It will not only save you money but you can enjoy an evening with friends treating yourselves to salon like treatment all from home.
How Many Microdermabrasion Treatments Are Needed?
The number of treatments required depends on what the end goal is. If you are just treating yourself to a spa day then one treatment would suffice. If you are hoping for improving a specific skin condition, then a series of treatments will be needed.
It may depend on the severity of the skin condition as well as what positive results are being achieved after the treatment. The results are cumulative. Usually, 6 to 10 treatments are generally scheduled 7 to 14 days apart.
Again another reason to buy a microdermabrasion machine so you can use is at home.A Home microdermabrasion machine is well worth it.
Does Microdermabrasion Hurt?
Not really. It feels more like being licked by a rough tongue or a gritty facial massage. You feel minor tugging on the skin that`s all even people with sensitive skin can have it done without any problems at all. Nothing painful.
What Happens After Microdermabrasion Treatment?
This is a surface treatment so the issue of side effects is rendered mute. The skin will appear a bit pink after the treatment. The pink usually fades after some hours.
After a day or so, it may feel like having a minor sunburn. The skin products such as acne treatments, skin toners, medicated cleansers, etc may burn or sting initially right after the treatment. So, avoid using them immediately. Wait for a couple of days.
Makeup, skin moisturizers, and non-medicated cleansers don't cause any issues if used right after. Using sunscreen is important to protect the skin from sun damage.
Reasons To Try Microdermabrasion:
It improves blood and lymphatic circulation.

It improves the internal health of the skin.

It improves cell processes and elasticity.

It enhances product efficacy

Treatment removes the dead skin cells.

Will help reduces pore size

It improves skin hygiene

Helps clear clogged pores

It is a safe skin treatment procedure in comparison to others.

Results are great from the first use.

It is one of the safest cosmetic procedures out there.

No chemicals are involved

It requires no medication

It does not require much of recovery time (if at all).

All these can be done at home.

The procedure is quick

Safe and can be used for multiple skin conditions.

It has hardly any possible side effects or other skin complications

Scared of needles?It does no use needles

Microdermabrasion is a painless procedure

Skin Microdermabrasion is suitable for everyone
Conclusion On Microdermabrasion Treatment 
Microdermabrasion has been used for a long time to treat many skin conditions by dermatologists. It is a very popular skin treatment since the 90s. It can be done in spas, salons or at a dermatologists office.
Nowadays, at home microdermabrasion kits are also available for home treatment. It makes it even more affordable skin treatment option. It is a safe procedure as well which is a plus.
If you have any questions, leave me a message below and I`ll get back to you, if you found this post helpful and know anyone who is asking what is a microdermabrasion treatment, do share this post with them so they too can benefit from it.