For fine hair, the first question that comes to mind when you want to use hair extensions is, what are the best hair extensions for fine hair? because you`ll need high-quality hair extensions that will work for your hair.
Not only should the extensions work, but they should do so without damaging your natural hair while keeping budget in mind.
"Fine hair can be difficult to work with, which is why it's important for you as the wearer of these extensions or your stylist who installs them to maintain their length and quality.
Over time we all do have some breakage from our scalps – but knowing what good products do to your artificial hair when applied regularly will help human hair extensions or synthetic extensions looking sleek."
Some would say that one specific thing about hair extensions could possibly be how fragile they usually seem when used with an individual's own natural texture plus hair density.
When choosing hair extensions for fine, fragile, or processed hair, it is important that you consider the type of style.
For example, a lengthy bob may not hold up well if styled with large-volume pieces or curly hair extensions in order to hide all those little flyaways and unruly waves on top!
Discuss what you want and what you expect from your hairstylist before she gets started so you both understand the outcome once the hair has been fixed.
It's easy enough when shopping around at beauty supply stores if you have such stores in your area, some salons too will sell hair extensions.
However, there are many other options out there like online purchase sites where customers can compare different brands and models from one another before making their final decision.
But no matter what route you opt to take make sure these three things remain
(1) buy a quality product, this will ensure longevity over time since poor craftsmanship means more problems down the line–not just today.
(2)know the salon fixing your hair is qualified and knows how to do it.
(3)Make sure you can style the hair extensions at home alone later after you`ve left the salon.
(4)Understand how you can wash your hair extensions at home. Here is a recent post on washing your hair extensions at home with the best results.
Some hair extensions are much easier to deal with, like those we mentioned here, but that`s not always the case.
Best Hair Extensions For Fine Hair
There is quite a lot to choose from when you`re buying hair extensions, but choosing the right hair extensions is vital.
Do you want human hair extensions or does your budget only allow for synthetic hair extensions?
You should choose extensions that will not distress your hair follicles more than necessary.
Tape-in extensions and halo hair are my go-to because I have fine hair that`s also thin at the same time, you know the kind of hair that blows away in the wind direction when there is somehow a strong breeze.
Some hairdressers will advise you to use hand-tied hair extensions but I do find they cause too much tension to your natural hair. Clip-in hair extensions are quick but not for everyone just as curly hair extensions are not for everyone with 4B hair.
Now let`s check my top two recommendations.
Halo Hair Extensions
Halo hair extension comes as one piece attached to a clear wire in a single weft, you just put it on below the hair like you would a headband.
Once it`s in place, use your natural hair to cover the wire, and moisturize the ends of your hair to give it a smooth finish, it`s quick and painless and done in minutes.
Style to your liken, you can even gently trim some out-of-the-way hair strands, now you are ready to show the world your new mane and your natural hair will not be damaged.
With Halo hair extensions you can put them on and take them out whenever you like. So I do recommend them for people who want hair extensions as an occasional wear.
I`m sure you want to grow your natural hair to its healthiest, thick, luscious state. You can do this while using Halo hair in comparison to other hair extensions out there.
To give your halo hair a longer life span, always use a soft bristle brush, and avoid product buildup by washing weekly with sulfate-free shampoo followed by a deep conditioner and end with a leave-in hair mask, this will help you keep curl patterns if you choose curly hair extensions.
What I love the most about tape-in hair extensions is that you do not need any heat to apply them, when hair is already thin and fine, you don`t need anything that will feel heavy for your natural hair.
To apply tape to hair extensions, the hairdresser will sandwich (Yes it`s sandwich because I don`t have another word for it)the wefts with your hair.
Now with thin or fine hair, your hairdresser should not sandwich the wefts but just tape them on one side so the extensions are not too heavy for your natural hair.
I`d just recommend not overstaying with your tape-ins, I`ve seen people keep their tape-ins until the tape starts to grow with the natural strands, you really don`t want this.
If it's your first time getting hair extensions done, talk to your hairdresser about hair breakage, washing, styling, and using hair styling products because some hairdressers will not advise you if you don't ask.
Do Extensions Damage Fine Hair?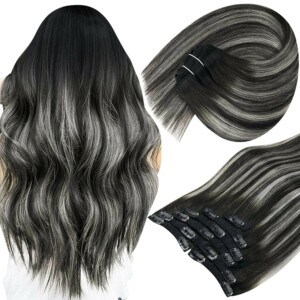 As a rule no, but if not done properly and if the aftercare is lacking, hair extensions can damage your hair. The rule of thumb is to go with the lightest hair extensions.
As a rule of thumb, try not to use synthetic hair when you already have thin hair, although there are some very good synthetics out there that are not heavy. If possible, try to buy human hair extensions, they are light and work well in most hair types.
Avoid Beyonce Like box braids as you`ll not be doing your hair any favor, strictly speaking, avoid braids.
Thin hair, fine hair, you will be fine with hair extensions once you find the right extensions that we just spoke about, again mind the hair extensions length, there is nothing that screams fake hair more than hair reaching your waist if you are a petite woman(my opinion)Find a good middle with the length.
Key Takeaways
Wash your hair extensions to keep them looking healthy, clean, and good as new.
Detangle the extensions, before washing your hair extensions, always detangle them with a good detangler brush.
 Do not use dry shampoo on hair extensions instead, wash your hair extensions with sulfate-free shampoo and sulfate-free conditioner.
Do not hang your hair extensions to dry after washing, use a flat surface and let them air dry naturally.