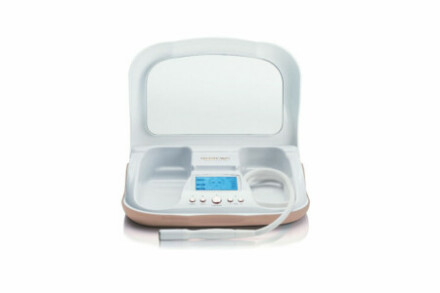 The unit can get clogged repeatedly during the treatment. So, you may need to clean the tip several times to complete the procedure.
Some customers have complained that the suction power is not enough to compare it to a professional-grade microdermabrasion machine used in spas or clinics.
Some people who bought this product said that the vacuum band broke after a few use. However, there's not much to worry because you can get replacement parts easily.
At the time of writing this review, the price of the device was $299 from Amazon which we found slightly higher than other rival products available in the market.
But there are just as good or better microdermabrasion machine alternatives like this one not only do it do the same job, it`s more affordable but results are the same. Get it by clicking the image below.
Verdict:
The LED display and auto mode feature makes this microdermabrasion machine perfect for beginner's use.
So, if you are planning to try the device at home for the first time, this would be the safest option.
The effective diamond tip removes dead skin cells effectively and fights the various signs of aging t reveal youthful skin.
The various suction levels are designed to suit people with different skin types.
Whether you are a teenager wanting to reduce acne scars or a woman in her 40s wanting to look younger, this device works well for both.
Check other microdermabrasion machines here if you are not convinced or just want to look at other options.
Although we feel the Trophy Skin Microderm MD Microdermabrasion Machine is slightly expensive than other home microdermabrasion machines in the market, the auto mode features make it one of a kind.
If you are reading this post to find the best home microdermabrasion machine, the MD is well worth testing.
So, if you are trying microdermabrasion for the first time, then it makes sense to invest in a microdermabrasion machine.
It comes with an auto mode feature and a detailed instructional DVD to guide you better and make your first experience with at-home microdermabrasion a pleasant one.
If you have any questions do leave me a message. If you know someone who could benefit from this post, please do share with them on your favorite social media, sharing is caring.