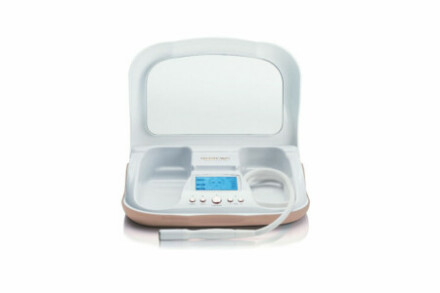 The Trophy Skin MicrodermMD Microdermabrasion Machine helps you discover the radiant and youthful skin that is just beneath the buildup of dead skin cells.
This professional-grade device uses a hi-tech combination of gentle suction and diamond exfoliation to remove the dead cells.
It also encourages the growth of new skin cells and tissues. Read more on skin cells renewal here. You can use this device at home to get a spa-like skin treatment in 5 minutes.
The Trophy Skin Microderm MD Microdermabrasion Machine is safe for all skin types, and it reduces signs of aging to reveal youthful and glowing skin.
The diamond head contains small diamonds that slough away the dead skin cells from the face, neck, chest, and hands.
The vacuum effect helps in removing the accumulated dead skin, resulting in smooth and younger-looking skin with fewer wrinkles, fine lines, and age spots.
There are 8 different suction levels for people with different types of skin, and the suction effect further encourages the blood flow to the skin and produces collagen.
The product comes with an easy to use auto-mode which is specifically designed for beginners.
The auto mode will take you through the treatment procedure in each zone in 5 minutes.
The LED display will show the zone to be treated along with the predetermined suction power level.
The kit includes an instructional DVD that contains details about how to use the machine to treat skin problems, how to maintain and store the device properly.
Trophy Skin Microderm MD home microdermabrasion kit.
Safe to use for all skin types
It reduces the appearance of fine lines, wrinkles and age spots
It repairs sun damage and reduces acne scars
Removes dead skin cells to reveal youthful and fresh skin
The diamond head comes with 8 different vacuum levels
Built-in mirror with 5X magnification for easy viewing
Pros:
This is a professional level Microdermabrasion Machine that helps you enjoy a spa-like skin treatment right at home, at a fraction of the price. No more multiple spa visits for ongoing treatments. You pay just one time and then use the device to do as many skin treatments without breaking the bank.
The diamond tip contains small diamonds that create a friction effect to slough away the dead cells and unclog the skin pores. There are about 100 filters to remove the dead skin cells to reveal youthful and smoother skin.
The device comes with a LED display and pre-set auto mode to guide you on how to treat the face and neck zone. It walks you through the entire procedure in just 5 minutes.
There is a built-in 5X magnifying mirror attached to the device. It enables you to easily see the zone to be treated without having to lean over a bathroom mirror. We really liked this feature that is different from other microdermabrasion machines in the market.
There are 8 different suction levels for different skin types. As a beginner, we would recommend that you start with lower suction level and then upgrade to more powerful ones for the rough skin areas.
The machine comes with 3 years warranty period, so any damaged or missing parts are covered.
You just need to inform the customer service and you will get the replacement parts delivered at your doorstep.
The kit comes with an instructional DVD that contains complete details on how to use the machine and how to take care of it.
Check other home microdermabrasion machines here.
Cons:




The unit can get clogged repeatedly during the treatment. So, you may need to clean the tip several times to complete the procedure.
Some customers have complained that the suction power is not enough to compare it to a professional-grade microdermabrasion machine used in spas or clinics.
Some people who bought this product said that the vacuum band broke after a few use. However, there's not much to worry because you can get replacement parts easily.
At the time of writing this review, the price of the device was $299 from Amazon which we found slightly higher than other rival products available in the market.
But there are just as good or better microdermabrasion machine alternatives like this one not only do it do the same job, it`s more affordable but results are the same. Get it by clicking the image below.
Verdict:
The LED display and auto mode feature makes this microdermabrasion machine perfect for beginner's use.
So, if you are planning to try the device at home for the first time, this would be the safest option.
The effective diamond tip removes dead skin cells effectively and fights the various signs of aging t reveal youthful skin.
The various suction levels are designed to suit people with different skin types.
Whether you are a teenager wanting to reduce acne scars or a woman in her 40s wanting to look younger, this device works well for both.
Check other microdermabrasion machines here if you are not convinced or just want to look at other options.
Although we feel the Trophy Skin Microderm MD Microdermabrasion Machine is slightly expensive than other home microdermabrasion machines in the market, the auto mode features make it one of a kind.
If you are reading this post to find the best home microdermabrasion machine, the MD is well worth testing.
So, if you are trying microdermabrasion for the first time, then it makes sense to invest in a microdermabrasion machine.
It comes with auto mode feature and detailed instructional DVD to guide you better and make your first experience with at-home microdermabrasion a pleasant one.
If you have any questions do leave me a message. If you know someone who could benefit from this post, please do share with them on your favorite social media, sharing is caring.