In this blog post, we'll explore how synthetic hair extension can take your hairstyle from drab to fab! We`ll also see how they work and how best to apply them. Read on for an informative look at all things synthetic hair extension.
So if you are looking to add some extra length, volume, and texture to your hair without spending hours in the salon, let`s discover synthetic extensions.
Synthetic hair extensions may be your answer for a quick dramatic hair change! Forget about the hassle of permanent bonding treatments or worry about getting just the right shade.
Hair extensions allow you to quickly, easily, and affordably create beautiful new looks with minimal effort. An easy way to change your hairstyle any time you wish at affordable prices.
Transform your look in a matter of minutes with synthetic hair extensions and pieces for every style.
Whether you're after wild curls, sleek straight locks, or natural wavy strands – there's something to suit everyone!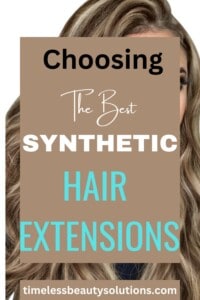 Made from enhanced Premium Synthetic fibers that boast an incredibly realistic texture and finish, pre-styled ponytails are the perfect way to top off any style.
What Are Synthetic Hair Extensions Made Of?
Synthetic hair extensions are made from synthetic fibers designed with realistic textures.
They can be heat-molded and pre-styled for easy maintenance – guaranteeing that you'll always have luscious locks.
A range of materials such as Nylon, Polyester, or Acrylic, are heated to create the perfect style that will last all day.
Dare to experiment with new styles since these pre-styled extensions never go out of fashion and are quite affordable and a great option for costly natural hair extensions that are of higher quality but also cost up to 6X more.
Are Synthetic Hair Extensions Any Good?
Those looking to make a long-term style statement and have the budget for it should opt for human hair extensions as they cost more.
They are designed to stand the test of time with their wearability lasting up to and over a year depending on how you care for them. Wash them, color, bleach, or heat style – no matter what you do these beauties can take it!
On the other hand, if it's just temporary glamour that appeals then Synthetic Hair Extensions may be your go-to choice.
You may like
Human hair wigs for African America women
Hair extensions for short hair
How to wash hair extensions at home
For those looking to add a little something special to their look, investing in quality synthetic hair extensions is an excellent choice.
Not only are they high-grade and reliable but also have the added benefit of being able to be used again.
How Long Do Synthetic Hair Extensions Last?
When it comes to hair extensions, the quality of your investment is key, real human hair extensions will always "outperform" synthetic hair extensions.
Sure, a good set of human hair extensions may cost more than cheaper alternatives. But investing in synthetic fibers will offer you a chance to buy more extensions for quick style changes that are sure to make an impact!
Still not sure? (check Shacarri Richardson's colorful synthetic wigs that we talked about in the past).
Transform your look with a quality set of extensions! Investing in synthetic hair will ensure you can switch up styles quickly and easily without worrying about the price.
The Best Synthetic Hair Extensions
These are perfect for those with textured hair, the bouncy curly extensions are quite thick and a packet is enough for full hair.
The hair is easy to style if done gently, transform your hair extensions into a luxurious mane with some simple pampering!
Start by applying a deep conditioning treatment or hot oil mask to restore nourishment. When done, carefully brush from the bottom up for tangle-free styling. In no time you'll show off beautiful strands that look and feel fabulous!
These extensions if cared for can last some time and given that they are more affordable, you can buy different sets and sizes to mix things up.
You can buy these as Micro beads, Clip ins, Tape-ins, or sew-ins, installment methods are really not limited.
Do not wash in hot water or use flat irons or heat tools on the product. Hot oil or deep conditioning is enough as heat tools will ruin the silky texture since the synthetic fibers can not withstand heat.
Azqueen Synthetic Hair Extension
This is more suitable for sew-in or weave-in hair, it`s quite lengthy and will work for those looking for hair volume and hair length. Still, be sure to check the length you want as it goes up to 30 inches which is quite long.
The natural color is black it is double Wefted, and has no shedding, Cuticle Aligned Hair can be styled quite easily with a wide-toothed comb. 
Without ruining the weaves it`s also what my hairdresser use to do wigs and I never heard any complaints.
It is of a higher quality compared to some synthetics out there.
A variety of synthetic hair extensions can give you a new look. From clip-ins that provide an instant transformation to pre-bonded options for long-lasting style.
Tape-in extensions are also available as an in-between option with luscious locks that last!
Synthetic Goddess Box Braids Crochet
This knitted crochet hair is easy maintenance and suitable for those with 4C hair. You need 6-8 packs for a full head, so it can feel heavy on your head. Comes in 15 different colors, which means there is something for everyone.
The extensions are perfect for everyday wear but not really practical if you are going swimming because once wet, they will be heavier than before.
 To keep the hair looking fresh and shiny, use any good hair oil for the ends to keep them from drying out. When washed, the curl patterns spring back with no problem once dry.
These are the best choice for those with short hair and a good alternative to braiding hair that can take hours.
Something else worth mentioning(this is my opinion)The bohemian box braid is more suited to younger people. It looks kind of out of place in mature women. For mature women, I`d suggest them only for special occasions.
This comes from 16 to 18 inches. For those with 4c hair type, this synthetic hair extension is for those who want natural hair extensions that are hard to differentiate.
Unfortunately, it is easy to tangle, and shedding should be expected. A bag comes with 7 pieces that weigh 120 grams (I don`t know why they did not put 8 pieces).
What Are The Different Types Of Synthetic Hair Extensions?
If you're looking to switch up your style, there are plenty of options! Synthetic hair extensions come in a variety of forms:
Clip-in for quick transformations; tape-in for long-lasting results; and pre-bonded if you want something truly permanent. Give yourself the gift of amazing new looks with synthetic hair extensions.
Can You Tell The Difference Between Synthetic Hair And Human Hair?
There is really no PROPER answer to this. I think experience makes all the difference because there are VERY GOOD human hair imitations.
Personalizing human hair wigs with colors gives them a unique luster that synthetic fibers can't match.
In contrast, certain chemicals used to create synthetics may have the reverse effect of making them overly glossy or reflective. An unnatural shine quite different from real tresses!
Nowadays, synthetic hair offers an incredibly smooth and luxurious feel that rivals the quality of real human hair.
But when it comes to washing and drying your tresses, they won't share quite the same behavior. While synthetics will retain their shape after shampooing sessions.
You'll need to re-style natural hair for a gorgeous look every time! Moreover, fewer tangles will be in store thanks to its style memory abilities. All signs point towards less stress during styling regimens.
In simple words, if you are just getting started with artificial hair. You`ll not always be able to tell the real difference.
I think you should just try different types of extensions before you find what works for you.
Worth Knowing About Synthetics
Artificial hair extensions offer a striking shine and convenience, lasting up to several weeks in their original style.
With the look and feel of human hair, they provide effortless glamour without needing any styling or maintenance no heating tools, it`s a wear and go.
Summing it Up
I hope you found this post useful and will help you find the best synthetic hair extensions, as said, some synthetics are very high quality and easy to mistake with real ones so be on the lookout.
If all fails, let the price guide you, real human hair has a high price compared to fake hair but having said that, the best synthetic hair extension is the one you can afford and feel comfortable wearing.
If you have any questions please leave me a comment below.