If you`re going to find the best skincare products for dry skin, it`s important you know what causes the skin to dry and what products to look for and what to avoid.
So before I get into products, we`ll first look at what causes dry skin.
Many of us have experienced having unusually dry skin at one point or another in our lives.
A dry skin condition is very hard to deal with, especially in very cold or hot climates.
Frequent use of harsh soaps and detergents are a common cause of dry, itchy skin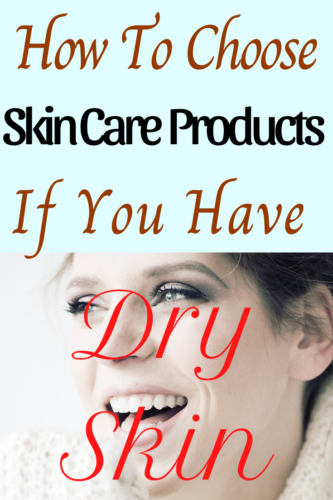 Dry skin is a type of skin that hardly produce sebum or oil.
When the oil glands do not provide enough oil to the skin, the skin becomes dehydrated.
When skin gets exposed to the elements, it becomes drier.
Dry skin can be caused by a lack of vitamin A, systemic illness, overexposure to sunlight, and some medications that react with your skin texture.
Most times as we get into our twenties and above, our skin tends to become drier because the skin gets thinner due to loss of collagen and the sebaceous glands tend to produce less oil at this stage.
There are also many soaps that can quickly remove the natural oils from your skin and lead to dryness.
Dry skin lacks elasticity and is not supple or soft. It needs more attention.
So it's necessary that you choose the right skincare product to keeps your skin hydrated and looking healthy.
Your skin needs nutrients to appear healthy and young so apart from spending money on products remember your lifestyle and what you eat matters too if you are to fight dry skin.
Know Your Skin Care Products
Knowing the best skin products to buy is necessary.
The best skin product for dry skin should be able to hydrate skin deep down and also reduce the appearance of wrinkles.
Yes, apart from dry skin, one skin problem people with this condition become more susceptible to is the appearance of wrinkles. When skin dryness is reduced, the appearance of wrinkles is also reduced.
The best skincare products for dry skin should contain effective natural moisturizers and should also boost collagen production.
Skincare products that contain chemicals like parabens, fragrances, sulfates, and alcohol should be avoided because they dry out the natural moisture and oil in the skin.
Some of the chemicals used to create fragrance can be skin drying.check an earlier article here.
What To Look For In Products
Moisturizing skincare products are excellent for your dry skin. The dry skin comes about because of a loss of moisture.
It is necessary you replace that lost moisture and retain it.
Moisturizers help in making the skin moist, but sometimes they contain ingredients that might hurt your skin.
When buying skincare products for your dry skin, remember to check the label for the ingredients used in making the product, to avoid buying products that your skin might be allergic to.
Moisturizing products that work best for your skin without being harsh contain natural ingredients.
Look for moisturizing products that are made from botanical-based oils.
the oils are avocado oil, almond oil, jojoba oil, and soybeans oil. Also, look for moisturizing skin care creams that have vitamins and omega3 fatty acids to replenish moisture.


For those who have dry skin woes, here are some of the best skincare products for your dry skin.
These products have fortifying hydration that will inject your skin with the hydration it needs.
Clinique moisture surge intense skin fortifying hydrator:
This product is suitable for all skin types, but it's best suited for those suffering from dry skin.
It contains natural hyaluronic acid, one of nature's moisture magnets that help in attracting moisture from the environment and locking it deep inside your skin.
At $ 27.99 from Amazon and free shipping, it`s quite affordable.
This body moisturizing cream is fragrance-free and filled with sweet almond oil.
It's also lanolin-paraben free containing extra-strength emollients and humectants that lock moisture in the skin thereby preventing moisture loss.
This is my favorite and quite affordable at just $19.10 from Amazon Click here to view.
St Ives Intensive Healing Body Lotion:
This skin lotion is made with 100% natural moisturizers sourced from plants.
Cranberry seed oil with olive oil to soften, condition, and repair dry skin, soybean oil, and plant-based glycerin.
It is specially formulated to treat dry damaged skin.
The brand also boasts of the product's ability to instantly boost skin's natural radiance by infusing the dry skin with long-lasting moisture.
This smooth sensation Lotion delivers intensive moisturization for dry skin.
It is enriched with Ginkgo, Shea Butter, and Vitamin E. It also provides nutrients that smoothen and nourish the skin.
Nivea is a brand name in cosmetics and skincare products that`s known to anyone because of the quality and affordability of their products.
Aveeno baby daily moisture lotion:
It is made from natural oatmeal mixed with rich emollients that soothe and help protect the skin.
Though it was specifically made for babies, most adults swear by the benefits they have received from using this product.
It is alcohol-free and fragrance-free and gentle and soothing on the skin.
Palmer's cocoa butter formula, daily skin therapy:
It's excellent for dry skin as well as stretch marks and discoloration. It has a rich, creamy texture that is both moisturizing and healing. Though if you wouldn't want to be scenting all over like candy, it's best you avoid it.
Check an earlier post on Coconut oil and benefits of Coconut oil here if you missed it.
Conclusion on best skincare products for dry skin
Always remember that skins differ, and what may be good for someone may not work as well on your skin.
There`s an earlier post on that here if you missed it.
Also, know that the best product for your skin type doesn't always have to be the most expensive.
There are affordable dry skin care products out there.
As you`ve seen, the products above all cost less than $30 but produce good results when you`re dealing with dry skin.
But dealing with your dry skin does not start or end there, proper cleaning and diet makes a big difference to your skin
It's best you research any product that would come in contact with your skin to avoid using products you may be allergic to.
These are some of the products that users have attested to their benefits and have testified about their effectiveness when it comes to soothing dry skin.
You can purchase the above-mentioned products at your local beauty store or if you shop online.
Amazon has the best prices but you can check other online vendors like sallybeauty.com and compare prices
I found a past that explains why Amazon is the best place to purchase goods online and I hope you too will find it useful.
If you know a friend who could use these tips, please go ahead and share it in social media, if you have any questions.
I`d love to hear from you, even if you don`t have questions, I`d like to hear how you deal with dry skin.