Retinol is considered as the holy grail of non-invasive skin wrinkle-prevention. It is a vitamin A derivative which stimulates the skin collagen production and reduces the appearance of aging sign such as fine lines, age spots, and clogged poresIf you`re looking for ways to remove age spots and the other signs of aging, you should get one of the best retinol moisturizers named here.
Retinol has an extremely small molecular structure that can penetrate deep into the skin. This is the reason why retinol products have been in use for treating several skin conditions such as acne, psoriasis, etc. That said, the concentration of retinol in a product needs to be monitored in its formulation and it is important to consult a dermatologist before using any retinol product.
Check how to choose a moisturizer for your skin type in this earlier post so you know what to look for.
Listed below are some of the best retinol cream moisturizers which can be added to the skin care regimen.
L'Oreal Paris Skin Care Revitalift CicaCream
L'Oreal's Revitalift contains its two-star ingredients: retinol and Centella Asiatica that makes it one of the popular choice.
Along with the benefits of retinol, you also get the benefits of Centella Asiatica which is a herb traditionally used in Chinese medicine.
It has been long used in helping treat a variety of skin ailments such as burns, skin inflammation, redness, irritation, and psoriasis.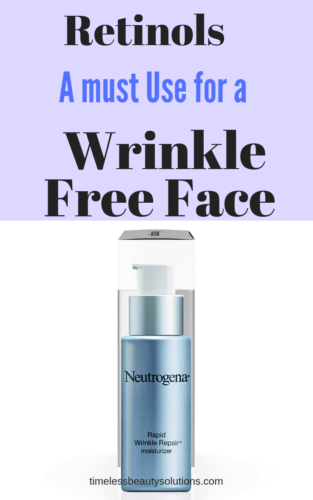 It also helps strengthen and repair the skin barrier that gets weak with age in order to help resist the visible lines, loss of skin firmness, wrinkles and other aging signs. Hence preventing the moisture loss.
Loreal is a lightweight cream formulated with Pro-Retinol which is a powerful anti-wrinkle ingredient.  It makes the skin look healthier, softer, firmer, smoother, fresh, and more supple. Skin elasticity is noticeably improved within the first week of use.
Neutrogena Ageless Intensives Deep Wrinkle Moisture
Neutrogena, as it comes as no surprise, is a reliable company and their products are easily available at stores. They use good quality ingredients.
Neutrogena Ageless Moisture is a dermatologist tested and non-comedogenic moisture that repairs the skin damaged due to aging. It is formulated with ingredients such as hyaluronic acid.
Hyaluronic acid helps hydrate and rejuvenate the skin. Retinol SA which is another main ingredient also helps in the renewal of the skin.
It works through the night and smoothes the aging signs like wrinkles and age spots. In only two weeks, the skin looks healthier, fresher, and replenished.
Retinol serves as one of the important ingredients in skin care programs it most effective in skin rejuvenation and collagen production with minimal potential for irritation. That is the reason it is formulated with the high potency nano-encapsulated retinol.
It also contains natural antioxidants as ingredients. These ingredients ensure the maximum effectiveness possible. This skin treatment restores and nourishes the skin.
The formula lightens the spots and freckles. Also, it exfoliates the skin giving it a more supple and translucent look. 
 If you are applying collagen topically, choose a product with collagen amino acids that are small enough to get to the deeper layers of the skin  to deliver that plumping effect you associate with collagen and Amarte wonder cream is the right choice.
The price tag may not suit everyone but get one if you can as it also goes a long way.
The Ordinary Granactive Retinoid 2% in Squalane
The Ordinary is a water-free solution consisting of a 2% concentration of Retinoid active complex.
This advanced Retinoid is called Granactive Retinoid that is known to give better results in the treatment of signs of aging than retinol.
This benefit is without irritation and other drawbacks which are common with retinol.
The Original is an over the counter product and is affordable. Some believe it`s more effective than non-prescription retinol cream.
Neocutis Nouvelle Plus Retinol Correction Intensive Anti-Aging Cream
Neocutis utilizes only 0.6% retinol in its formulation that helps in penetrating the skin deeper. The skin irritation is minimum.
It also contains megaplex which diminishes the age spots and evens out the skin tone.
This treatment reveals a brighter and more radiant-looking skin complexion. The Melaplex present in Neocutis offers a multifaceted targeted approach to treat the skin from discoloration and bringing back the vibrancy of the skin.
It is suitable for all skin types. It is non-comedogenic and is Dermatologist Tested. It Contains no Color Additives. No fragrance and is not tested on animals. 
 
Neutrogena Rapid Wrinkle Repair Moisturizer SPF 30
Neutrogena Rapid Wrinkle Repair Moisturizer SPF 30 works against the fine lines with the help of a unique hybrid of sunscreen and moisturizer.
In its formulation, a glucose derivative is combined with this unique hybrid retinol formula that helps in treating skin discoloration.
The hyaluronic acid helps in hydrating and protecting the skin. Hydration helps in reducing aging signs such as wrinkles.
The results are noticeable within a week of its regular use. As a bonus, it is super-charged with Broad Spectrum SPF 30 beneficial for sun protection.
Murad Retinol Youth Renewal Night Cream
Murad Retinol is a well-known skin care cream for night use. This is developed through a Retinol Tr-Active technology and peptide-rich red algae that help in preserving the elasticity of the skin.
The formula is gluten-free and hypoallergenic. It contains no parabens, sulfates, or phthalates.
An ideal retinol cream moisturizer for all skin types including the most sensitive skin types. This treatment visibly minimizes the lines and wrinkles giving a smooth texture to the skin.

Conclusion on The Best Retinol Moisturizer
Retinol, although beneficial for the skin, does have its drawbacks when not used in proper concentration. The side effects include skin dryness, peeling, and irritation.
The concentration of retinol matters in skin care. So, it is suggested to note the concentration mention on the product and your skin needs. You can also consult a dermatologist.