Secura Nano Ionic Nano Care Facial Steamer Review will help you understand more about the product, how it works and what you should look for, I hope you will find this review helpful.
The Nano Facial steamer is the best facial steamer for acne, effective moisturizing and deep cleansing equipment, developed for facial skin.
It is affordable and is versatile in its functions as it can also double as room humidifying equipment. The mechanisms integrated into this product are sophisticated.  A user's manual is also available in English.
Name: Secura Nano Ionic NanoCare Facial Steamer
Website:  https://www.thesecura.com
Type Of Product:   "Nano Ionic NanoCare facial steamer"/ Nanotechnology and ionic steam based deep cleansing and moisturizing device for the face.
Owner:  Secura Inc.
Price:  $49.99
Rating:  4.1/5
What Does It Entail:
Basically, the user has to fill the water chamber and plug in the equipment. Once the equipment is plugged in and switched on.
The equipment quickly boils the water and breaks down the steam from it into nano-sized units so that it can easily enter the skin, and clean out the pores.
These nano-sized units of steam simultaneously hydrate the skin while doing the cleaning job. The process removes dirt, grime, dead cells, excessive oil, etc., on the skin, leaving it looking fresh, bright, softer, and smoother.
Like in all such products, care needs to be taken around the eyes, and lips. Lips can be covered with balm, and the area near the eyes can be covered with some "eye serum" before beginning the steaming procedure.
What Does Secura Nano Iconic Promise To Deliver:
The promises include
Deep cleansing pores without any chemicals;
Moisturizing and hydrating skin without any chemicals;
Ability to deliver essential oils deep into the skin;
Killing any bacteria on the skin;
Detoxification of skin;
Improves blood circulation;
Making the skin soft and supple, because of which wrinkles and scars seem diminished, and skin looks younger
Skin looks healthier and glows within no time since pollutants on the skin are removed.
Does It Deliver?
This Secura Nano Ionic Nano Care Facial Steamer Review is meant to give you the positives or the not so good so I will say it as I found it.
It does deliver most of its promises, though it is difficult to assess whether all the bacteria on the skin is killed. Nor is it possible to ascertain whether it detoxifies the skin completely.
The effect on wrinkles, scars, and fine lines is minimal even though the skin does look more supple, radiant, and resilient.
Its ability to deliver essential oils deep into the skin is also something that needs to be confirmed.
But it does improve blood circulation because of which the skin starts healing, and in the long term, there could be the reduction of fine lines, scars, and wrinkles.
How Much Does It Cost?
The cost of Secura Nano Iconic is around $50 as of date though in some places it can cost as high as $80 or even more. Since there are no consumables involved, that basic cost is all that is involved, if the cost of power usage can be ignored, since that is negligible.
How Easy Is Secura Nano Ionic Use?
The product is very easy to use since all that you have to do is fill in the water in the equipment's water chamber, plug the equipment, and switch it on. However, you need to follow relevant instructions available in the English manual for preventing any mishaps.
How Long May It Take To See Results
The results are visible within 10 minutes.
Who Is It For?
This steamer is for everybody who wants to exfoliate and hydrate the skin. Therefore, people with dry skin, as well as others can use Secura Nano Ionic Nano Care Facial Steamer.
Pros: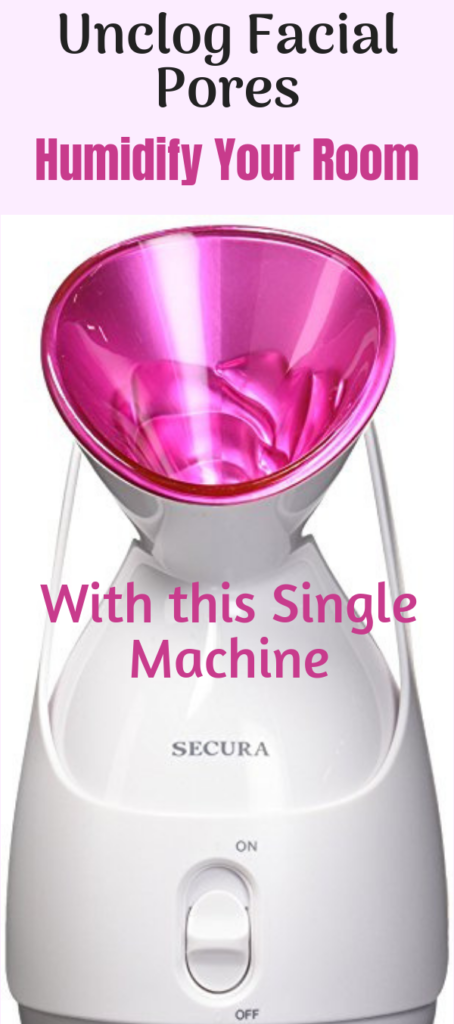 This is an affordable nano steamer;
It is a portable steamer because it is very light and small in shape and size;
The product is 7.7 inches length x 5.6 inches wide x 10.4 inches high. Overall weight of the product is merely 2.4 pounds
There is no spillage and sputtering is there from this device.
The steam is generated very quickly in this so this is one of the fastest treatments available for looking good quickly;
It can also serve as a humidifying equipment;
No chemicals are used like in peels, and no abrasive methods or scrubs are used that can hurt the skin;
The steamer has automatic turning off mechanism when the water in its water chamber gets over
It can be used to deliver some natural oils deep into skin, and rejuvenate the skin by improving circulation
Comes with 1-year warranty.
Cons:
The water chamber in this nano steamer is much too small, offering steam for only 10 minutes or so before being replenished with more water.
There may be smell resembling plastic burning from this device.
The benefits are temporary, though regular usage can help to improve the skin;
The benefits of this device are limited.
The device is designed for Electrical standards of North America. Therefore, it is suitable for "120V 60Hz"
The user has to decide how much steam exposure is enough. There is no inbuilt timer.
The user needs to ensure that other creams and lotions are not used while using such a device, as the nanoscale units of steam may take them right inside the skin. However, there are some balms, serums, and essential oils that can be used.
Money Back
There is no money back offer with this product. But I believe with all the details covered here, I answered all the questions you may have.




Conclusion
I hope my Secura Nano Ionic Nano Care Facial Steamer Review helped answer any questions you may have, but if you have more questions, just leave me a message and I will get back to you.
If you`re looking for other facial products, you can check an earlier post here on using microdermabrasion.
The best place to purchase Secura nano iconic facial steamer online is Amazon,