If you are going to use Microdermabrasion home kits, the first question to ask will be if they are effective as the ones at the saloon.
Microdermabrasion can help to reduce or prevent the wrinkles, acne and uneven pigmentation of your skin.
Daily, your skin is unsheltered from harmful environmental elements like sun rays, dust, grime, pollution and other damaging agents and this can affect your skin adversely in the long run.
Microdermabrasion is a cosmetic procedure that is used to remove and exfoliate the top layer of dry, dead skin cells to reveal healthier and younger looking skin. Tiny crystals or a diamond tip is used in the process.Read more about different cosmetic procedures here.
This removal of dead skin cells encourages production of collagen and elastin as the body tries to produce another layer of skin.
During the facial treatments, a wand delivering a fine jet of tiny abrasive crystals will be passed over the skin. Dead skin particles will be eroded away, and a vacuum action will remove the debris.
This double action will both resurface another skin and stimulate the blood flow, encouraging the skin to regenerate itself and produce collagen and elastin.
This action usually takes about 30 minutes, and you see a difference after the first procedure.
You can buy microdermabrasion home kits yourself and do the procedure yourself or you can use the services of a professional skin specialist.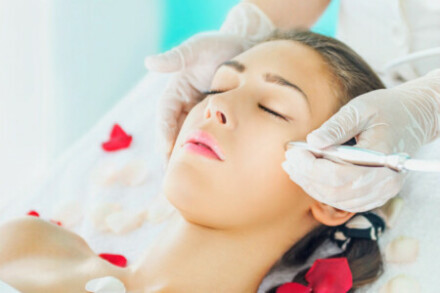 What is a Microdermabrasion Home kit?
Different at home microdermabrasion creams and home microdermabrasion machines are available for home use.
The microdermabrasion at-home system contains an abrasive cream or scrub and a tool for application.
The main active ingredient in the creams is aluminum oxide crystals, which are used in the professional microdermabrasion equipment.
There are also microdermabrasion cloths in the market, the tightly woven microfibers of the cloths5 scrub the skin and remove surface cells to achieve the result of skin resurfacing. Read my earlier post on how microdermabrasion work here if you missed it.
How Effective Are Microdermabrasion Home Kits?
Naturally, professional microdermabrasion treatments are more effective than home kits.
They have more advanced tools that will quickly scrape out dead skin cells to encourage rejuvenation of the skin and cell growth.
Home kits which are much milder in their approach will not offer the same results if you`re looking for quick results.
For those with sensitive skin or who do not have severe cases of skin problems, then this is not a bad thing.
Professional treatments can cause breakouts and skin reactions in some people, but since at home microdermabrasion kits are milder, the chances of having a reaction are less.
Both DIY and doctor's office microdermabrasion use identical principle and have the same outcome: reduction of fine lines, superficial scars, age spots and acne scars.
But personal microdermabrasion treatment cannot yield the same standard you get from professional microdermabrasion treatment on severe cases of skin problems.If you choose the traditional ways of removing fine lines, then read my earlier post here.
What To Look For In The Best Microdermabrasion Products?
The best microdermabrasion products are those that closely simulate the professional method and its effects.
Most microdermabrasion kits use the same type of crystals used in the professional treatment, but the way the cream is used differs considerably. There are four main pieces in a microdermabrasion home kit:
Microdermabrasion cream-The ingredients are different depending on the home kit brands or manufacturers.
Foam head - For ensuring even distribution and application of microdermabrasion cream on the skin.
Handpiece - Main body of the microdermabrasion home kit and it differs according to the home kit you get. It ranges from pure plastics to battery-operated type.
Post-treatment serum - These are soothing moisturizers which are designed to combat the effect of home microdermabrasion process which can leave your skin dry or itchy for a brief period.
Always ensure that you are not allergic to any of the ingredients in the microdermabrasion home kit which you are buying. There will be minimal risks provided you carefully obey the directions given in the home kits.
Experts advise that home microdermabrasion procedure should be done at night before bed because the chance of picking up dirt and grease at this time of day is less.
Hence, upon application of the home kit, your skin will have a higher chance to heal in clean conditions.
Benefits of Home Microdermabrasion Kits
One benefit of using home kit is that you can be in control of the microdermabrasion process and you can cease further usage if you notice any pain or discomfort.
Nevertheless, remember that the efficacy of microdermabrasion home kit will depend on some factors like your skin type, etc.
Some patients are able to notice a change just after the first application, while others may need several more applications before they can see the desire microdermabrasion results.
It is recommended that you apply it 10-15 times before you can expect to observe any noticeable difference on your skin.
This may drain your finances and that was the reason I wrote this post on buying and using inexpensive microdermabrasion kits at home.
The purpose of microdermabrasion home kits is not to remove deep scars, wrinkles or stretch marks. Rather it is to reduce the appearance and makes them less noticeable.
After a few applications, you will observe that your skin will be smoother, softer and pores unclogged.
Like professional treatments, you need to have a consistent regular home kits application to sustain the effects.
Some benefits of at home microdermabrasion are time and cost. You can carry out microdermabrasion anytime and anywhere you would like. The prices of these kinds of products are also lower than regular treatments.
It is possible to control the consistency of treatment and monitor the level of abrasion. You can also choose a microdermabrasion cream made up of much softer abrading crystals in case you have sensitive skin.
If you have dry or fragile skin, pick a microdermabrasion cream that contains bicarbonate sodium crystals.



It is possible to carry out a microdermabrasion without the need for a machine. You can just put the cream on your hands and massage it on your face with your fingertips.
You may also switch the microdermabrasion cream with a facial cleanser to cleanse your skin.
In case you are uncertain as to which home kits to get, it will be wise to ask your friends or read reviews like this one here of the different products before buying the home kits.
It is also suggested that you use it on a small patch of your skin first so that you can decide if that particular home kit is compatible with your skin type.
The last step with your microdermabrasion should be applying a good face cream as your face and skin feels dry and tight after microdermabrasion.
I hope my post could help you decide which microdermabrasion machine to buy or if you should have it done at a beauty spa.
All the above items can be bought at Amazon or at any other online or offline store of your choice.If you have any questions, leave me a message.