Product Name: LilyAna Naturals Retinol Cream Moisturizer 
Overall Ranking: 4.3 out of 5
Price:  $18.99
Product Type: Cream
Manufacturer: LilyAna Naturals.
Introduction To LilyAna Naturals Retinol Cream Moisturizer ,
The first thing will be to introduce you to the product, explain how it works and hope that at the end of this post, you`ll understand how the cream work and we`ll also check at the positives and any negatives using the product.
LilyAna Naturals is a newly-incepted company that is best known for offering affordable but effective products.
This is all vegan, all-natural, cruelty-free brand. A family-owned and operated company that is set to develop and distribute a small collection of natural products. 
These products formulated with natural ingredients are gentle on the skin and offer visible results similar to the ones delivered by other expensive chemical-based products.
The LilyAna cream is made using a plant-based concentration and active ingredients.
They work together to make skin clearer and return their healthy complexion. The moisturizer has scents of aloe vera and green tea.
Retinol cream itself is a great addition to all sorts of skincare routines. It is without side effects and can be used daily. It hydrates the skin and fights the aging signs.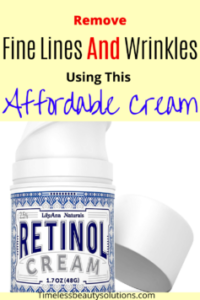 The retinoids found in this cream increase cell turnover. The cell turnover makes way for new and healthy skin cells to grow and rejuvenate the skin. It reduces wrinkles and fine lines. It also helps in the treatment of acne.
LilyAna Naturals Retinol Cream is a good moisturizing cream because it gives you all the benefits of retinol without clogging pores or causing breakouts. It can also help with reducing scarring, dark spots and stretch marks.
Some of the noticeable ingredients include hyaluronic acid, shea butter, vitamin E, and jojoba oil.
These are high-quality ingredients that come together to produce a skincare cream free from a greasy residue. It delivers results without causing any redness or dryness to the skin.
Pros Of LilyAna Naturals Retinol Cream Moisturizer
Visible results at a lower price in comparison to other competitor products
Shows results n treating very deep-set wrinkles after consistent use.
Visibly reduces fine lines and wrinkles
Minimizes pore size and skin mileaOffers a calming and moisturizing solution to typical retinoid treatments
The concentration of retinol is prescriptive-grade 
Green tea and aloe vera included. They soothe and moisturize the skin. 
It is gentle on the skin and is safe to use. 
Good customer rating
No harmful chemicals added
It has a money-back guarantee. As a bonus, the company offers a complete refund if you are not satisfied with the product.
Cons To Using LilyAna Naturals Retinol Cream
As with any skincare no matter how safe, not all skincare products are suitable to all skin types, LilyAna Naturals is no exception.
It also has some negatives though nothing serious. It might cause skin irritation to acne-prone users.
Check an earlier post on removing acne:
Skincare tips for acne-prone skin.
Best cleansers for acne-prone skin
Now, is Lilyana naturals cruelty free?
I know this is something many are pssionate about, knowing where a product comes from and to be sure the products are not testedon some animals.
So to answer your question. Lilyana products are made in the USA are not tested on animals and all cruelty free.
Lilyana products are gluten free and they are so confident with their product that Lilyana offers you 100% money back guarantee.
Who Is LilyAna Naturals Retinol Cream Moisturizer For
LilyAna Naturals Retinol Cream is a moisturizing cream for all skin types. It hydrates and plumps the skin. It helps reduce redness, fine lines, wrinkles, and other aging signs.  
This cream can be used for all skin types without any serious side effects.
LilyAna Naturals Retinol Cream Moisturizer Overview

This skin moisturizer is a Vitamin A formulation that delivers visible results without any skin irritation, redness or dryness.
LilyAna uses natural ingredients to deliver a healthier as well as more youthful appearance. It leaves no greasy residue. It works to promote clear skin and controls the breakouts. 
LilyAna Naturals Retinol Cream Moisturizer has a thick and creamy texture. It feels satiny smooth on the skin. About one pump of cream is good to cover the face and neck. The cream is easy to apply and gets absorbed into the skin nicely and quickly. 
This retinol cream moisturizer can be used both in the morning and night. You just need to apply a small amount of the cream on face, under eyes, and neck. Do it after cleansing your face properly.
If there is any dryness in the first few uses then use a moisturizer without retinol on alternate days rather than daily. 
The cream takes a minute approximately to dry. It does not leave any greasy residue behind. The face feels soft and smooth.
There is a noticeable difference that you feel on your skin. The skin feels hydrated and a little bit less red. 
LilyAna Naturals Retinol Cream Moisturizer contains natural ingredients such as hyaluronic acid, green tea, and vitamin E. These ingredients are known for reducing the aging signs. 
Green tea has polyphenols that are used in making skincare products. Polyphenols help fight aging signs and make the skin healthy.
Vitamin E works as an antioxidant(read more on Vitamin E and skin health here). It helps the skin look youthful.  It also has agents that block free radicals. Hyaluronic Acid also helps with antiaging. It hydrates the skin. 
Final Verdict On LilyAna Naturals Retinol Cream Moisturizer
LilyAna Naturals Retinol Cream moisturizer is a good retinol cream if you extra hydration and a plumped skin. This product makes the skin feel smooth, soft, and hydrated. 
This is a great product for first-time retinol users. It calms and soothes skin while retaining the moisture. It provides all the usual benefits as provided by any clinical-strength retinol formulation. 
Since it is a retinol product, remember to apply SPF each morning. These skin care products can be irritating. They can make the skin more sensitive.  Hence, extra protection from the harmful radiations of the sun is necessary. 
People who have sensitive skin should always exercise caution while trying new skincare products especially retinoids.
This cream offers a comfortable skin moisturizing option that is better than the vast majority of other products available in the market.
Hope you found this review useful, if you have any questions, please leave me a message below, if you know anyone who could benefit from this review, go ahead and share with them on any social media of your choice.
If you wish to purchase this product or similar products, just click the image link below that will lead you to Amazon.