Clear, smooth and wrinkle-free face does not always have to be expensive, inexpensive home microdermabrasion kits are easy to ue and cost just a fraction of visiting a beaty parlor.
Microdermabrasion is one of the latest techniques discovered for exfoliating skin. But there are several other benefits from this technique, which result in considerable improvement in the appearance of skin.
Though the technique is for exfoliating facial skin, it has also been used successfully for its numerous benefits on the skin in other parts of the body.
Effectively, it is one of the best non-invasive skin treatments available as of now for reducing wrinkles, exfoliating skin, and improving skin tone as well as texture.
But the reason microdermabrasion is becoming popular is because it is affordable, safe, and less time-consuming. To put it in perspective, Botox injections cost about $550, whereas microdermabrasion would cost only about half that cost.  Laser resurfacing costs a whopping $2,275.
To put it in perspective, Botox injections cost about $550, whereas microdermabrasion would cost only about half that cost.  Laser resurfacing costs a whopping $2,275.
These reasons coupled with the fact that reputed cosmetic products manufacturers have come up with the best at-home microdermabrasion kit that is portable inexpensive home microdermabrasion products has only added to its growing market share
Home Microdermabrasion solutions and costs
Broadly, these solutions can be divided into three categories, according to their pricing, I have an earlier review on microdermabrasion machines here if you missed it.
Costing $100 to $300
This is actually the most expensive option as it is performed in medical offices. Some of them may add additional consultation fees as well, which may be about $150.
Salons, as well as spas could charge anywhere from $75 to $200 these days for microdermabrasion and the procedure has to be repeated once in every quarter or so.
Some branded home microdermabrasion kits, systems, and products could also cost near about $200. The list of such branded systems and products includes "PMD Personal Microderm", which costs about $159 from Amazon at the time of this post.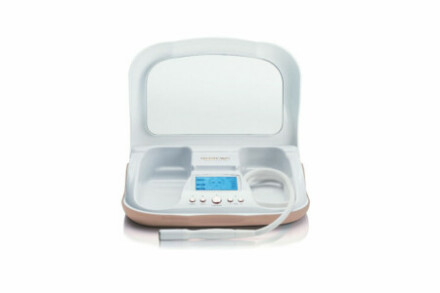 Costing between $50 to $99
As mentioned before some salons and spas could offer microdermabrasion that would be less than $100. Likewise, some branded home microdermabrasion kits may be available in this range.
Costing less than $50
This is the most favored set among all the microdermabrasion alternatives because of affordability.
The list includes inexpensive home microdermabrasion products and kits that are offered by well-known cosmetic companies as well as other microdermabrasion procedures from ingredients at home.
Inexpensive Home Microdermabrasion Products And Kits
Brand names Inexpensive home microdermabrasion products include 
At the time of writing this post, this product can be bought for $32 from Amazon or more depending on where you shop.
It can help to remove acne and acne scars and give the skin its youthful smooth and flawless looks. You could use it once in three days or so.
To begin with it costs only $26, which is considerably less than many branded kits. But unlike most kits which come with machines, or systems, this one is only a serum.
Your skin would feel soft and smooth after using it. Ideally, this microdermabrasion product should be used every day. It is a light and gentle product.You can buy a combination of step 1 and 2 together.
This product is available for $39.99. from Amazon by the time of writing this post, again prices may differ depending on where you chose to buy.It is suitable for addressing pigmentation, removing fine lines and scars issues. The skin becomes even toned after using it.
With a price tag to fit any budget, this is one of the real favorites and must-have if you`re on a budget but still looking for inexpensive home microdermabrasion kits that work.
This product is sold for $20.49 at the time of this post from Amazon. It exfoliates and smoothens the skin, without hurting or any burning sensation.
5-Beauty Society Crystal Ball Microabrasion Treatment
This exfoliator is available for $34.50 from offline shops. It is gentle and soft on the skin, with no adverse side reactions. It is also quick to show results.
6-Keihl Epidermal Re-Texturizing Microdermabrasion
This exfoliator is sold for $41 at the time of this post.This product is suitable for getting clearer, smoother, and brighter skin.
Home microdermabrasion solutions from ingredients at home:-
These are ideal options for those who have sensitive skin.
Baking soda plus water 
You would never have thought something as simple as baking powder would be good enough for microdermabrasion.  You just need to make a thick paste with a little bit of water.
Rub this paste on your face almost for five minutes, gently then wash off with warm water. Use a moisturizer, afterward wards since baking powder is alkaline and skin might feel dry.
Lactic acid or milk plus nutmeg
You would need finely ground nutmeg for it.
While this is an effective combination, lemon is also an astringent. Therefore, using sunscreen after using lemon juice is mandatory.
Pineapple juice plus oatmeal
Pineapple juice works as an astringent and it simultaneously makes the skin lighter.
But, having covered all these, we`ll have to answer one question
What`s the best at-home microdermabrasion kit?
The best at-home microdermabrasion kit is the DermaWand. This high-end product has five skin treatments in one and it can be used on your face, neck, or chest area.
It's designed for use by mature women with dry skin who are searching for a way to get rid of fine lines and wrinkles without having to go under the knife.
The DermaWand includes an instructional DVD that will show you how to use this amazing device safely and effectively so you can see results quickly!
If you looking for a way to get rid of wrinkles and fine lines while also giving your skin a healthy glow? without splashing out, then buying a high-quality at-home microdermabrasion kit is a perfect idea.
These kits are designed to be simple and easy to use while still being effective in their results. They can be used on any type of skin, from dry to oily or sensitive, which makes them great for people with varying needs.
In other words: Microdermabrasion kits can make all the difference when it comes to aging skincare!
The Inexpensive home microdermabrasion kits work brilliantly and you`ll see the difference, just do not expect salon-like treatment with your home kit, be patient as you keep working on your face.
Conclusion:
As can be seen from above, the best microdermabrasion home kits do not have to cost the most. Usually, tools in systems such as Kendal Professional Diamond Microdermabrasion Machine or Neutrogena Microdermabrasion System are used along with some affordable options, for the desired results.
Most of such products are suitable for sensitive skin, but it does not mean that these products cannot be used for other skin types.
There are a lot of options out there, and we've done the research for you. We've told you what's good and why so that when it comes time to buy your own kit, you know which one is right for you.