Have you ever wanted to give your hair extensions a boost? This post will explain how to wash hair extensions at home so you get that "just from the salon" look and feel every time.
Hair extensions have come a long way from their original, telltale appearance of being obviously synthetic and artificial.
Nowadays with brands like Luxy Hair using real human hair to create hair extensions, you can almost forget that they are not your own natural hair.
As wonderful as it is that artificial hair is finally passing for the real deal, one downside of hair extensions looking real is the common misunderstanding that they can be washed just like real hair for example in hot water if need be.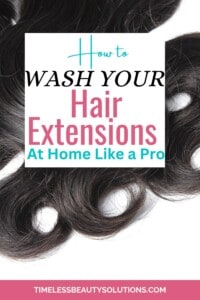 Bad news: using the wrong hair products or washing hair extensions wrongly can spoil them( even for real human hair).
Don't risk damaging your beautiful human hair extensions by washing them the wrong way. Extend their life and keep them looking stylish for longer with our easy guide on how to properly maintain these valuable beauties!
With a few simple steps, you can learn all about caring for your precious locks and get maximum enjoyment from each individual strand. You'll soon be rocking salon-worthy styles that make heads turn in admiration – start today!
Washing hair extensions is easy and quick if you know how and believe me, there is no reason you can not do it alone!
All You Need To Wash Hair Extensions
Washing hair extensions is easy once you have the materials you need, and you do not need that many, to begin with:
Detangling hair brush
sulfate-free shampoo (if possible otherwise any shampoo)
Hair conditioner
A bowl
Wide-toothed comb(not a must)
Hair oil
Microfiber towel
De-tangle Your Extensions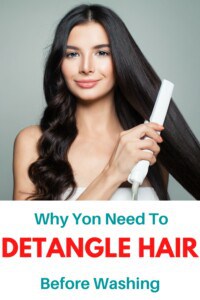 Why you should detangle your hair extensions?
Not detangling makes the hair extensions knot up.
Protecting your hair extensions from tangles is key to maintaining healthy, glossy locks after wash. Even a small amount of matting can have negative results when you wash artificial hair.
It's essential to keep on top of knots before they become tangles!
Hair extensions are easier to detangle when dry and airy, when wet, little knots and tangles get harder to untangle.
Prevent further knotting by lightly working through the tresses first with a good detangling hair brush. (you can also use a wide-toothed comb. A little preventive detangling will save major hassle later down the line.
Some prefer to detangle with hair-detangling sprays or conditioners, if this is what you choose, spray the detangler then still detangle with a soft bristle brush before you move to wash.
If you choose to go the spray detangler way, Jon Renau HD Smooth Detangler is my go-to.
Best Detangling Brushes
Ninabella Organic Detangling Hair Brush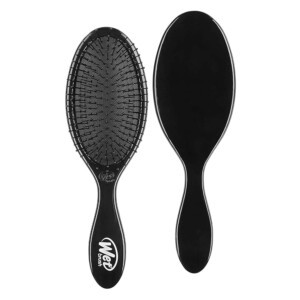 Crave Naturals Glide Thru Detangling Hair Brush
Wet Brush Original Detangler Hair Brush
You may like
Fill the bowl with lukewarm water(you can also use a bowl)
You need any kind of bowl large enough to accommodate hair extensions. Now the washing process for artificial hair and all type of hair extensions is more or less the same from here.
 Soak The Extensions
After you fill the bowl with lukewarm water
The first water is more to just"rinse"(I do this if the extensions are extremely dirty.
Discard the water and fill again adding a moisturizing shampoo this time.
Let the extensions all soak in the shampoo water then start washing gently.
I do this by holding the hair extensions from one and then keep swishing and dumping repeatedly changing the water until I'm sure the extensions are clean.
So repeat as many times as you have to.
Hair extensions can get dirtier than natural hair because you might not always notice it. Especially if you use dry shampoo and leave-in conditioner.The reason I prefer a proper wash.
Lather, Rinse, & Repeat!
Once the hair is clean, do it once more, this time adding hair conditioner. I prefer sulfate-free shampoos and sulfate-free conditioner but you can use your favorite conditioner that you use for the care of your hair.
Rinse with Warm Water
Just to remove any reminders of shampoo that may have remained. ( I know I wash my hair extensions the best I can)
Work In Conditioner
Now again re-apply a generous amount of conditioner, and work it in for a few minutes, if you have leave-in hair conditioner then you are done, if not, rinse the conditioner. The conditioner is to help your hair extensions keep their original shine.
To keep your hair extensions looking their best, be gentle when you wash them. Not only will it preserve the luster and softness of the hairs, but you'll also notice an added shine!
Allow To Air Dry
After you are done washing and convinced you did a good job, DO NOT hang your hair extensions to dry.
Washing and drying hair extensions can be tricky – the key is to minimize friction! Avoiding twisting and wringing them, using a microfiber towel before gently pressing out residual water is preferred.
After you`ve taken out the extra water, air drying is then the best way to go. Let the hair extensions air-dry on their own. Put the extensions on a towel and lie them on a flat surface.
Why You Should Not Hang Hair Extensions After Washing
Hanging your hair extensions to dry will damage them, especially curly hair extensions that may lose curl patterns.
Another no-no is blow drying the artificial hair, a blow dryer especially on wet extensions might make them shrink. Especially if they are not made with 100% Remy human hair.
You May Like
Best wigs for African American women
After Your Hair Extensions Are Cleaned And Dry
After the hair is dry, you are "not yet" ready for voluminous long hair immediately. Put a good quality hair oil in the palm of your hand and apply gently to the hair extensions until the ends of the hair.
After application, use a soft bristle brush this will keep your extensions looking as good as new and can even extend the lifespan of your extensions as they`ll need less styling which means less product build-up.
I find that a good quality hair oil applied on hair extensions makes them tangle-free. Now it does not matter any kind of extensions you use.
Human hair extensions or synthetic hair extensions, they can get tangled, there is just no way around it, apart from some hair oil, proper care, and gentle brushing with a wide-toothed comb or a hair brush.
Make sure you use a gentle shampoo, rinse thoroughly with lukewarm water, and then condition before laying out the pieces on a towel-lined surface. With proper care and maintenance, they'll stay beautiful for years.