Anti-aging cleansers are a good way to treat your skin, but if you`re just getting started with new cleansers for your maturing skin you might be asking what is the best facial cleanser for aging skin? look no further,this post is for you with different products explained.
With the passing of years come the wrinkles, age spots, dull, dry, and sagging skin. This change is part of the aging process which is natural. While these signs are inevitable, they surely can be slowed down.
With the help of a good skincare regimen that consists of skincare products that are very good at skincare needs, it can be achieved.
It begins with the cleansing of your skin which is an important step in skincare itself.For a skincare regimen, there are a variety of skincare products that are used such as moisturizers, exfoliants, serums, boosters, cleansers, etc.
It is very important to note what type of facial cleanser for aging skin is used as it sets the stage for the best skincare results.
There are several factors that need to be considered while choosing the best facial cleansers and moisturizers.
The skin cleanser washes away the dirt, the excess oil, dead skin debris, and remove makeup in order to prepare the skin so that it is able to absorb the skincare products better.
The skin cleanser should be free of ingredients like fragrance, alcohol, etc which are responsible for skin irritation. The skin cleanser should be chosen depending on the type of skin.
Here are some of the top-rated facial cleansers for anti-aging skin care:
Garnier The Gentle Sulfate-Free Cleanser
Apt for mature skin. Garnier offers a powerful facial cleansing yet staying gentle to the skin. There are no sulfates, alcohol, fragrance, parabens, oil, or soap which is very good as it makes it skin irritant-free.
It can effectively remove the makeup, wash away impurities and the excess oil from the skin.  
Garnier Micellar Cleansing Water All-in-1 Mattifying
A wonderful skincare product for facial cleansing. This cleanser helps deep clean the skin reaching into the skin pores to get all the dirt and impurities out.
Garnier Micellar Cleansing Water All-in-1 Mattifying Cleanser is suitable for face, lips, and eyes. Needs no rinsing or harsh rubbing. This cleanser also mattifies the skin and is a powerful cleanser but is gentle on the skin.
It is suitable for both oily and sensitive skin.   It works like a magnet where it captures and lifts away impurities leaving the skin clean and fresh.    
Check our top tips on skin deep cleansing.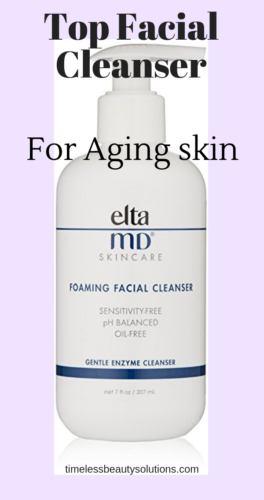 RESIST Optimal Results Hydrating Cleanser
The RESIST Optimal is specifically designed for a dry skin.
It helps soften the dry skin by replenishing the loss of moisture giving it a smoother look. It helps to remove the makeup effectively.  Resist optimal is a gentle face cleanser which also protects and preserves the protective layer of the skin.
It is safe to use around the eye area as well. It is free of fragrance, irritant-free, and has never been tested on the animals.
This is one of the highly-rated cleansers that can be used for all skin types.
It removes the environmental pollutants, the excess oil, and makeup while hydrating and refreshing the skin.                                           
Skin Medica facial cleanser helps removes dirt, face makeup, and environmental pollutants leaving the skin feeling refreshed.
Suitable for normal skin. Those who have normal skin can experiment with many products without much if any, side-effects. They also don't require the use of multiple skincare products and skincare treatments at once.

Hyperpigmentation: Obagi-C Rx System C-Cleansing Gel
The hyperpigmentation could be a serious concern if you are neglecting using the skin's sun protection. This facial cleanser helps in minimizing the appearance of the dark age spots.
Obagi C-Rx cleansing gel has lightening ingredients such as hydroquinone, niacinamide, kojic acid, and the exfoliating acids help with that.  
The mineral UV blockers such as titanium dioxide and zinc oxide also help minimize the risk of skin irritation.
This facial cleanser is a mild yet effective skin toner suitable for all types of skin. It helps in refining the skin texture and helps prepare the skin for skin treatment.
It consists of effective emollients Squalane, Apricot Kernel Oil, Avocado Oil, and Vitamin E.
The non-alcoholic skin toning formula used in this helps in gently removing the dirt and grime while hydrating the skin. The cleanser is PH balanced that provide optimal comfort and does not remove the natural skin oils.
Don`t be turned off with the "boring" container this is really a good facial cleanser.
Facial Fuel Energizing Face Wash
It is an efficient and energizing facial cleanser that removes the dirt, excess oil, and other impurities completely without leaving the skin dry. It is formulated with ingredients such as Caffeine, Menthol, and Vitamin E.
Want a face wash with invigorating extracts that are derived from Lemon and Orange Peels?
Check an earlier post on other skincare products here. It helps refresh and awaken the skin while helping the skin resist the bad effects brought on by environmental stress.  Makes the dull skin appear fresher and healthier.
All these products can be bought from Amazon safely and depending on your purchase you may benefit from free shipping. Click here to check different products.
Never shopped from Amazon? check here to see why Amazon is a great place to shop.
Conclusion On Best Facial Cleanser For Aging Skin
Signs of aging include wrinkles, fine lines, large pores and age spots which need to be recognized in order to address the needs of aging skin.
In the skincare regimen, skin cleansing must be a priority. Only if the base is clean of all impurities, only then skincare products can penetrate and work better.
Ingredients such as panthenol or provitamin B5 and the glycolic acid provide the skin with the moisture it requires all the while gently cleansing the face of all the impurities. Avoid skin products that have ingredients like mineral oil, lauryl sulfate, and alcohol.
I hope you enjoyed the post, and if you have any questions, do leave me a message below.
.