If your skin looks dry, dull and is lacking the natural glow of healthy skin then it means it is lacking in moisture.
It can be easily remedied with just a little effort on your part using dry skincare products.
Your skin can reclaim its irresistible radiance with dry skin treatment in no time at all.
Causes Of Dry Skin
Weather change

Arid and semi-arid regions which have dry air

Heaters

Hot baths and showers

Chlorinated water

Harsh chemicals in daily use products

Skin conditions such as dermatitis, psoriasis, eczema, etc.
Excessive use of skin cleansers
Listed below are some of the best dry skin care tipsfor providing the much-needed skin-nourishment for boosting skin hydration to reclaim the glossy bright skin.
No Time To Read The Whole Post? Here Are The Top Products.
Milk Cream:
Milk is, without a doubt, one of the best skin food for treating dry skin.
The fat present in the milk cream gives plenty of moisturizing to the dry skin making the skin feel soft, smoother, and silkier.
Massage a spoonful of milk cream gently on the face and the neck in a slow circular motion.
Keep it there for 10 minutes and then wipe it off with a cotton ball soaked in cool water.
Aloe Vera
:
Aloe vera gel has often been used in the treatment of dull and dry patchy skin.
Many skin lotions and creams use aloe vera as one of the main ingredients in their making but a fresh aloe gel is the most effective.
The polysaccharide present in aloe vera helps retain the moisture into the skin enhancing its collagen production.
Thus restoring the suppleness and elasticity of the skin.
The skin dryness caused as a result of the skin conditions benefits from the use of aloe vera as it is anti-inflammatory. It helps in healing the skin.
A diagonally cut aloe leaf will help extract the gel from it. This fresh gel can be applied on the face and neck to massage until it is absorbed into the skin.
Let the gel sit there overnight. Repeating the process every night before bed will yield good results.
Almond: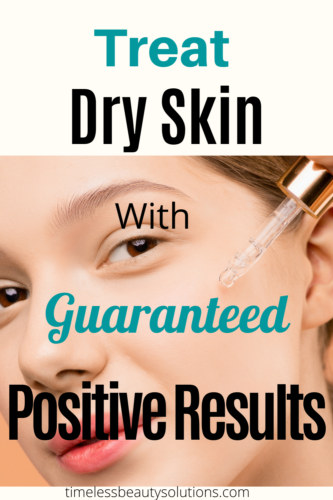 Almonds are helpful in softening the dry skin, skin aging signs like lines and wrinkles.
They give a radiant glow, smoothness, and an amazing fairness to the skin.
All you need to do is soak 3-4 almonds in the water overnight. The next morning peel off the brown cover of the almonds and grind them evenly.
Now, mix them with unsalted milk and thick melted butter to make a paste. Apply it on the skin and scrub it off after it dries.
Post Bath Skin Care:
Soaps, shower gels and skin cleansers extract moisture out of the skin which leaves it dry and patchy.
To overcome the loss of moisture, you can employ the after bath skincare routine. Aloe vera gel, Olive oil, and even coconut oil can help with that.
Mix 4 spoonful of these oils with aloe vera gel and use it as a lotion. This acts as a homemade moisturizer and can be applied immediately after a bath.
It offers protection against sun damage and gives the skin its radiant glow and freshness.
Oils For Dry Skin: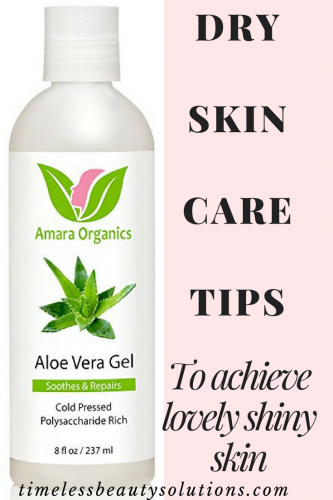 Using oil cleansing is one of the effective skincare tips that your salon might not reveal to you.
Oil cleansing in dry skin is mostly used as this treatment does not disturb the levels of the natural oils in the skin.
Coconut Oil:
Virgin coconut oil is applied to dry skin patches get absorbed readily by the skin improving the much-needed moisture level.
Repeating this once or twice a day is good enough. The coconut oil is easy to acquire and use.
The healthy fatty acids present in this oil replenish the lessened fatty reserves of the skin. Check an earlier post on uses of coconut oil here.
Jojoba Oil:
The jojoba oil is structured closely similar to the natural body oil. Which makes it an efficient moisturizer for different skin types.
Besides getting rid of the dryness, it also helps promote the new skin cell growth. The anti-inflammatory properties of jojoba oil help in soothing the skin.
You can use a washcloth soaked in the warm water to place on the face and keep it there for about 6-8 minutes.
The water should not be too warm as it would scald the skin.
After removing the washcloth, massage your face with jojoba oil in upwards motion until it gets absorbed.
Wipe off the excess oil. Once or twice a week of this skincare treatment is enough.
Olive And Lavender Oil: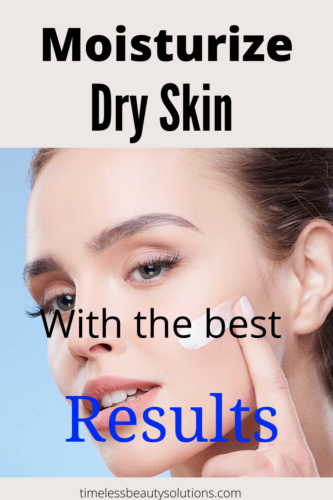 Olive oil is another good natural moisturizing agent.
It contains polyphenols that help reverse the sun damage on the skin.
Lavender oil is known for its antimicrobial and anti-inflammatory properties.
Avoid using lavender oil in its undiluted form or in large volumes as it can cause skin irritation…
If you mix 1-2 drops of lavender oil with 2 tsp of olive oil and massage the mixture on your skin. It will clear off the rough and dry skin while taking away the itchiness.
It works well if used every night before going to bed.
Almond Oil:
Almond oil has moisturizing property and it improves the skin complexion as well.
Geranium oil with its antiseptic and anti-inflammatory properties can also treat skin conditions like skin eczema.
Put almond oil and geranium oil in a sterilized bottle and shake it to mix the contents well.
The resulting mixture can be used in the place of a moisturizer. Nightly usage of this mixture gives better results.
Vitamin E Oil:
Vitamin E oil is rich in antioxidants and it can improve the skin moisture levels significantly.
It helps to tackle aging signs and other dry skin problems.
Vitamin E enriched products also help in maintaining the moisture level in the skin and make the skin soft and healthy.
Take out the Vitamin E oil by piercing the capsules and apply it to the skin that needs attention. Leave it overnight and rinse it off in the morning.
Oatmeal:
Oatmeal is rich in minerals and works as a natural moisturizer to help treat dull and dry skin.
This naturally exfoliating scrub cum mask helps in nourishing the skin and brightens the dull complexion.
Honey is also a natural moisturizer and it also cleanses the skin making it soft and supple.
The antioxidants present in honey softens the aging signs. Check top rated oatmeal products here.
Grind 2 tsp of oatmeal and add 1 tbsp of honey and curd each to make a smooth paste.
Apply it on the affected areas and keep it there until it dries. Then gently scrub it off.
Conclusion On Dry Skin Care Tips
Dry skin is not just an issue for people who naturally have dry skin. Even people with oily and normal skin suffer from dry skin.
The skin becomes dull and dry when the skin's top layer lacks the hydration it needs.
This results in breaking down the skin giving it a flaky and rough texture.
The above-mentioned tips are valuable in caring for dry skin. Here are some tips that everyone must employ in their daily skincare routine:
Keep your skin clean specifically face, neck, hands, and feet by washing it regularly using mild lukewarm water. It will open up the skin pores.

Always use a soft towel to pat your skin dry to avoid irritation to the dry and rough skin especially with skin problems.

Add rose water to the moisturizing lotion. Massage it on your skin and leave it overnight.
I hope these dry skincare tips will help you achieve the best results, remember nothing works in a day.
Keep taking care of your skin and your body, minding what you eat, drink enough water to hydrate your body as beauty starts from the inside out.
If you have any questions, just leave me a message below and I will get back to you.