Product Name: DiamondBuff diamond microdermabrasion tool
Overall Ranking: 5.0 out of 5
Price: Approximately $59
Owners: Bee Stunning
Website: Unknown

Introduction DiamondBuff Diamond Microdermabrasion Tool
In a world that believes that if a tool is operated with electrical and electronic components apart from having one component too many, then it should be more effective, DiamondBuff stands out.
It is such a simple tool for exfoliating the skin that anybody can use it without any hassles. There is no need to worry about voltage and power connections. This dermabrasion tool can be easily carried around in your handbag if you choose to.
Dermabrasion has become an accepted norm for rejuvenating the skin and bringing down aging symptoms, especially on the face. It entails, using micro crystals available in creams, to remove dead skin cells blocking the pores. (check an earlier post on microdermabrasion machines here if you missed it).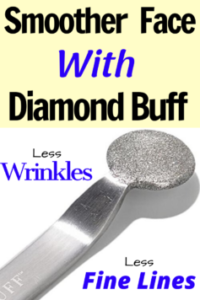 These crystals also remove any debris that is accumulated on the skin which is entangled in the oil secreted by the skin cells.
Such exfoliation results in new skin cells surfacing from beneath, and giving the skin a glowing appearance because they can now get the required oxygen from outside. Besides, blood circulation also improves because of rubbing the skin. 
This ensures that skin cells become healthy and turgid, with enough water and nutrients from the blood vessels. Such turgidity improves suppleness and elasticity, reducing fine lines and wrinkles and dull skin.
Other benefits include a higher level of resilience, reduction of blackheads, pore sizes, scars, etc. The skin looks rather smooth too after dermabrasion.
That said, the dermabrasion units are usually rather complex. They require selecting a needle or tip for buffing off dead skin cells and debris, if any, for different parts of the face.
That can be a confusing process. Most machines require users to be conversant in using such tools, so it does take a while to get hang of using such complicated tools. 
It is also imperative that the tool should not be held in the same position for long else the user can sustain irreparable injuries.
Likewise, it is important to select the right needle or tip for required results, as the area on the face near eyes tends to be delicate and therefore, it would need a specific type of tip. But the job is not yet done. 
The debris needs to be sucked away with the vacuuming unit in such devices. These units usually give way, making the expensive device redundant.
The diamond tips also give way or can be lost. In a cream-based micro-crystal type of dermabrasion, the quality of crystals is another consideration. If the microcrystals are of uneven sizes, then the treatment would not be even. 
Likewise, some microcrystals may be too fine to be effective on some types of skin, and others may be too coarse for some types of skin. Even the cream may have some chemicals or the microcrystals may be made from chemicals that can lead to adverse reactions and side effects. 
In Diamondbuff, the buffing is done with the help of diamond crystals that are extremely fine. These are evenly shaped and are mounted on the round part of the tool.
There is greater control of how long the tool may be used in some areas, and how much pressure is applied. With electrically controlled tips, the control is missing, and injuries are more likely. 
This tool looks like a stainless steel spatula with a round head part that is filled with tiny diamonds that are made from crushed diamond.
These diamonds are affixed firmly so they do not come out from the tool.
Though diamonds are supposed to be harsh, these tiny diamonds are not harsh on the skin.
The stainless steel used to make this tool is of surgical grade, and the entire structure makes it easy to hold and use. It is a patented technology. 
Pros Of DiamondBuff Microdermabrasion
This is extremely easy to use a mechanical device. 

It does not require exfoliating creams that have microcrystals.

Consequently, it also does not require vacuuming unit. It is portable, with no need for any electrical cords, batteries, vacuum units, machine to vary the suction pressure, etc.

The machine is easy to clean as well. A simple brush can be used to clean this tool.

It is a long-lasting tool since it is made from surgical grade steel, and the diamonds integrated into it are crushed ones that do not feel too rough when touched. They feel smoother than sandpaper. 

It is an affordable tool.

DiamongBuff microdermabrasion can be used on sensitive skin, but it should be used only once
Cons
The results may not be as spectacular as with some of the other

tools, though this is a new product, and so far it has received good reviews.
Care needs to be taken to ensure that its head is not damaged. 

The skin does feel dry after a dermabrasion session from this

tool, but so does it feel like that with other tools.
Who It Is ForThis tool can be used by anybody, be they folks with little damage to the skin, or extensive damage to the skin. The results vary as per the level of damage. But this is easier to use regularly like a comb or toothbrush.Therefore, it can become a routine or part of the beauty regime far more easily. The manufacturer recommends people with sensitive skin should use it only once per week, while those with oily skin may use it twice or thrice per week. It sure saves a lot of money on beauty spas, and time too. Also, it can serve in emergencies when there is no time to make the face vibrant even with devices at home. Did I mention having a ladies night and pampering each other, getting that saloon-like feel right at home?
Unsure how microdermabrasion works then you might find this article helpful.
DiamondBuff Microdermabrasion Overview
Salient features of DiamondBuff diamond microdermabrasion tool are
The tool is made from surgical grade steel so it is not likely to

get rusted.

The shape of the tool is such that it is easy for it to cover larger surfaces faster, unlike the dermabrasion tools that have tips for the purpose. The creams for dermabrasion need to be rubbed in gently too, and some parts may be missed out. But with this tool, it is easy to cover more than 95 percent of the surface, and there is evenness in dermabrasion.

The diamonds used in this tool have been crushed into very tiny pieces and integrated evenly in the steel part in the molten stage. Therefore, they do not come out. Being evenly spaced, the dermabrasion is also even. 

There is no requirement of cord, and vacuuming in this device. Nor

are consumables like batteries, tips, microcrystals, and creams are needed.
DiamondBuff PriceAs of writing this post, the DIAMONDBUFF  diamond microdermabrasion machine can be bought for $59, but then, depending on your geographical location price might be different, not forgetting there might be extra charges for shipping.Where Can You Buy DiamondBuffThis tool can be bought from the following online stores, maybe there are more out there if you know any place I missed to mention, please let me know in the comments area.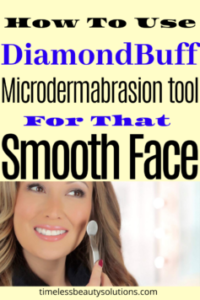 Final Verdict
This tool is worth its weight in gold, or diamond. It is easy to use and is portable. It has no cords or heavy machine units. Anybody sitting or standing in front of a mirror can use this tool.
It can be used in the mornings or nights. It requires no consumables like batteries or microcrystals. On the whole, it is a fairly safe mechanical dermabrasion device that is also affordable and anyone looking for a diamond microdermabrasion machine should make this a top choice.
Still, if you`re looking for different microdermabrasion machines to choose from, check this post on microdermabrasion machines for the best results if you missed it.
Did you find this review helpful? Leave us a comment below and share what you found helpful. Feel free to share on Facebook or Twitter by using the share buttons.