Curology is a special kind of skin product customized as per the extent of dermal trouble in an individual.
The three-star ingredient formulation of the skin cream is done based on the history, snaps, and skin types of the customer.
Such is the user-friendly approach of Curology products that once a day application is sufficient.
In other words, Curology is your in-house online dermatologist to pamper your skin. Besides the package, it is not too heavy on the wallet unlike other similar products out there.
Curology is an effort to fight the blemish, acne, aging skin, uneven skin texture, zits, clogged pores, and dark spots that come in your way, it`s a product that works many ways, saving you time and money trying out different products.

Curology history
We don`t usually spend time explaining a product history but wanted to share a bit with you because you might not even have heard about the product as it`s quite new in the market.
The Curology skincare initiative was set up in 2014. Its headquarters are in San Francisco and California, currently licensed stores spread in 36 states of the US.
David Lortscher, a licensed physician, is the CEO of Curology Inc. Dr. Nancy Satur, Glenn Lortscer, and Kris Fredrickson are the important pillars of the company.
In 2016, nearly 88% of satisfied customers gave thumbs up. A temporary worsening can be encountered after the onset of treatment, but it's just a leap.
The magical trio tretinoin, niacinamide, and zinc pyrithione, when bottled by licensed experts, works like magic and does wonders for the skin.
Depending on the severity on your skin, results will appear in 2 to 12 weeks.
The treatment package and procedure is not a magic bullet but slow, steady, and of course, a winner in the last. (I know many do look for magic pills, well, they do not exist.)
Await of 90 days is recommended to review the product`s effect. There is a 4.3-star rating on Facebook, 4.6 stars on Reviews.io, and 4.1 stars rating at Influenster.
All these are honest ratings from people who`ve used the product, and no incentives are provided for the reviews.
But as we`ve always said, make your own decision as no product works the same on two individuals.
A month free trial will be provided, which will cost you only $4.95 as shipping and handling charges. The monthly cost of full Curology treatment will be around $20.
Let's check out some Curology products
Curology Cleanser
The Curology cleanser is formulated to be gentle on the skin.
In general, cleansers might have those additives which will strip the skin of moisture, but Curology cleansers are specially made for even very sensitive or oily skin.
It is foamy, good lathered, and gentle on the skin. It is a paraben-free, dye-free, fragrance-free, non-comedogenic, and non-allergic product.
The plant sugars present in it will preserve the skin moisture. Oat extract acts as an anti-inflammatory agent.
The formulation does not contain animal products.
After applying the cleanser, the skin gets shiny(the healthy shine) and tighter.
Curology Moisturizer
It is a gel-based product that is lightweight and has a hydrating effect on the skin.
The hyaluronic acid present is the hydrating agent in it, and the other magical ingredients added are shea butter, aloe glycerin, squalene, and allantoin.
This moisturizer is highly suitable for acne-prone and sensitive skin. It`s free of parabens, allergens, dyes, sulfates, skin-irritating ingredients, this moisturizer is non-comedogenic. It is research-backed by experts at Curology labs.

Some of the moisturizers passed by specialists at Curology are-
First AID BEAUTY Skin Rescue Oil-Free

Mattifying Gel.

Pai Skincare Chamomile & Rosehip Calming Day Cream.

Derma-e-sensitive Skin Oil-Free Moisturizer.

Aveeno Clear Complexion Daily Moisturizer.

La Roche-Posay Toleriane Fluide Oil-Free Moisturizer.
Apart from using Curology brand moisturizer, the products labeled with non-comedogenic and non-acnegenic are recommended.
There should be no coconut oil in the formulation if your skin is zits-prone. Alcohol-based products cause dryness and itching in the skin.
The moisturizer provided to you by Curology is of two types as a moisturizer and a rich moisturizer.
But having said that, you can always look for alternative products that work similarly to Curology skincare products(we`ll get to that later).
Curology Customized Cream
After cleansing and perfect hydration, last comes the customized cream application. The customized cream is padded with a light moisturizer.
The percentage of the three-star ingredients (trio tretinoin, niacinamide, and zinc pyrithione) will be based on skin problems.
Tretinoin is a retinoid; zinc pyrithione is anti-fungal, Clindamycin (antibiotic), tranexamic acid is a skin brightener, and metronidazole is an antibiotic that makes the Curology hit formula for skin pampering and care.
Tretinoin removes the fine lines and wrinkles as it stimulates the growth of collagen, lifts the skin, and removes the skin's pleating.
Your acne-clearing journey will require a typical ratio of constituents to make ready the magical third bottle.
The three-step set of cleanser, moisturizer, and customized cream will be for $60, sufficient for two months.
Now I`ve never known two people to use products just the same amount, some have heavy hands when applying products, so it`s impossible to say that the two-month given period is enough.
But then According to the curology.com website, you can adjust your shipment plan to suit YOU. Faster shipping, still have the product? just change the shipping plan to work for you.
Feedback
Curology has a dedicated customer satisfaction strategy that ensures answering queries as many times if you are enrolled for availing benefits.
The products are not suitable for under 13 years of patients. However, people below and up to 18 years require parental consent to start the treatment.
The insurance cannot be claimed because Curology does not cover insurance consider it your skincare investment.
The expert and owner there does a timely assessment of the treatment.
Curology skincare is the affection and attention which you can give to your chapped and patchy skin.
Does Curology make your skin worse?
Like any other skincare product, sometimes Curology skincare products may not agree with your skin and you might get temporary breakouts.
A good example is me, (my skin does excessively sweat when I use a new product)but this is temporary and there is no reason for alarm, your skin may just be adjusting.
Curology creams are brilliant but still, even skincare customized for you may not produce expected results from the first day.
My Take
Now I'm not a fan of skincare products subscriptions, and this is what Curology skincare is about, it might sound easy when getting started but canceling can be a real pain.
If you want to cancel a Curology subscription all you have to do is let them know according to their site but it`s never as easy believe me.
If you check the BBB.org website, you`ll see that it`s not as simple, they`ll find a way to not unsubscribe you.
As one user put it: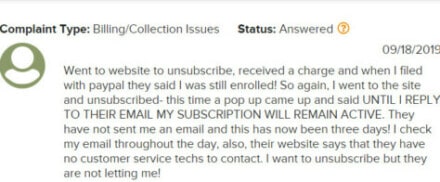 Trust Pilot has a 31% customer rating that voted the product as poor so you take a pick.
There are enough skincare products in the market that you pay as you go, why risk subscribing to a product that you`ll have problems unsubscribing to like this other product subscription line we talked about recently.
Pick and choose products, don`t let yourself be tied down to a product you no longer want or need.
Another thing to consider is your product getting to you, there are countries out there that shipped products take months to reach you(if at all).
Will I advise you to subscribe to Curology skincare products? the answer is no and that`s why I did not include any Curology product in this post.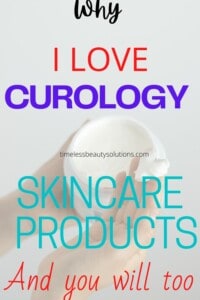 You may like
Find the best moisturizer in the market
The best vitamin C serum in the market
Conclusion
The moisturizer and cleanser are the dermatologically recommended products that are sufficient to meet the tired skin's daily hydration.
The third bottled product is the real treatment line by Curology skincare streak. Curology ensures that you reach your skin goals.
If you require a customized approach for treating your skin, you can go for the Curology customized creams.
Leave your queries and comments below, and we will get back to you soon! Don't forget to subscribe to the blog.