Name: 
Conair Facial Sauna
 Product Type: Facial sauna
Owner: Conair Corporation
Price:  $24.99
Rating:  4.2/5
If you`re reading this, then I`m sure you are interested in facial saunas, and now you want to know which one is the right to buy. Reading facial sauna reviews is the right place to start so you can compare before you buy.
This post is about Conair Facial Sauna's review and will cover the positives and negatives and if it`s worth the money.
But first I`d like to mention that over 1,188 customers reviewed this product on Amazon and gave it 4 stars out of 4.

Conair Facial Sauna Review 
Conair facial sauna is a suitable alternative to conventional creams, lotions, and other solutions for deep cleansing and moisturizing the skin.
However, it does not replace conventional regimen completely. Therefore, people can at the best reduce the usage of some of the chemicals containing products.
By using this device for benefits promised by it such as true glow by the Conair facial cleansing system.
If you`re looking for the best home facial steamer with spa-quality results then Conair facial sauna is up there with the best.
What Does It Entail:
Like any other steam-based deep cleansing device that uses steam for such a cleansing job, Conair Facial Sauna too has a water chamber and funnel-like part from which you get the required steam.
But unlike many steamers, this product also has a cooling mist technology.
Therefore, hot steam opens the pores on the skin and makes them wide enough for any dirt or grime to be removed.
While the cold mist that is released afterward closes those openings, making the skin look younger.
The device needs to be assembled and used as instructed(but, it`s so easy you can do it with your eyes closed and still get it right)
What Does It Promise To Deliver?
The product is basically for deep cleansing of pores, and thereafter, deep hydration.
Remember no matter what skincare product you are using, if the pores are clogged, it will stop products from penetrating deep into the skin. The promised benefits include.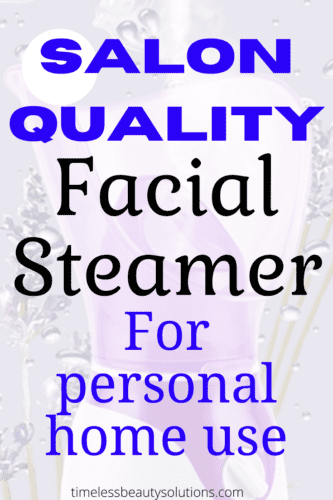 Removal of toxins, dead skin cells, and destruction of bacteria, preventing acne;
Removes dirt
Easy to use
Light and easy tooperate
Improvement in skin's texture, making it soft, supple, resilient, and yet firm;
Reduction of dryness of the skin, and removal of fine lines as well as wrinkles
Added glow to the skin
Does Conair Facial Sauna Deliver?
It does deliver though satisfaction differs from person to person because the type of skin, skin damage, and extent of such damage differ from person to person.
But I`d say the product works very well and for the price tag, you got nothing to lose really.
Though the product is promoted for deep cleansing, it cannot replace the conventional deep cleansing products completely. Likewise, it cannot replace moisturizer so you will have to use moisturizer even if you use this product.
(Case in Point: your beautician will steam your face using a professional facial steamer, and advice you to moisturize)
Cleansing of pores is also possible only after initially cleansing away some of the foreign materials or makeup.
Effectively, it is not a replacement but a product that augments the benefits of existing products.
How Much Does It Cost?
The price varies from $20 to $70 or more. On average, it is available for $25 from Amazon at the time of this post.
There are no other consumables per se. So the expenses or costs for getting the desired results from this device are limited to this cost of the kit.
How Easy Is It To Use?
The product is very easy to use. All that you need to do is, fill the device's water chamber, affix the required cone, and link it to a power source.
Thereafter, you can select the number of minutes you want the steam on their faces.
The device will take care of the rest. In fact, it is so easy to set up that there is no separate instruction booklet. Relevant instructions are given on the package.



How Long May It Take To See Results?
The results are visible immediately, but this depends upon which results are expected.
The product does reduce aging symptoms such as fine lines as well as wrinkles, but such effects are not noticeable immediately.
You need to use the facial sauna at least once a week regularly for at least six months to see a striking difference.
However, the skin does acquire some glow, suppleness, and resilience, along with some firmness almost immediately.
Though this effect is temporary, it does make the skin look youthful and camouflages the wrinkles and fine lines and other signs of aging.
It is for both genders, and for any skin type. Since it hydrates the skin, it is also good for people who have dry skins.
Pros And Cons
The purpose of writing this Conair Facial Sauna Review is not only to look at the positives, like in all my reviews, but I do also look at the pros and cons of a product.
Pros:
It has both steaming as well as cooling features;
It has a funnel-like shape which makes it easier for the face to get the maximum out of the steaming and cooling features;
There is a timer that allows five different settings, as well as a switch to switch it on or off;
It`s quite affordable;
There is an auto-off feature as well;
A nasal cone forms part of this system which is useful for taking in that steam for relieving pain due to sinus.
Another accessory that comes in the kit is a facial brush. In all two attachments are provided for it. One of these is for exfoliating and cleansing and the other is essentially a sponge for moisturizing. The user, however, needs to buy 2AA batteries for it.
The product is affordable;
It comes with 1 year (limited) warranty.
No chemicals are used for deep cleansing and hydrating the skin with this product.
Cons:
The Construction quality of this device is a suspect. Though it can be used regularly, due care needs to be taken to ensure that it does not break easily;(but having said that,my facial sauna is now 4 years old and still working perfectly and nothing is broken.So I might say, it looks fragile and is also very light but lasts when taken care of.
The product is a bit small for usage by both genders;
Users desirous of using the moisturizing sponge or exfoliating their skins with the brush attachment need to be prepared to spend on 2AA batteries.
The sauna cones can accumulate dust when they are not being used.
The results from this product are temporary, and long term, as well as regular usage, is necessary to get better results.
The product requires 120 V AC.
There is no money-back guarantee offered with this product.
Wrapping Up Conair Facial Sauna Review
Name:  Conair Facial SaunaType Of Product:   Facial saunaOwner:  Conair CorporationPrice:  $24.99Rating:  4.2/5Conclusion:
I hope you found value in this Conair facial sauna review, if you have any questions, please do leave me a message below.
The product can be bought at different online stores but I do find Amazon to be the best place to shop online.
Not only do they have the best prices around, but Amazon does also has free shipping on some products and a huge selection of facial steaming saunas.