Christmas gift ideas and who is getting what present is what you should first have in mind before you hit the shops.
Shopping for Christmas presents through sweaty and impatient crowds in overcrowded markets and parking lots can be avoided or at least made a bit quicker and easier through online researching and shopping.


What is a good gift for a man?
Maybe before we get started, we need to answer one important question, what is a good Christmas gift for a man?
What do you think of when someone says the word "man" and Christmas comes to mind?
If it's anything like my own experience, we usually picture a beer in hand or two-handed GAMER SCENARIO (with a sweat-covered forehead).
But if our brain's got more class than that then there must be some other kind man out there. What about him – does he need gifts too?! Well yes indeed!
We know how much time spent working during these holidays; taking care of not only themselves but also their loved ones by providing them with something special for all those tough years.
What do you get someone for Christmas that has everything?
I came from a large family so buying us all a Christmas present was not always easy, so my mum worked with the 4 rule as this is what decided what you get or don't. So we got:
What we needed
Something we wanted
What you could read
And lastly, something you wear.
And it worked perfectly, try to find your man a present in one of these categories if you can`t decide,still, we`ve really gone out and found what we`re sure every man will love as a Christmas present.
A perfect gift is a lifeline in your life. A token of appreciation, gratitude, and love that will remind them every time they see it of how much you care about their happiness.
You can never go wrong with something personalized or bespoke for each person on the receiving end!
We bring a couple of Christmas gifts ideas for men for you to choose from.
One thing I can assure you is that Christmas gifts for men don't have to be boring and you`ll find really interesting pieces here, stuff you never thought of.
Check out some of these incredibly practical gifts for the men in your life. All from affordable to big-ticket items, things that Dads, Husbands, brothers, will love and cherish.
Destiny (PS4)

This is a go-to gift for that guy who loves playing video games. This is the next evolution of the game in the first-person action genre.
Coming from the creators of Halo and Activision, it is one of the much-in-demand and anticipated games. An exciting gift for the gamers out there.
L'igloo Neoprene 6 Pack Bottle Carrier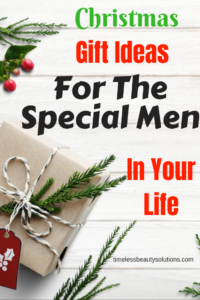 The L'igloo 6 pack bottle carrier is a great carrier to gift to your man who loves to travel, party, and hike.
It has extra thick Insulation for the bottle holder.
The product keeps the drinks cold. It is thicker than most of the other brands that are available on the market.
I did mention this product in an earlier post with other products, you can check it here if you missed it.
Their material is stretchable so there is plenty of room for fitting the bigger bottles. It can fit most 12 oz beer bottles. It is easy to clean.
A 12 inch Long, 5 ½ inches Wide, and 18-inch MacbookCapacity backpack for carrying luggage with style. It is made of water-resistant cotton with a twill exterior. It is lined with cotton and polyester which is accentuated with leather detailing.
A very dependable and perfect companion for all of the travels. The backpack also features a padded interior specifically for the laptop compartment. YKK zippers with two side slip pockets offer easy access to on-the-go items.
Home-Complete Wood BBQ Grill Tool Set
Perfect addition for your ideal BBQ experience that one has always dreamed about. Having the right BBQ tools is essential for a perfect BBQ experience.
So, get this toolset for that person who loves BBQ and also loves to host BBQ parties and get-togethers.
You know what they say" give a man who doesn't like to cook a BBQ and he`s ready to cook a meal for the whole family.
These tools offer a very pleasant BBQ experience. It is an 18-piece BBQ set that is made purely of sturdy Stainless Steel. It makes grilling so much effortless.

A wintry gadget that is also the world's first electric shaver. The Thermo-Electric-Cooling technology used in this device keeps heat away from the face which prevents irritation and offers a cooling effect. With the help of an innovative aluminum cooling bar.
You`ll be pleased to know that this product has over 7000 positive reviews on Amazon, click here to check user review
It leaves a relaxed feeling on the skin. It ensures minimizing redness or burning. Ultimate shaving gift for men. Check tips here on how to get a clean shave.
Viktor Jurgen Neck Massage Pillow
Uses Shiatsu technology for deep kneading the shoulder, back and foot for massaging with heat-relaxation. A good gift choice as a relaxation gift pack.
One of the best massages that help you relax. This massage pillow is ergonomically designed with 3D multi-direction rotating balls that deeply penetrate the tissues and muscles.
It imitates the actions of a real masseur's hands while vigorously kneading and penetrating the neck, shoulder, back, abdomen and foot to relieve tension and pain.   
This is more than just a handsome homage to someone who loves whiskey. This is a miniature oak barrel which ages the spirits to its peak flavor. It works the same the barrels found in the professional distilleries.
You may like
Christmas gift ideas for teens
Get your favorite whiskey and pour it into the barrel. Then let it age gracefully into perfection. What's a better gift than to give their favorite whiskey brand a personalized spin for gifting this Christmas?
The petite proportions seem to only accelerate the aging process. It means the choice of liquor put inside will hit age ten times faster.

Game Of Thrones Wine Glasses
Speaking of choice of drink, we can't have a Christmas Eve dinner without good wine. When thinking of Christmas gift ideas for him, make it even better with new and special wine glasses to go with it. Make it festive with the elegant set of wine glasses.
Kabob Grilling Baskets  
Gift this to men who enjoy their perfectly grilled kabobs and cooking without a skewer. These handsome rosewood-handled baskets are great for campfire cooking. They cook kabobs perfectly.
It is made from steel wire and hence it is free from rust. Also topped with a rosewood handle, it allows the preparation of separate dishes to suit the food preferences of each of your guests.
There's no need to use a skewer, and the basket design It is easy with flipping without having to use the skewer.
During the Christmas season, all the shopping centers seem to turn into hell on earth.
No one likes to endure the painful annual ritual of shopping in those crowds but finding the best Christmas gifts for men in your life has just been made easier.
The teen who likes to play video games, the man who can`t cook but says he`s a world champion in BBQ and grilling all will get something they love and treasure.


A waterproof video 1080P60 and 720P120 video with 12MP photos, Built-in wi-fi, and Bluetooth support the GoPro app for quality professional captures. Capture your world and playback content easily. It`s waterproof up to 40 meters, so outside adventure need not be a worry.
It has easy shot preview and playback, plus sharing via text, email, Facebook in minutes.

I have used DeWalt tools for years, but the latest small screw guns with the twist direction were lacking in performance and function.
The screw gun provides a nice, precise modulation with the trigger and clutch. I'm able to use it on my computer builds as well as drive screws into 2×4's without stripping them at lighter settings. A brilliant Christmas present for any man.
I decided to try this set and purchased it from Amazon for $99. What a bargain!
This is easily one of my favorite sets now that I own them all glide smoothly across any surface without fail or error while avoiding stripping out too many screws on average just like you would hope.
This smartwatch has Amazon Alexa built in to get quick news and information, check the weather, set timers and alarms, control your smart home devices, and more all through the sound of your voice (Now it`s worth noting that Amazon Alexa not available in all countries)but I'm sure you know that.
The screen is beautiful, a HUGE upgrade compared to other fitness smartwatches.
There's also an option to have black & white on there all day if you want it that simple. Anyway big plus:
Being able to disable screens automatically after certain hours so they don't keep bothering us while trying our hardest not to get distracted by technology in any way possible.
Wet/Dry Trimmer


Brother, boyfriend, dad, even new dads—shopping presents for men can be tough.
The Braun Series 9 is the World's most efficient electric razor. So, not only will you get a close and gentle shave without compromising but also with 20% more battery life than before!
This foil shaver provides both wet/dry versatility to suit your needs best – whether it be in or out of the shower.
And because this cordless model uses 5 shaving elements instead 4 as other models do; they're able to capture even more hair per stroke which results in an absolutely smooth face after use thanks to our patented technology called "ActiveLift"
I hope this post will surely help you find the best in what you`re looking for, it`s hard putting all items here but you can click any of the images above and you can view more of the items above from Amazon.
If you have any questions, please do leave me a message and I will get back to you.