Whether you naturally have thin hair or over-manipulate it to become extra fine, the truth is, it gets stressful when deciding what kind of hair extensions to add.
The last thing you want is to further damage your natural hair, but at the same time, you need the extra volume and length. There has to be a way to get instant volume and length.
So how do you strike a balance? Stick around to discover some of the best hair extensions for thin hair.
If you're looking to add length and fullness, hair extensions can be the perfect solution.
Extensions come in different styles for every type of personality or face shape – there's something that will fit any preference!
Buying hair extensions for thinning or brittle locks can be a difficult process.
It's important to find the right product and not get these wrong because otherwise, your money will go down the drain, you want something that will improve the appearance of your hair be it a wig, weave on, box braids, or even simple cornrows!
A lot of people buy cheap synthetic wig pieces from department stores that turn out to look like something belonging to Tina Turner( I love you Tina)she can pull it off, but you can`t.


---
What To Consider Before Buying Hair Extensions
Before you jump in with a test run with new extensions, there are a few things you need to have in mind.
Already thin hair is fragile and may require special care and handling to maintain it in top shape.
So unlike healthy thick hair, wrong installations can be very detrimental.
The thing with extensions, although very practical, each has unique techniques as far as installing goes and this is what draws the line with certain hair types.
We'll get into this further on, but in the meantime here are some of the basics with thin hair you may not be familiar with.
Light density extensions- the heavier the hair extension, the more damaging it may cause. It's better to stick to lighter options to avoid too much weight that will pull on your roots.
In worse-case scenarios, dense extensions have resulted in balding in certain spots, always find extensions that fit your head size without being bulky.
Low tension- techniques that apply the least stress allow your natural hair to breathe and still hold onto its form even after taking out the extensions.
If you happen to shed a lot of hair during the removal process, there is a chance that the application was too tight. (sometimes, keeping the extensions on for too long may also cause shedding).
Hair Texture –
Unless you want to walk around looking counterfeit, paying a little bit more attention to the texture of your extensions will do you good.
The goal should be a natural blend with that of your own so choose wisely what consistency you add on.
Ease of removal-
At some point you'll have to take down the extra hair and depending on how you installed it, it could either be smooth or painful.
Sometimes, strand-on-strand applications may not be the best for very thin hair despite being relatively lighter than most options.
In such cases weigh the pros and cons before deciding.
Hair technician-
This may sound obvious, but, surprisingly, a handful of women attempt to add extensions on their own without the appropriate knowledge.
Leave this to the professionals otherwise you might be spending more money on treatments and curative procedures.
---
Best Hair Extensions for Thin Hair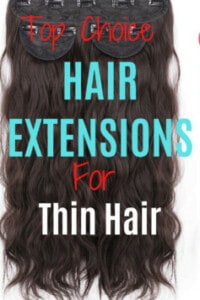 After having closely examined the most common kinds of extensions out there in the market, here are the few that proved least damaging to thin hair.
But remember whatever you go for is your decision, we can only help make the buying process easier by suggesting the best Hair Extensions or hairpieces we`d gladly buy and use.
---
You may also likeHair extensions for instant volume and lengthA beginners guide to hair extensions
---
Tape-in extensions
This is more of a recent technology that was invented to be less strenuous and equally light, the perfect combo for persons with thin hair.
Just like the name suggests, the wefts are sandwiched between the hairs to give it a natural-looking form.
Previously, it was that you'd have to use two tape hair wefts to form a bond that would hold the extensions in place. This is no longer the case.
With the single method application, you can instead apply just one weft at a time to a section of hair.
The single-sided tape serves as the bondholder rather than the second weft, thus leaving your head fuller but not with too much bulk.
The best part about these extensions is that apart from the tape they need no crazy manipulation with tools or hair glue.
As you can imagine such extreme measures tend to be the root cause behind the excessive loss of hair.
Whenever you want to switch things up a bit you could install highlighted tape-ins like these ones rather than process your natural hair with harsh chemicals.
Micro Tape in Hair Extensions
If you are familiar with micro beading/micro-link hair extensions, then you probably know they are installed strand by strand.
Now in case you prefer the strand by strand application, this approach is safer as it fuses the tape-in approach as well.
However, if you can abide by the tape- in solely, you'll save your hair the damage when it comes to uninstalling.
---
Hair Extensions to Avoid with Thin Hair
Let's take a look at the flip side- hair extensions you must avoid with thin hair.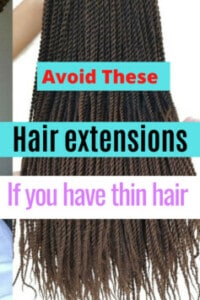 Clip-in extensions
Yes, the flexibility of these is unmatchable. You could have them in and out any time in a jiffy.
But then the downside is that the weight of the hair wefts coupled with that of the clips adds up to be overly above what thin hair can support.
They may even slide out. Again, with the constant take-out and insertion, you slowly weaken your hair in the long run.
Fusion hair extensions
The good thing is that they are more permanent and will serve you a long time before running down. The bad news, they use glue and heat to have them fitted in.
The keratin glue is melted on your hair and rolled together with the weft to create a singular look. When it comes to removing, it's no shocker if they end up pulling out more of your natural hair rather than just the extensions.
Micro links hair extensions
These are no different in that the application is rather unsympathetic. You need to screw in the microbeads to create a row on which the extension can be sewed.
The process of clamping on the beads is not in any way friendly to the scalp or hair roots.
On the contrary, it could potentially provoke severe itching and discomfort. To add on, the method does not hold very well to fine hair.
Braided hair extensions
Probably still the most commonly used and the oldest trick in the book where the hair is completely braided before having the wefts sewed on.
The problem with thin hair clients is they may not have enough hair volume to braid such that the sewed-in extension sits right.
---
Best Clip Hair Extensions For Fine Hair
Now, this might be a post in itself but, I thought I`ll just include it here.
If you have fine hair, it means your natural hair will not be able to support any heavy artificial hair.
The first clip you need is something small and lightweight like this one! It will help prevent your hair extension from getting tangled up.
This while still being able to stay secure during styling or washing processes by supporting their natural texture instead of weighing them down so much that they fall out throughout wear time.
So think of your style before purchasing, Is it a classic, romantic ringlet curl or maybe something more modern and sleek.
A good example is Ponytail hair extensions that we talked about here, as much as they`ll give you that sleek look in minutes if your hair is too fine, there might not be enough to support a pony.
Instead, look for hair extensions that you can spread out on your head to balance out the extra weight.
Synthetic hair extensions may be cheaper, but for those with thinning hair, it`s better to leave these well alone, as they are heavier and tangle very easily than real human hair extensions. Check what other users say.
---
Tips to Controlling Hair Thinning
If you're struggling with super fine hair and don't know what to do, here are a few medically approved tips to get you started.
Use anti-thinning shampoo.
Massage your scalp on a regular basis.
Eat a balanced diet.
Try folic acid supplements and multivitamins.


---
Conclusion on Buying the Best Hair Extensions For Thin Hair
The next time you think of adding extensions to your thin hair go the less strenuous way.
With good care and a bit of time, your hair should record some improvement no matter how small. Before then, don't get discouraged!