Acne-prone skin can be damaging to your self-esteem and self-confidence and you may be wondering what you can do to remove acne. This post will cover the best facial wash for acne to help you solve the problem.
For anyone with acne-prone skin, I know you have tried and tested ways to cleanse your skin to fight acne, I`m sure you`ve also tried many facial washes and maybe some home acne remedies.
It's normal to be frustrated with your oily acne-prone skin and you just want anything that can quickly reduce the breakouts and leave you with more beautiful skin.
Everybody desires younger-looking skin that is fresh and unblemished. Let`s start with a quick guide and find a face cleanser just for YOU.
A quick look at the best face washes for acne:

Using the right facial wash on your skin can be an easy and effective remedy to treat and prevent its reoccurrence but also reduce dark spots that result from acne.
Facial wash can also be suitable for those with oily acne-prone skin.
You can also check my post on microdermabrasion for acne scars here if you missed it.
When you use a facial wash to cleanse your face, you remove dead skin cells, impurities, makeup, and excess oil especially on oily skin types.
Using facial cleanser also helps to unclog your pores thereby leaving your face feeling smooth and fresh with an even skin tone.
When buying a facial wash, put into consideration your skin type, and the ingredients, also make sure it contains exfoliants like alpha hydroxyl acid (AHA).
It is also a good idea to go through customer reviews online which can be found easily before deciding on a facial wash.
With all the different products offering us perfect skin on a platter of gold, you can get confused as to which product will be suitable for your skin that`s why we suggested several products above.
You are constantly afraid of trying out a facial wash and ending up making matters worse.
Before we get there, let`s answer some questions:
Symptoms of acne on your skin include
Now we all have unique skin, so things may differ just a bit, but theoretically the signs and symptoms of acne in most people are
whiteheads-(they mostly start on your forehead or under your chin)

Pimples

Blackheads (caused by clogged pores)

Cyst-These are painful(to the touch)lumps under your skin that when pressed, produce pus(Yes there is pus in your face below those cysts as they are infected.
Now understand that acne can appear in any part of your body, any part of the body with clogged pores can result in acne. Many people out there deal with back acne.
There is also hormonal acne that many do not talk about.Understand there are different kinds of acne.
What are the different acne out there?
Cystic Acne-  This occurs when acne is inflamed, infected, and painful to the touch.
Normal Acne-this is mostly mild with blackheads and whiteheads with papules and pustules.
So to make the selection easier for you here are some suggested facial wash to restore that glow and youthful look.
How Face Wash Can Help With Acne
One of the most common skin issues that we face is acne. Acne may not be as common in mature women as in teenagers. However, it can still be a nuisance and affect our self-confidence.
Cleanses the skin:
A good face wash can make a significant difference in controlling acne breakouts and improving our skin's appearance.
Regular use of face wash can significantly reduce acne breakouts. It helps to clean the skin and remove excess oil, dirt, and dead skin cells that clog the pores and cause acne.
Exfoliates dead skin cells:
As we age, our skin cells turn over less frequently, leading to a buildup of dead skin cells on the surface of the skin.
A good face wash can help to exfoliate dead skin cells, which clog the pores and cause acne.Azelaic acid  in skin cleansers  helps with exfoliation and to improve skin texture and tone, making it look more radiant.
Reduces inflammation:
Acne can cause redness, swelling, and inflammation. A good face wash can help to reduce inflammation by removing excess sebum, dirt, and bacteria from the skin.
Look for a face wash that contains natural anti-inflammatory ingredients like tea tree oil or chamomile extract.
Hydrates the skin:
Many acne treatments can be harsh and dry on the skin, which can make acne worse. A face wash that is gentle and hydrating can help to maintain the skin's natural moisture balance and also helps to soothe and calm irritated skin.
Prevents future breakouts: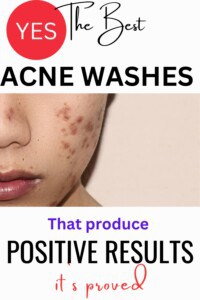 You may like:
Home remedies for acne treatment 
Top-rated dry skincare products
The best skin moisturizer for acne-prone skin
Skincare tips for acne-prone skin
Consistent use of a good face wash can help to prevent future breakouts and keep acne under control. It also helps to improve overall skin health, reducing the risk of other skin issues that can arise as we age.
Acne is a common skin issue that can affect many people with different skin types.
While there are many treatments available, a simple and effective solution is to use a good face wash.
Regular use of face wash can help to remove excess oil, dirt, and bacteria from the skin, exfoliate dead skin cells, reduce inflammation, hydrate the skin, and prevent future breakouts.
The key is to choose a face wash formulated for acne-prone skin, which contains ingredients like salicylic acid or benzoyl peroxide. So go ahead and check the list of the best face washes and acne cleansing products below.
The Best Facial Wash For Acne
Neutrogena Oil-free acne wash:
Neutrogena is one of the biggest names in the skin care industry. They have a variety of products range all targeted at skin care.
One such product is the Neutrogena Oil free acne wash. This facial cleanser contains 2% salicylic acid.
It is good for all skin types but it is not the best for sensitive or dry skin.
This facial wash is for preventing pimples. A clogged pore can lead to acne and inflammation so what Neutrogena facial wash does is unclog your pores and prevent pimples.
When using this facial product, always have a moisturizer handy since salicylic acid which is one of its active ingredients can cause dryness to the skin. The
The oil-free facial wash works against blackheads, whiteheads, and blemishes. It also exfoliates the skin which helps to remove dead skin cells.
This cleanser has lots of positive customer reviews. It is praised for being gentle on the skin while still being effective in its cleansing and acne prevention duties. It is even officially touted to be tolerable on a baby's skin.
Cetaphil skin cleanser is designed for all skin types. The cleanser removes dirt and oil leaving your face thoroughly cleaned and soft and silky.
This cleanser moisturizes your skin without leaving any residue behind. It also removes makeup. It can be quite drying so you should always apply moisturizer after use.
Cetaphil emade the list of the best acne face washes because the results speak for themselves.
There have been some claims that some of its ingredients can cause side effects though on rare occasions(read the side effects here). It is quite affordable and is dermatologically recommended.
This facial cleanser is excellent for oily acne-prone skin. It is oil-free and doesn't over-dry the face. Its active ingredient is a salicylic acid which helps in removing dead skin cells which leave the skin smooth and silky.
It has a slight floral scent that is a positive deviation from the other types of facial wash that have a medicinal smell.
The product also contains powder particles that target excess shine by absorbing oil from the face. One of its cons is that it needs thorough rinsing to remove it completely from the face a great option for those on a budget.
This facial wash is specially formulated for sensitive skin. This is one of the best facial wash for acne and it`s affordable and effective.
The facial wash has no active ingredients but has numerous organic and synthetic ingredients suitable for skin care.
Despite its name, it is not as foamy as expected but is effective against blackheads, pimples, and whiteheads. It is also effective in removing makeup, dirt, and dead skin cells.
This facial wash contains natural acne solutions like Primrose, beetroot, and willow bark. Not to mention Burts Bee line only uses natural ingredients in products.
This gel cleanser is oil-free. Burt's bee has been clinically proven to be able to wash away bacteria, excess oil, and dirt and is gentle on sensitive skin.
It contains naturally derived salicylic acid gotten from willow bark extract.
The primrose and beet root has a calming and soothing effect on acne-prone skin while the naturally derived salicylic acid penetrates the skin pores to reduce acne and prevent breakouts while pomegranate seed oil help boost collagen production.
It is not as foamy as other face washes and has a mild scent. The natural ingredients it contains give you the confidence that it won't be harmful to your skin and also works well for those with combination skin.
Its active ingredient is silver citrate which is a powerful anti-bacterial that can prevent bacteria.
It also contains salicylic acid which helps to clear blemishes and prevents new breakouts from occurring. It contains green tea extract which is a good antioxidant.
Murad clarifying cleanser can be irritating to the skin and can also cause dryness if used for a long time. It is a little bit expensive too.
Murad clarifying cleanser can be irritating to the skin and can also cause dryness if used for a long time. It is a little bit expensive too.
It is necessary to understand that you may not find any facial wash with all the benefits or the key ingredients you need in a single product.
You just have to choose the one that offers the best option for your skin type and the seriousness of the acne.
I love Murad Blemish Control as it also works as an anti-aging and evens out skin tone.
Personally, I prefer using the best facial wash for acne but combining it with microdermabrasion, see my earlier post on microdermabrasion here if you missed it.
Remember to always moisturize your face after it has been thoroughly cleaned.
I hope you found value in this post, if you have any questions, please leave me a message and I will get back to you.
What To Look For In Acne Facial Wash
If you have Cystic acne or normal acne, the acne facial wash you buy should contain acne-fighting ingredients like
Benzoyl peroxide

Teatree oil

Citric acid
Azelaic acid

Glycolic acid

Salicylic acid

Retinol
Your acne skin wash should be oil-free (remember it`s oil that`s causing you acne in the first place) and non-comedogenic.Also, try to get skin wash products that are gentle so as to avoid skin irritation.
Benefits of Using Acne Face Wash Products
Everyday life takes a toll on your skin and if not cleaned properly with the right facial cleanser, oil buildup produces dead skin cells on your skin surface making your skin look dull.Usage of skin cleanser helps you remove these dead skin cells and improve the proper skin texture and reduce fine lines and acne on your face.
Can I use acne face wash daily?
Yes, gentle acne face washes like this one is safe to use daily, in the mornings to remove overnight oils and at night/evening to wash away sweat, makeup, debris, and dirt that has lodged into your face during the day good cleanser is as important as a good face moisturizer.A Recap on Facial Washes For Acne Worth MentioningOxygen Ceuticals-Verified clean beauty. Gentle non-stripping, non-drying but on the expensive side, used by dermatologists and plastic surgeons  Best for people with oily skin.
Vanicream Liquid Cleanser-gluten free works brilliantly on sensitive skin and is budget-friendly.
contains 4 percent benzoyl peroxide and is gentle enough for everyday use.
Cetaphil Gentle skin cleanser: works brilliantly on oily skin with excess oil without irritating the skin not to mention it being totally budget friendly.
Olay foaming face wash: Perfect for sensitive skin if you want a facial wash that`s gentle to your skin then this is my go-to.
Murad Clarifying Cleanser: This works well on all skin types with gentle ingredients this is a top choice for those with cystic acne.
La Roche-Posay: Budget-friendly but packs a punch, this creamy formula is fragrance-free and suitable for sensitive to dry skin, it does not strip your face of natural oils.
I love it because it has moisturizing ingredients so your face does not feel pasty after use.
: When it comes to budget, product line quality, user reviews, and everything in between, I will choose Cerave skincare products and you too should include this product line in your skincare routine.
I hope this post will help clear acne and achieve that