Moisturizer is, without a doubt, the most vital part of a skincare routine. It removes rough patches, soothes sensitive skin, and provides hydration to the skin. But what`s the best drugstore moisturizer for oily skin?
Not everyone wants to splash out on brand-name, expensive skincare products, so this post will cover some of the best drugstore moisturizers for oily skin that are also prone to acne breakouts.
Picking the right moisturizer for your needs requires thorough research and there is a lot to choose from but try to get what will not worsen acne breakouts.
We will not cover gel creams or heavy emollients because that`s a post for another day.
Even if you have oily skin, it is necessary to wear moisturizer. To think that your skin is producing excess sebum and does not need a moisturizer is wrong.
If you stop using moisturizer, the oil glands dry out and dry skin can make the skin produce double the sebum it previously produced to make up for the loss of moisture.
In this way, the skin produces more than the required sebum causing skin problems like acne and pimples.
To be blunt about it moisturizing is an essential step in skin care, your skin products need active ingredients that work fast as it offers you 24-hour hydration which is really what you need.
Oily skin types are more susceptible to breakouts due to clogged pores.  Hence, it is important that you avoid comedogenic moisturizers that may produce excess oil because it causes further congestion.
Some of the best drugstore moisturizers that do not break the bank are listed below to help you pick one for yourself.
Get a skin product that will improve your  skin barrier.
CeraVe Moisturizing Cream
Or you could go for a better offer with this combo with foaming facial cleanser, hydrating cleanser, moisturizing cream, and moisturizing lotion


CeraVe is a certified moisturizing cream by the National Eczema Association. It consists of ceramides that tackle the dehydration of skin, all the while the hyaluronic acid does its job of drawing in moisture.
This is a gentle oil-free moisturizer cream and has won accolades for being the best moisturizer for sensitive skin. It is easy on your wallet too.Still, any product you use try never forget to use night cream.
I wrote an in-depth review of CeraVe, the benefits and what users feel could be improved, and the best place to buy. You can check here in case you missed it.
This is the best moisturizer + mask combo skincare product. It is a misconception that oily skin types can't wear face masks from time to time.
Garnier's SkinActive Balancing 3-in-1 with aloe water has made it possible.
It can work as a night cream as well. It will work as a moisturizer in a light application. A little extra and it will act as a mask. It has been made with green tea.

Green tea is known to soothe the dryness of the skin. This is also a mattifying product so, it can be used as a base for make-up as well.
Garnier's SkinActive Balancing 3-in-1 Moisturizer gets absorbed into the skin fast. It is non-greasy, vegan, and non-comedogenic. It is free from parabens, dyes, mineral oils, and silicones.
Like all oily skin moisturizers on this post, this too is very affordable and most are also oil-absorbing and protect your skin from moisture loss.
Anyone with oily skin knows that taking care of an oily face is not always easy, what with a shiny T-zone and the other part of your skin needs different care, especially for those with acne-prone skin. 
Garnier's SkinActive Balancing 3-in-1 Moisturizer is exactly what you need for that amazing skin tone.
Neutrogena Bright Boost Gel Cream
Neutrogena's Bright Boost Gel Cream is a dermatologist-recommended moisturizer because it has poly-hydroxy acids for exfoliating.
It also contains an ingredient named mandelic acid that works to bring down skin redness and helps in correcting skin pigmentation issues.
This gel cream with its jelly-like texture will show results in just one week, dull skin and dark spots reduced, skin texture smoother, and fine lines reduced you have it works well on sensitive skin too as it is very gentle.
For best results, use it twice daily to reduce flaky skin. I can confidently say this is one of the best moisturizer. Know any product that boosts surface cells by 10X?if not, now you know.
Aveeno Positively Radiant Sheer Daily Moisturizer
With over 4,650 four-star user reviews on Amazon,(check user reviews here) you can`t go wrong with Aveeno and works well on dry skin types.
I wrote a post about why you`ll love Aveeno products, you can check it here if you missed it.
Aveeno Positively Radiant Sheer Daily Moisturizer Is one of the best moisturizers where beauty and skincare products are concerned.
This moisturizer has a good composition of free-radical-fighting antioxidants, broad-spectrum SPF and soy for brightening areas with hyperpigmentation. All this is mixed well together in a lightweight lotion to improve your skin tone.
Again this is affordable, absorbs into the skin fast, is a sun blocker as well as a moisturizer, reduced the appearance of fine lines, and works well on oily spots on your face as well as those dry areas.

Eraorganics Face Cream
This moisturizer for oily skin does not stop there, reduces redness, removes blackheads, and gives you totally balanced youthful skin. This non-comedogenic facial cream is cruelty-free and vegan-friendly.
The only thing you might not like is the smell(tea tree oil) but you get used after a few days plus, it`s a small price to pay if it produces the results you want.
It`s safe to use for those with combination skin as it gently works on the oily t zone and fine lines. Say goodbye to your acne scars too. 
A little of it goes a long way so it`s a real must-have. Did I mention it`s non-toxic and gentle?
If you prefer vegan skincare products, you`ll love era organic face cream.
Cetaphil Pro Oil Absorbing Moisturizer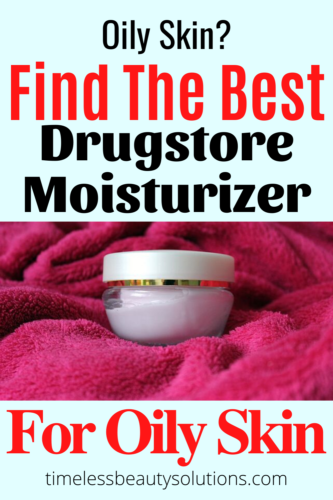 Cetaphil is a derm-approved drugstore moisturizer. It delivers a gentle skincare range without compromising the product's effectiveness.
This is an oil-controlling moisturizer that ensures your skin stays soft as well as supple instead of shiny and oily, and reduces oil production.
It is an affordable moisturizer and is suitable for those who have oily skin and are prone to acne. It is formulated with SPF 30.
2040 users gave it 4 stars on Amazon.
All these people can be wrong so it`s time you tried this affordable drugstore moisturizer that delivers at quality and price.
You can get Cetaphil pro-oil removing foam wash travel size to combine with Cetaphil pro-oil absorbing moisturizer.
L'Oréal Paris Hydra Genius Daily Liquid Care
L'Oréal Hydra Genius Daily Liquid Care is a perfect moisturizer pick for those who dislike heavy creamy-textured lotions.
This is a good moisturizer and a must-have if you really want the Best Drugstore Moisturizer For Oily Skin that does not cause skin irritation.
It contains hydrating hyaluronic acid as well as calming aloe water that together soothes dry patches and dehydrated skin. This leaves your skin feeling soft and silky. This lightweight formula leaves no stickiness behind.
Clean & Clear Advantage Acne Control Moisturizer
Not every oily skin is going to have breakouts. But clogged pores can cause pimples and acne. In such a case, Clean & Clear Advantage Acne Control Moisturizer is the best moisturizer for oily and acne-prone skin. Acne can cause dark spots and Clean and clear will easily remove the spots.
It has an oil-free formula that contains salicylic acid. Salicylic acid fights acne and helps in clearing out any breakouts from in-deep. It works to control shine and also moisturizes the skin to remove any dryness without any greasy finish.
You might also like 
La Roche-Posay Effaclar Mat Moisturizer

La Roche-Posay's Effaclar Mat Moisturizer is the best mattifying moisturizer. It contains LHA (lipo-hydroxy acid) to exfoliate the skin and unclogging of pores.
Zinc is the mattifying agent in this moisturizer. It neutralizes the shine completely and offers long-lasting hydration. Zinc helps in fighting acne and does not cause skin irritation. it`s an oil-free moisturizer that is dermatologist-tested, and non-comedogenic.
Conclusion On The Best Drugstore Moisturizer
If you have stubborn oily skin then you know how hard it is to keep the shine away. Often, people tend to forego the moisturizer to prevent excess oil but it does more harm than good.
It leads to dryness of the skin which causes the skin to produce even larger amounts of sebum to compensate for the lack of skin hydration always look for products with soothing ingredients.
It is better to pick a moisturizer that suits your skin type (oily skin in this case) and keeps skin hydrated and if you still do not feel comfortable moisturizing how about oil-free moisturizer?
Even oily skin needs to be moisturized daily, so do not skip this important part of your skincare just try to steer clear of heavy emollients with your oily skin.But at the same time shea butter should be your go-to in skincare.
All the products mentioned above are lightweight moisturizers with SPF and are  American academy of Dermatology recommended.
Remember whatever your skin type is, there is a drugstore moisturizer that suits your skin.If you are sensitive, try and get a fragrance-free moisturizer.
All products above can be bought online at Amazon, just click any link or the image and you`ll land at the product you`re interested in.
You can click here to check any of the products or more top-rated in a similar category, all affordable.
If you found value here, please share on any social media of your choice so your friends too can benefit.