When it comes to artificial hair and hair extensions, there is no shortage of options as to what to choose.
I think it's safe to say you are only limited by what you are willing to spend, but there are human hairs, synthetic hair extensions, and even fake hair extensions. There is something for everyone.
You`ll love clip-ins because they can easily be fixed at home. You don`t have to be a hairstylist or visit a salon to achieve the body of hair, volume, or length with these almost ready-to-wear hairpieces.
Below, we will look at some top-rated clip-in hair extensions worth investing in.
Please understand that this list is not in any order, but by the end of the post, we will have covered all the extensions, prices, and a link to the best place to buy.
When investing in hair extensions it`s important to remember that you get what you pay for, good quality extensions can last a very long time with proper care.
Very cheap synthetic hair extensions, on the contrary, means you`ll have to invest again and again as they don`t last long and also lose shape, texture, and even shine.
And whereby it's so easy to color real human hair extensions to your choice, it's almost impossible to color synthetic hair extensions as the color just slides off.
Another thing worth mentioning is that synthetic hair extensions will most of the time not look natural on your hair.
Most of the time, synthetic ends up looking too rough or have that unnatural smoothness to them that whenever you touch your hair, it feels like someone applied Glycerin to it.
Now, this is about clip-in extensions for short hair at different prices, hair types, and budgets, so there is something for everyone.
Best Budget Clip in Hair Extensions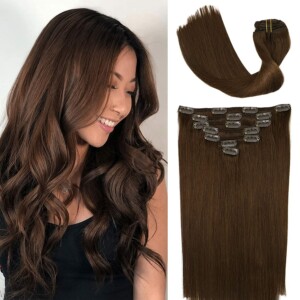 Comfortable to Wear
This is secured on your hair with clips that are sewed stably, then covered with a layer of soft rubber to protect your scalp and hair.
I love that they are easy to apply and remove as you wish without any help should you need to change your style.
Just be aware that you can not color this at home so choose the color wisely when buying. But it comes in 17 different shades of colors so this should not be a problem.
Now if you need a head full of hair(volume) you should go for between 2-3 packets. I`ve always used 2 and totally happy with the outcome.
You may like
Hair extensions for short hair
Best clip in for Long Hair
Now, why would anyone with long hair need clip-in extensions? It`s simple really, hair length does not always mean hair volume.
I've known people with very long but also very thin hair. And these people need Hair enhancement products to increase volume. Now products take time to get you the results you want, but what if you want it now?
Moresoo Clip in Hair Extension
This comes from natural human hair ethically harvested. Its lace double weft guarantees volume, it`s comfortable and with 22 different colors, there is something for everyone.
Before buying please note that different packs(length-wise) come in different weights. A pack that`s between 70-100g(depending on the length) is enough for your hair.
Best for Short Fine Hair:
Comes in 28 different colors so no matter what you will surely find your wish shade. With these hair extensions clip-in, you will have both volume and length without the wait. These durable double wefts won't shed and they're easy to manage!
There's a lot of different things you can do with Remy human hair extensions. You could straighten them, dye the colors to match your wardrobe. Munx offers a wide variety of styles, colors, and textures to fit any lifestyle or event!
All Clip In pieces are dyed differently in processing so if you want re-stain just buy light colored ones for added color options
There is no one-size-fits-all when it comes down to changing up your look which might be why these wigs have such rave reviews.
Since these are Remy human hair, they can be straightened with heat tools on(but that`s for another post altogether).
The Clip-in Extensions come pre-styled so all you have to do is clip them onto your desired look!
Since a pack is 70g, we recommend you get 2 packs as one pack may appear too thin on your hair, you want hair extensions, weather weaves, clip-ins, tape-ins, sew-ins, or wigs to give a seamless fit so no one notices you are wearing extensions.
Now when we talk of ponytails, the first question is "Can you use a ponytail on short hair?" I don't know if it will look good but it's worth trying if your hair is not too short.
If your hair is long enough to hold into a pony tail, then feel free to try this look.
Ponytail hair extensions are a great way to get longer, thicker, and more voluminous beautiful locks in minutes. They can be applied easily with no need for adjustment all day long.
Balayage Wrap Around Pony Hair Piece is perfect for all hair types. this comes as a single piece in an 80g pack and a length of 14-24 inches.
This comes in 17 different colors so there really is enough to choose from. It has an installed clip-in comb and velcro with hair ties. Just wrap it around your ponytail and clip in to get that instant length.
I find ponytails do save me from bad hair days, instead of going out in a cap, I pull everything behind and tie it into a ponytail.
Although it`s not what I consider as one of the best clip-in hair extensions for short hair, it works brilliantly if your hair is not too short.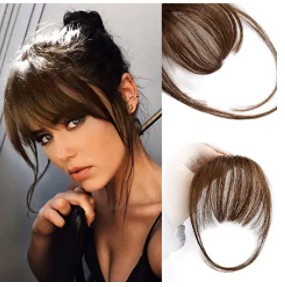 Must have Clip in hair bangs for anyone who wants to temporarily change face shape, it has enough thickness to cover the forehead and looks very real.
It`s created with 100% real hair, giving you the most lustrous and realistic natural effects. I think it`s safe to say no one will know you are wearing a wig with this clip in bang.
Best
Curly Clip-In Hair Extensions
Now that`s something new, can you add hair extensions to curly hair?You`ll be surprised to know there are extensions for every type of hair.
If you want to seamlessly blend your extensions with natural, textured-curly or kinky hair then be sure that they match.
You need to make sure they blend in with your natural texture so that no one can tell the difference between your natural hair and extensions.
Body Wave Clip In Indian Human Hair Extension
These are so comfortable to wear they feel like your own hair. These blends perfectly with hair and clips well enough so there is no chance of falling off.
These are available from 18 inches to 24 inches. Unlike most hair extensions, please note that curly clipins of any kind may be a bit expensive compared to other extensions.
"Now if you`ve never used curly hair extensions, it`s worth knowing these may look bulky.So instead of purchasing curly if you are new to hair extensions, you should first try weavy extensions"
Best All-Round Clip in Hair Extension For Short Hair
Now "THE BEST" clip in hair extensions will depend on different things, but most of all, quality needs to come first followed by budget. So I think the best clip in extensions are what you can afford.
When the texture, the hair is Natural Remy human hair, will give you a seamless look and can be styled easily without visiting the salon then you have a keeper.
So it`s hard to really point and say "this is the best" because it`s useless if you can`t afford it, do to put it nicely, there is no one size fits all because I believe, the price plays a big role in what`s best.
Having said that, the best quality hair extension if taken care of well should last a very long time(some years if you work well with them).
On the other hand, cheap synthetic hair extensions will not last, over the years, I`ve used some very poor quality that was shedding the next day.
If money is not an issue, these are the best Remy human hair extensions I`ll recommend. But having said that, clip in hair extensions for short hair need not be that expensive, look around, you will sure find bargains.
So here are some questions I do see people ask
Q-Can I get hair extensions with short hair?
A-Yes you can get extensions with short hair and achieve that length and volume almost immediately.
Q-How long does my hair have to be to have extensions?
A-As long as there are a few centimeters(in the worst care, you can have hair extensions, I`d advise having it done in a salon if your hair is too short, a good hairdresser knows how to work with hair enhancement products to give you the look you`re after.
Q-What's the best hair extension type for short anyway?
A- as already mentioned above it will depend on your budget and the looks you`re after, but there is surely something for everyone in the market.
I hope this post will help you stay up-to-date with hair extension tips, tricks, ways, and tools to take care of extensions. Here you will get brilliant haircare advice & suggestions so you can fix your hair home like an expert.