That time of the year is almost here, a time when family, friends, and people we love shower us with Christmas presents.
It`s time for you to start shopping for Christmas presents too for your family. But what should you get them in this economy?
Long gone are the days of that dreaded sweater, it's now more electronics and beauty products.
This post is filled with Christmas gift ideas that are meaningful but will not leave you broke.


Honestly speaking, teens are the most difficult people to shop for when you need to get them their gift. Totally hair-pulling worthy! But don't let it discourage you from your goal.
Shopping for teens is hard, today they want it, they can`t live without it," all my friends are getting it, but my best friends mum got it for her" you`re ruining her life if you feel it`s inappropriate, the next minute they don`t want it." it's so yesterday, so out of fashion".
Top Christmas Presents Comparison Table
| Picture | Product Description | Price | Rating (1-5) |
| --- | --- | --- | --- |
| Picture | Name | Price | Rating (1-5) |
| | | $ | 4.4 |
| | Kids smartwatch | $$ | 4.5 |
| | Natural Himalayan salt lamp | $ | 4.6 |
| | Day to Day Rucksack | $$ | 4.8 |
| | | $ | 4.5 |
| | Phone external charger | $ | 4.6 |
| | Play station | $ | 4.7 |
| | Portable photo printer | $ | 4.6 |
| | | $ | 4.2 |
| | Waterproof facial cleansing brush | $ | 4.6 |
No Time to Read The Whole Post? Just Click any Of the Images above or the link to visit a merchant.
We've done the hard work for you, to make your to-do list just a little bit easier. If you`re still unsure what to get from this list, then get two or three as everything we listed here can be used long after the festive seasons are over.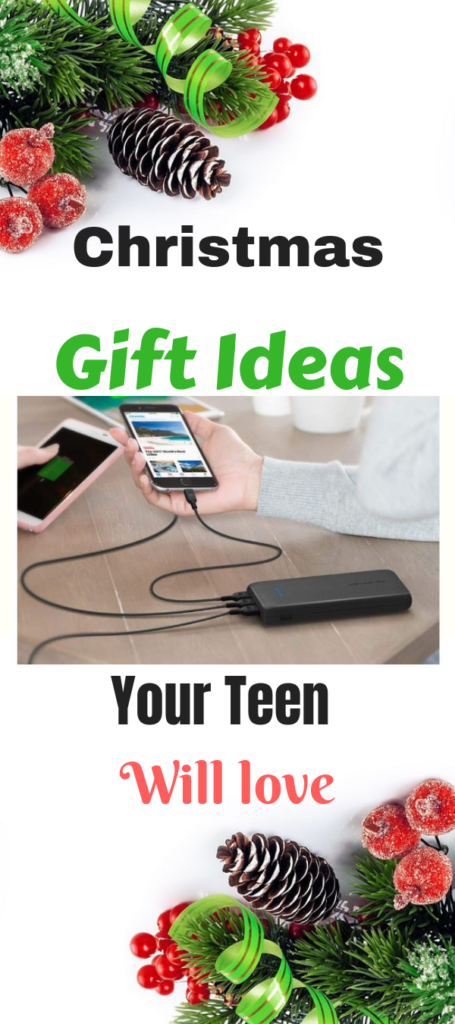 Below we have rounded up some super awesome gift ideas that are not only useful but are as cool as they come for when you go out to get Christmas gifts for teens.
Singing Machine Karaoke System
Great for hosting a dance party at home for teenagers.
It is an SML385BTW Singing Machine Karaoke system that features a top that loads a CD player that is to play music.
The Hi-Fi LED disco lights to create a beautiful lighting effect.
Have fun with family and friends with this machine and have the teen at your home belting out his or her favorite songs.
You can easily pick your favorite from thousands of songs available with the help of an app, CDs, MP3 files, or even Bluetooth.
You can even connect the machine to your TV where you are able to display the song lyrics on the TV screen. What`s more, this is something the whole family can enjoy(if your teen will let you).

FujiFilm Instax Mini 9 Instant Camera
Instant gratification gift for an impatient on-the-go teen. This is an upgraded version of the previous Fujifilm Instax Mini 8 Compact.
It is portable due to its lightweight design. New Macro Lens adapter can capture the close-ups at only a distance of 35-50 cm.
Easy and quick selfie clicks for Instagram daily updates. It offers soft-focus without the lens or a filter.
Polaroid Snap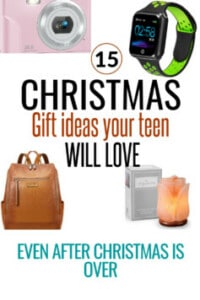 Thinking of another Christmas gift for teens, Polaroid Snap is another compact instant digital camera with which you can snap pictures in three color modes and also print 2″ x 3″ images within a minute.
Remember this post is meant for top Christmas gifts teenagers so I kept in mind how much is ok to spend buying any Christmas present, all the products mentioned here I believe are affordable.
Amazon Echo Dot (3rd Generation)
Amazon Echo Dot is a great gift for an inquisitive teen mind. It uses "Alexa" technology. It plays favorite music, gives weather and news updates according to voice demands.
It works as an alarm clock as well as perform tons of other shenanigans. Best sound quality. Definitely works better than and is slightly larger than 2nd generation.
A charger for gifting an on the go teen who is either always running out of phone charging or very forgetful about it.
Buy this portable charger for emergency purposes so the dead phone is not an obstacle for reaching out to your teen if or when needed urgently.
Herschel Supply Company Backpack
A perfect gift for a functional teen for stashing all of their necessities. Available in a plethora of colors.
It is a popular backpack that beautifully combines mountaineering style with modernity and thus elevating its usefulness and functionality.
I could not name all you can use this backpack for it sure is a multi-use.
Books And Series
Thinking of the best Christmas gifts for teens then think books, something they will love and enjoy long after the festive season is over.
Land of Stories Box Set which is written by Chris Colfer. The series features Alex and Conner.
It follows their adventures in a land which is full of magic and enchantment. Jane Austen's novel book set is another timeless gift for an avid reader.
NBA 2K18 Legend Edition (PlayStation 4)
For game-loving teens, this one is perfect. Another popular PS4 game is Destiny. You must check out the newest edition.
Amazon's New "Echo Show"
A tech-savvy gift for a tech-savvy teen. You can watch video flash briefings, can listen to music or even watch music videos with a hands-free approach. Enjoy hands-free face-to-face calling, and much more.
HP Sprocket Portable Photo Printer
This HP Sprocket Portable Photo Printer is an efficient and useful gift for teenagers. It comes in handy for preparing and doing school assignments and projects. You can also indulge in other creative pursuits using this.
This is a portable and lightweight Printer that prints photos from your personal smartphone or tablet just as easily and quickly as you post those pictures.
Republic Of Tea Gingerbread Herbal Tea

The sweet and spicy taste of gingerbread with its cozy aroma of the traditional gingerbread, cinnamon, and vanilla reminds you of your home and takes you back in time feeling nostalgic.
For a teen that loves tea, it is a good herbal tea as it is healthy and leaves one relaxed. Enjoy a cup of warm Herbal Tea while watching the snowfall this Christmas.
Find out who is your teen's favorite YouTuber. Many YouTubers sell their merchandise which is very popular among their fans and followers.
Some popular YouTubers like Superwoman(Lily Singh), Daz Black, etc. are popular among teens and are positive influences on them.
The merchandisers vary from YouTuber to YouTuber. From caps, hoodies, to bracelets to mugs. There are various options for you to choose from.
Be sure to first know which YouTuber your teen idolizes and whether they have their merchandise up for sale.
Conclusion On Best Christmas Gifts For Teens
Gifting a moody teen is a hassle and a half. Hence many times, people just sign up for a check and be done with it.
While money is well and good but it sets a bad precedent and not to forget it takes away the surprise element and thoughtfulness behind the gift.
So when Christmas bells ring, hold your head high, smile and give your teen his/her present well thought by you.
Missed your presents then check out our earlier post.
Women who are hard to buy for here.
Still not convinced or still looking for something better? then how about this one?
Teens can be difficult but everything difficult is worth the effort, isn't it?
You`ll find that most gifts on this list are not just for the festive season, items like facial cleansing brushes have been covered on our blog in the past they are things you teen will need day to day but will still love to get as Christmas present.
I hope you found this post helpful, if you have any questions, please leave me a message.