A sensitive skin easily becomes inflamed and starts to sting if the product used on the skin is not carefully chosen in accordance with the skin type as not every skin and beauty product is made for everyone. A product formula containing fragrance, ingredients that irritate the skin can cause problems to people with sensitive skin.
Therefore, sensitive skin care products' are developed and introduced into the market to curb sensitive skin problems. Such products' are specifically formulated with taking the needs and limitations of sensitive skin into consideration.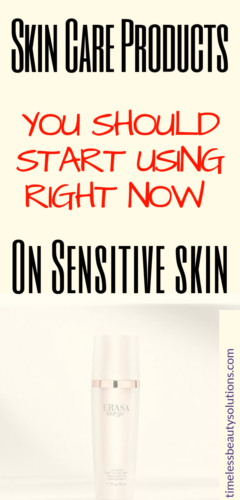 The environment plays a role when it comes to the sensitive skin is also prone to environmental factors such as weather change resulting in the dry skin in less humid conditions.
And as we know that dry skin and a sensitive skin go hand in hand.
One of the main sensitive skin care tips is drinking 8 glasses of water or more can help contribute to as well as keep in the body's natural hydration.
Trying to figure out proper skin care products' and routine can be overwhelming especially when there are thousands of skin products' to choose from. It becomes more troubling when it involves skincare for sensitive skin. Check an earlier post on taking care of other skin types here.
There are more sensitive skin care products in the market, like sensitive skin cleansers, sensitive skin makeup etc. I will cover these at a later stage otherwise if I put them all here, this post will be too long.
Listed below are skincare products' suitable for sensitive skin that won't cause damage to the skin such as irritation, allergic reactions, skin dryness or cause any pain. But remember the best sensitive skin care products too need time to give you the best results.
Dove Bar Soap is a hypoallergenic and unscented formula which a good option as it is gentle on the sensitive skin. It is made with a relatively simple ingredient which is based on sodium which helps in the gentle cleansing of the skin.
The soap bar is free of fragrance which is beneficial as fragrances are prone to result in skin irritation. Moreover, it is highly recommended by dermatologists.
The presence of ¼ moisturizing cream with mild cleansers in the Dove soap bar helps the skin in maintaining the natural moisture created by the skin. It makes the skin soft, smooth and gives it radiance and healthy glow.
SkinActive Micellar Cleansing Water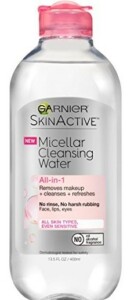 This is a makeup remover and face cleanser suitable for all types of skins. It is free of paraben, fragrance, sulfate, and silicone that soothes and refreshes the skin simultaneously.
The cleansing water is responsible for removing impurities and excess oil without the need for harsh rubbing. Garnier micellar water is surprisingly powerful yet gentle on skin.
Avéne Hydrance Intense Rehydrating Serum
The go-to brand for skin care of the sensitive skin, Avene is a brand trusted by millions. With 270 years of sensitive skincare expertise under their belt, that is not surprising in the least.
The brand conception and ideology is rooted in dermatology and hydrotherapy. Hence the core ingredient id Avène Thermal Spring Water which soothes the skin and helps in minimizing the sensitivity of the skin.
The products' are restorative and lightweight which are preferable for sensitive skin. If you have no problem investing in a high quality and expensive serum for sensitive skin, this product is for you. The product formula has rich hydrating cream which is responsible for restoring the hydrolipidic barrier of the skin.
The barrier maintains the moisture balance and keeps skin healthy by preventing loss of moisture. The shea butter helps to seal in the moisture leaving a healthy and glowing skin in its wake.
First Aid Beauty Ultra Repair Cream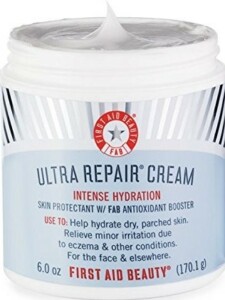 This moisturizer is cultured with Shea Butter, Ceramide 3, Colloidal Oatmeal, and FAB Antioxidant Booster which are great for all types of skin types.
It takes care of skin eczema and is responsible for repairing, renewing and soothing the distressed skin.
The product gives necessary nourishment to the parched skin. The colloidal oatmeal present in it relieves the itching and redness of the skin.
It provides instant relief with long-term hydration which is suitable for dry skin. The moisturizer is easily absorbed into the skin without leaving any grease like feeling.
Purpose Dual Treatment Moisture Lotion
A water-based moisturizing formula that can filter UVA and UVB rays and provide SPF 10 protection for the skin. Dermatologist recommended this moisture lotion is a gentle and non-greasy sensitive skincare formula.
It Also helps in keeping the skin healthy and soft along with providing help to prevent premature aging. The lotion gets absorbed quickly and acts as an all-day moisturizer.


Conclusion  on Sensitive Skin Care Products 
Take a good look at the ingredients listed on the product package and avoid the products' with fragrance and chemicals. To be certain what bothers your skin when choosing sensitive skin care products' , compare all the products' ingredient lists you have previously tested and were proven wrong.
See if there is a common ingredient in them which is bothering your skin. Even herbal and organic products' have the potential to be the cause of skin irritation and allergies these days so for the best skin care routine that will not irritate your sensitive skin or make it worse.
Alpha hydroxy acids and retinue acids containing products' should mainly be avoided by those with sensitive skin.